Diablo 4 Season 1 The Perfect Bone Spear Necromancer PvP Build
Season one of Diablo 4 is just around the corner, and while necromancers are often considered one of the worst classes in the game, there's a dedicated community of players who would disagree. In this guide, we'll explore the perfect Bone Spear Necromancer build that utilizes six Paragon boards, has no basic skills, and no complicated setups. We'll also touch upon some interesting discoveries in the world of PvP. So let's dive in and check out these strategies.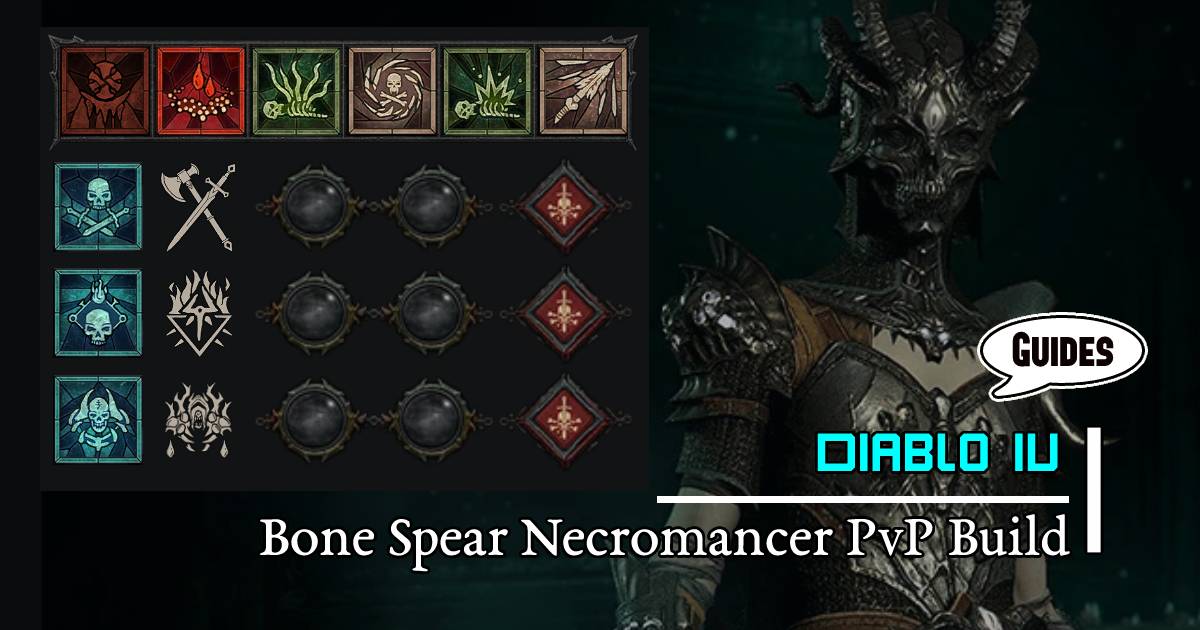 ↖ Building the Perfect Bone Spear Necromancer
Many high-damage setups for the Bone Spear Necromancer involve complex conditionals and corpse manipulation. However, simplicity is key to our build. Our focus is on consistency and efficiency. While other builds might defeat Uber Lilith in seconds during phase two, they require complicated setups and a multitude of skills. Our build, on the other hand, provides consistent and reliable performance throughout the fight, making it just as fast in this specific scenario.
↖ Build Link
https://maxroll.gg/d4/planner/h5gd0z78
↖ Core Active Skills
Bone Spear (maxed out)
Blood Mist (1 point)
Corpse Explosion (1 point)
Fueled by Death (3 points)
Serration, Compound Fracture, and Avulsion Passives (3 points each)
Mori (3 points)
Inspiring Leader (3 points)
Bone Storm (Ultimate Skill)
↖ Curses and Support Skills
Iron Maiden (Curse for damage boost and mana generation)
Evulsion (recommended on the amulet, but not essential)
↖ Other recommended skills
Grasping Veins, Amplify Damage, and Flesh Golem
↖ Gear and Aspects
Weapon: Two-handed sword with the Splintering Aspect (best in slot)
Amulet: Grasping Veins Aspect (perfect for damage multipliers)
Ring: Ossified Essence Aspect (aim for desired qualities)
Gloves: Edge Masters Aspect (important for the build)
Boots: Aspect of Exposed Flesh (a bit more rare, but grindable)
Helm: Deathless Visage (near perfectly rolled for optimal results)
Book of the Dead: Sacrifice Skirmishers for Critical Strike chance, Shadow Mages for Essence, and Iron Golem for increased Critical Strike damage.
↖ Paragon Board
The Paragon board is crucial to maximize the consistency and damage of the Bone Spear Necromancer.
Here's the setup for all six boards:
Sacrificial: Aim for the 40 Intelligence requirement for a 10x multiplier.
Bone Graft: Utilize the Essence glyph for bonus Critical Strike damage.
Scent of Death: Take Imbiber glyph for significant damage boost.
Flesh Eater: While not using the Flesh Eater node, incorporate it for increased consistency.
Amplify: Use Amplify node for a 10x multiplier on cursed enemies.
Bloodbath: Exploit glyph for PvP-focused advantages.
↖ PvP Considerations
In PvP, certain factors come into play that affect the Bone Spear Necromancer build.
Keep the following points in mind:
Critical Strike Damage Cap: Critical Strike damage is soft-capped at 200%. Going beyond this point yields diminishing returns.
Armor Cap: Armor is hard-capped at 9200 in PvP. Stacking more than this amount becomes pointless.
Aspect of Disobedience: Utilize this aspect and focus on other aspects to optimize your damage output.
Dodge Chance: Necromancers lack effective crowd control abilities, so prioritize Dodge Chance on armors. Dodging hits allows you more opportunities to cast Bone Spear, increasing your chances of success in PvP encounters.
Conclusion:
With this perfect Bone Spear Necromancer build, you'll experience consistent damage output and a streamlined playstyle. The Paragon board setup maximizes your damage potential, and the PvP considerations ensure you're well-prepared for engaging in player-versus-player combat.
Most Popular Posts
Popular Category Lists