WOW Patch 10.1.7: Incredible New Features, Class Specific Armor Sets and Challenges
Patch 10.1.7 is on the horizon, and World of Warcraft players have a lot to be excited about! In this guide, we'll delve into the incredible new features, class-specific armour sets, potential new playable races, and thrilling challenges coming in this upcoming patch. From Druids of the Flame to Dragonriding Challenge Courses, get ready to have your mind blown!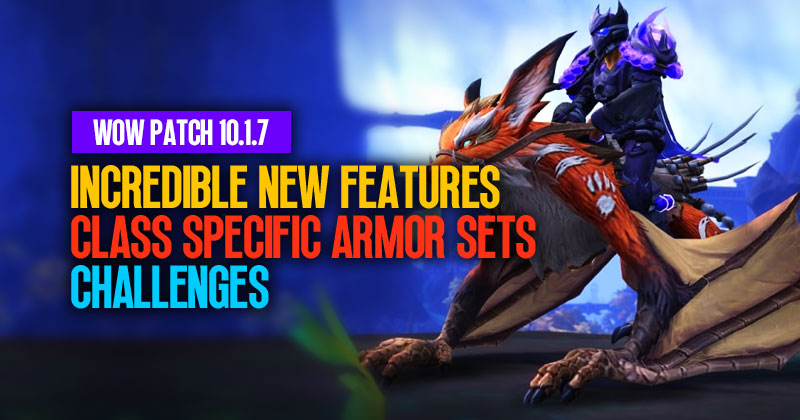 ↖ Night Elf Character Customization
Night elf is receiving some much-anticipated love in Patch 10.1.7. Both male and female night elves will gain access to a plethora of new character customization options. Expect an array of new tattoos and face tattoos that add depth and personality to your characters. Prepare to unleash your creativity with these exciting additions.
↖ Druids of the Flame - A New Playable Race?
The enigmatic Druids of the Flame, who once pledged their loyalty to Ragnaros during Cataclysm, are making a possible comeback in Patch 10.1.7. Data miners have discovered a new Druid of the Flame armour set, and speculation is rife that these fierce followers of Ragnaros might become a playable race. Imagine playing as a fire-infused druid with red night elf skin and glowing tattoos; the possibilities are thrilling!
↖ Dragon Riding Challenge Courses
Are you a dragon enthusiast? Well, get ready for a new adrenaline-pumping experience! In Patch 10.1.7, Dragon Riding Challenge Courses will test your dragon-flying abilities like never before. These courses will present formidable challenges, featuring no resource regeneration. Unlock new courses weekly, including the Waking Shore, the Azure Span, and more, and prove yourself as the ultimate dragon rider.
↖ Class-Specific Armor Sets
Class-specific armour sets are always a hit among players, and Patch 10.1.7 is no exception. Prepare to be awestruck by the magnificent sets for the Warrior, Warlock, Monk, Druid, Demon Hunter, and Death Knight classes.
| Set Name | Class | Description | Weapon/Weapon Type | Color Scheme |
| --- | --- | --- | --- | --- |
| Savage Champion Set | Warrior | Embrace the WOW gold, black, and red color scheme, complete with a striking shield adorned with roses. | Striking Shield with Rose Adornments | Gold, Black, Red |
| Alluring Call Set | Warlock | Summon your demonic power with this winged and gargoyle-themed armor, featuring new staffs and swords to wield. | Staffs and Swords | Winged and Gargoyle-Themed Armor |
| Possessed Watcher Set | Monk | Channel the aura of Terracotta Warriors with this intriguing set, equipped with unique fan weapons. | Fan Weapons | Terracotta Warrior Aura |
| Ash Mains Rebirth Set | Druid | Love it or hate it, this set boasts beautiful seasonal-themed staves, daggers, and fist weapons, perfect for druids who connect with nature. | Seasonal-Themed Staves, Daggers, and Fist Weapons | Nature-Themed Colors |
| Nathraza Blasphemer Set | Demon Hunter | Embrace your demonic side with this crystal-themed armor, complete with new war glaives that exude power. | War Glaives with Crystal Theme | Crystal-Themed Armor |
| Webbed Serenite Set | Death Knight | Unleash the icy wrath with this frosty blue or ghastly green set, featuring Rune blades and eerie details. | Frosty Blue or Ghastly Green Color Scheme with Rune Blades and Eerie Details | Frosty Blue or Ghastly Green |
Note: The table above provides an overview of each set, its associated class, a brief description, the types of weapons or weapon used, and its color scheme. These sets are designed to offer unique visual themes and gameplay elements to players, enhancing their gaming experience.
↖ Small But Exciting Additions
Patch 10.1.7 brings a variety of smaller but noteworthy changes:
White Scale Dragons: Customize your dragon mounts with a white, albino appearance, available for all dragon types.
Scarlet Monastery Regrowth: Experience Scarlet Monastery in a new light as it regrows with plant life after facing numerous challenges over the years.
Heat of Battle Brawl: Get ready for intense PVP action in the new brawl, where damaging enemy players to low health boosts your team's damage. Healers will also have access to canteens for in-combat Mana restoration.
Conclusion:
Patch 10.1.7 promises to be a game-changer, introducing exciting new features, class-specific armour sets, and potential playable races. Embrace the power of the Druids of the Flame, master the Dragon Riding Challenge Courses, and don stunning new armour sets as you dive into this mind-blowing update! Stay tuned for the release and make the most of all the new content coming your way in World of Warcraft. Happy adventuring!
Most Popular Posts
Popular Category Lists