Diablo 4 Season 1 Rogues Most Underrated Builds and Best Malignant Hearts
Rogues are shining in the new Diablo 4 season 1, with several strong builds to explore. In this guide, LOLTANK will cover some of the best Rogue builds that are currently dominating, and we'll also discuss how the new Hearts mechanic affects them. The patch notes haven't significantly impacted the class or builds, leaving Rogue in a well-balanced state. Let's dive into the most underrated build, along with other powerful choices for your Rogue in Season 1.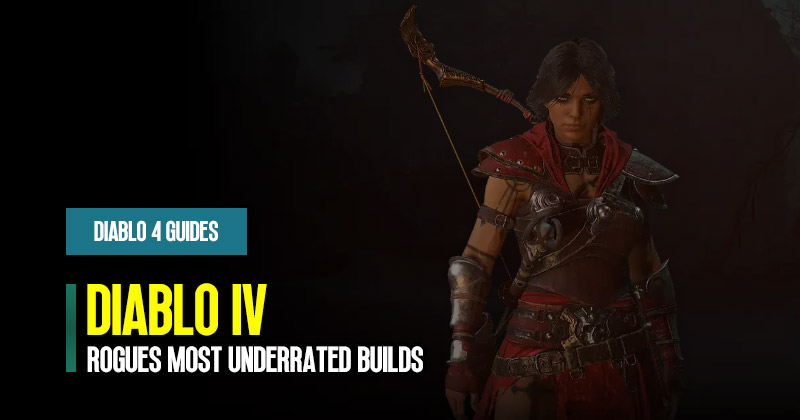 ↖ Barrage Build - The Underrated Powerhouse
The Barrage build is a top-tier choice and an excellent option for beginners as it requires no special gear or aspects to start dealing significant damage. What makes Barrage exceptional is its versatility, being effective both as a close-range nuke and a ranged multi-shot ability. It excels in both single-target damage and clearing groups of enemies. Min-maxing your gear and reaching level 100 further boosts the build's potential. Consider running the build in a triple imbuement setup, providing solutions for every scenario in the game.
Build Detail: https://d4builds.gg/builds/9c8e000b-65bc-4304-85de-d940eb2bb342/
↖ Penetrating Shot Build - Still Going Strong
Penetrating Shot remains an excellent choice for a Rogue build. While a new bow called Eaglehorn was introduced, it falls short due to its chance-based effect and lack of guaranteed benefits. The best Penetrating Shot build still revolves around the one introduced in a recent video, combining imbuements and Bursting Venoms for increased utility and damage output. The build provides a balanced experience with great AOE and single-target damage, along with survivability and mobility.
Build Detail: https://maxroll.gg/d4/build-guides/penetrating-shot-rogue-guide
↖ Rapid Fire Build - Reliable and Self-Sustaining
Rapid Fire remains a solid choice for your Rogue, as it continues to perform well across various scenarios. One of the recommended builds combines Rapid Fire with Reign of Arrows, creating a destructive combo that excels in both AOE and single-target situations. The build is self-sustaining, generating Essence through a passive, and utilizing preparation to further enhance your performance.
Build Detail: https://maxroll.gg/d4/planner/7p7d1098
↖ Twisting Blades Build - The Classic Meta Option
Twisting Blades have been a popular choice for Rogues, and that hasn't changed in Season 1. Despite a slight nerf to Seething Strikes, the build remains strong, providing exceptional damage output and versatility. There are two variations of the build—one utilizing imbuements and the other focused on traps. Both are fast leveling and offer great damage potential.
Build Detail: https://d4builds.gg/builds/ff42d23a-8a9b-4593-923d-d5b630f7eee3/
↖ Flurry Build - Viable and Flexible
Flurry also continues to be a viable core skill, offering several good builds for the Rogue. While Evening Strike received a nerf, Flurry's innate healing and new hearts like the Caged Heart for Wrench can help mitigate the impact. Flurry builds provide great damage and survivability, making them an excellent choice for seasoned and new players alike.
Build Detail: https://d4builds.gg/builds/75226f4c-bbcb-4155-a95b-7cafe03f1bb8/
↖ Best Malignant Hearts for Rogue Builds
When considering Malignant Hearts for your Rogue, there are five standout options to keep in mind:
| Malignant Heart | Description | Best Used When |
| --- | --- | --- |
| Caged Heart of the Vile Apothecary | Offers synergy with imbuements, providing significant benefits to builds utilizing them. | Using a build with imbuements |
| Caged Heart of Revenge | Provides damage reduction, enhancing the build's survivability. | Needing more survivability or playing defensively |
| Caged Heart of the Malignant Pact | Cycles through three bonuses for damage output, Essence regeneration, and survivability. | Needing versatility in damage, regeneration, and survivability |
| Tempting Fate | Ideal for end-game when your crit chance is high, boosting critical strike damage. | In the end-game with high crit chance |
| Caged Heart of Creeping Death | Provides extra poison damage, particularly useful against powerful enemies. | Using a poison-based build or facing powerful enemies |
↖ Conclusion
With these Rogue builds and Malignant Hearts in mind, you can confidently take on the challenges of Diablo 4's Season 1. Experiment with the different options, find the playstyle that suits you best, and conquer the forces of darkness to save Sanctuary.
Most Popular Posts
Popular Category Lists