WOW Dragonflight August 2023 Trading Post Items : Blood, Fire, and Fashion
Are you ready to gear up and look fabulous in World of Warcraft Trading Post this August? We've got a fantastic lineup of hot new items that will surely catch your eye. From dazzling class sets to breathtaking mounts and transmog options, you'll be spoilt for choice. In this article, we'll delve into the hot new items available for August. From signature sets to mounts, weapons, and accessories, there's something for every adventurer. So, gear up and get ready to spend your hard-earned Tinder wisely!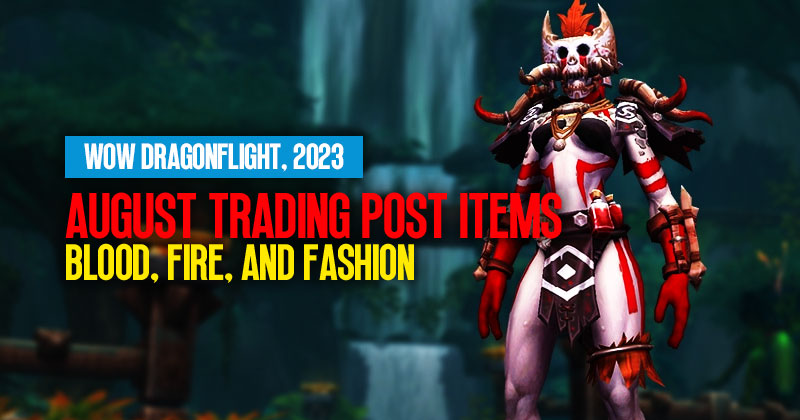 ↖ Signature Item: Bones of the Bloodhunter Ensemble
The signature item for August is the Bones of the Bloodhunter Ensemble, allowing you to unleash your inner blood-drinking troll. Embrace your inner blood-drinking troll and make a bold statement with this stunning set. To get your hands on this ensemble, you'll need 200 Tinder, which you can earn through various activities throughout the month. So, why wait? Look fierce and fabulous with this eye-catching outfit!
↖ Spirit of Competition: 650 Tinder
Show off your competitive spirit with the Spirit of Competition. This unique item, available for 650 Tinder, will set you apart from the crowd. Display your prowess and let others know that you're a force to be reckoned with in World of Warcraft. Show off your competitive spirit with this fun addition to your collection.
↖ Ethereal Transmogrifier: 500 Tinder
If you've been longing for a way to transform your appearance into that of a random boss, the Ethereal Transmogrifier is your answer! Now available for only 500 Tinder, you can make your foes' heads spin and have some hilarious fun in the process. Emote like a boss with this unique item, perfect for causing some playful chaos.
↖ Mounts Galore: 650 Tinder Each
For mount enthusiasts, three majestic options await you. The mounts from the 15-year anniversary box are now available for 650 Tinder each. Choose from the impressive mount collection and ride in style across Azeroth! These mounts, originally from the 15-year anniversary box, have returned for a limited time, so take advantage of the opportunity to add them to your collection.
↖ Stylish Shields and Bucklers: 400 Tinder Each
For the defenders and tanks among us, we have the City Guard Shield and the Buckler. Express your faction pride with the faded and battle-worn City Guard Shield and Buckler for 400 Tinder each. These stylish yet weathered shields will protect you in battle while giving you that battle-hardened look. These beautifully designed shields are sure to impress and add an extra touch of character to your appearance.
↖ Alluring Apparel: 50-100 Tinder Each
If you're a fashion-conscious adventurer, you'll love our colored sleeve accessories. Create a stunning ensemble with matching long sleeves, cowls, hoods, and scarves. Complete your look with colored sleeve items, perfect for creating stunning gowns or outfits. The month's lineup features matching red and blue sets that can be mixed and matched with other gear, all priced between 50 to 100 Tinder.
↖ Deadly Weapons: 400 Tinder Each
Prepare to dazzle your enemies with two exquisite weapon skins: the Crimson Nexus Crescent and the Azure Nexus Crescent. Whether you prefer the fiery red or the cool blue, these skins will elevate your combat style for just 400 Tinder each. These weapons exude a distinct dragon-themed vibe, perfect for adventurers seeking a touch of the mystical.
↖ Classic Helmets and Hoods: 400 Tinder Each
The Trading Post brings back some nostalgic items! Remember those exclusive hoods and helmets from past Prime giveaways? Well, now you can get your hands on them for 400 Tinder each. Show off your Prime rewards to the world and stand out in your adventures.
↖ Fear of the Fire Lord: 750 Tinder
The formidable Fear of the Fire Lord returns, still priced at 750 Tinder. Add this fiery companion to your collection and strike fear into the hearts of your enemies. For it, conquer your fears and wield the power of the flames in battle.
↖ Blade of a Brutal Sacrifice: 400 Tinder
For those who crave power on the battlefield, the Blade of a Brutal Sacrifice is here to answer your call—seeking a deadly dagger? Look no further! The Blade of Brutal Sacrifice is available for a mere 400 Tinder, offering a potent weapon for your adventures.
↖ Final Thoughts:
This August, the Trading Post offers a wide range of exciting items for every adventurer. Take the chance to get your hands on some stunning new additions, revisit old favourites, and strut your stuff in the latest ensemble. So, log in, earn Tinder through various activities, and head to the Trading Post to embark on your shopping spree. Gear up, look fabulous, and make this month one to remember in World of Warcraft's Dragonflight!
Conclusion:
This month's Trading Post items in World of Warcraft's Dragonflight offer a diverse array of options for players seeking new gear, mounts, and weapons. From signature sets like the Bones of the Bloodhunter Ensemble to classic helmets, there's something for every player to enjoy. Spend your Tinder wisely and embrace the faction pride and mystique of the Dragonflight world. Happy trading and adventuring!
Most Popular Posts
Popular Category Lists