Diablo 4 Wrathful Malignant Hearts Most Efficient Farming Method Guides
In Diablo 4, Wrathful Malignant Hearts are valuable resources for crafting and upgrading tasks. If you're looking for the best and fastest way to farm these elusive hearts, you've come to the right place! In this guide, we'll walk you through the most efficient method to obtain Wrathful Malignant Hearts consistently.
↖ Where to Find Wrathful Malignant Hearts
You can find Wrathful Malignant Hearts in various locations across Diablo 4. These hearts can be obtained from events in HellTied, Nightmare Dungeons, and more. Completing the Seasonal Questline called Varshan's Heart will reward you with a guaranteed Wrathful Malignant Heart. However, if you want to farm them consistently and rapidly, the Malignant Tunnels are your best bet.
↖ The Malignant Tunnels
The Malignant Tunnels are found in three locations: Fractured Peaks, Dry Steppes, and Hawezar. Each location has two tunnels.
| Tunnel Name | Location |
| --- | --- |
| Fissure of Malice | Fractured Peaks |
| Boiling Wound | Fractured Peaks |
| Ravening Pit | Dry Steppes |
| Dindai Hollow | Dry Steppes |
| Bedeviled Grotto | Hawezar |
| Den of the Blighted | Hawezar |
↖ Best Farming Spot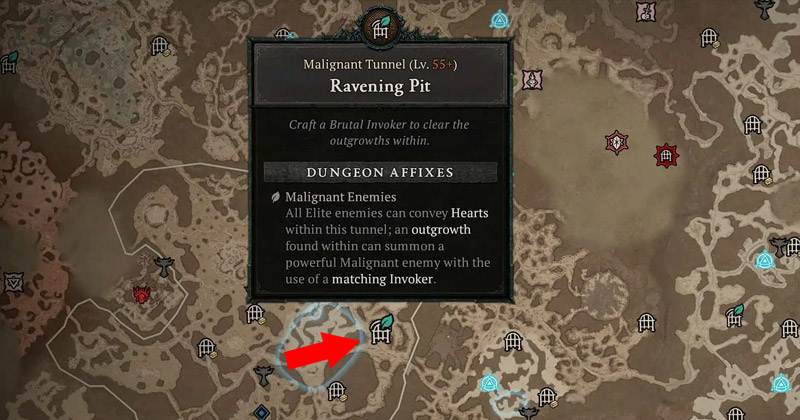 However, in our experience, the Ravening Pit Malignant Tunnel stands out as the top choice for efficient farming.
Farming the Ravening Pit Malignant Tunnel
Head to the entrance of the Ravening Pit Malignant Tunnel.
Enter the tunnel, and you'll notice a straightforward layout, making it easy to navigate.
The tunnel is populated with enemies, including elites and bosses.
Focus on slaying enemies, particularly elites and bosses, as they drop Wrathful Malignant Hearts.
Take note of the nameplate on the lower left to identify the type of enemy you encounter. Wrathful enemies drop the sought-after hearts.
Clear the tunnel efficiently, using your character's movement speed and abilities to maximize your run time.
↖ Resetting the Tunnel
Once you've completed a run in the Ravening Pit Malignant Tunnel, press "Tab" to access your quests. At the bottom of the quest list, you'll find an option to reset the dungeon. Accept the reset, and you can re-enter the tunnel, which will be reset for your next farming run.
↖ Maximizing Farming Efficiency
With the Ravening Pit Malignant Tunnel's layout and the ability to reset it easily, you can swiftly run through it repeatedly, increasing your chances of obtaining Wrathful Malignant Hearts. Depending on your character's speed and gear, you could farm up to 10 to 20 hearts in just one hour.
↖ Wrathful Heart Crafting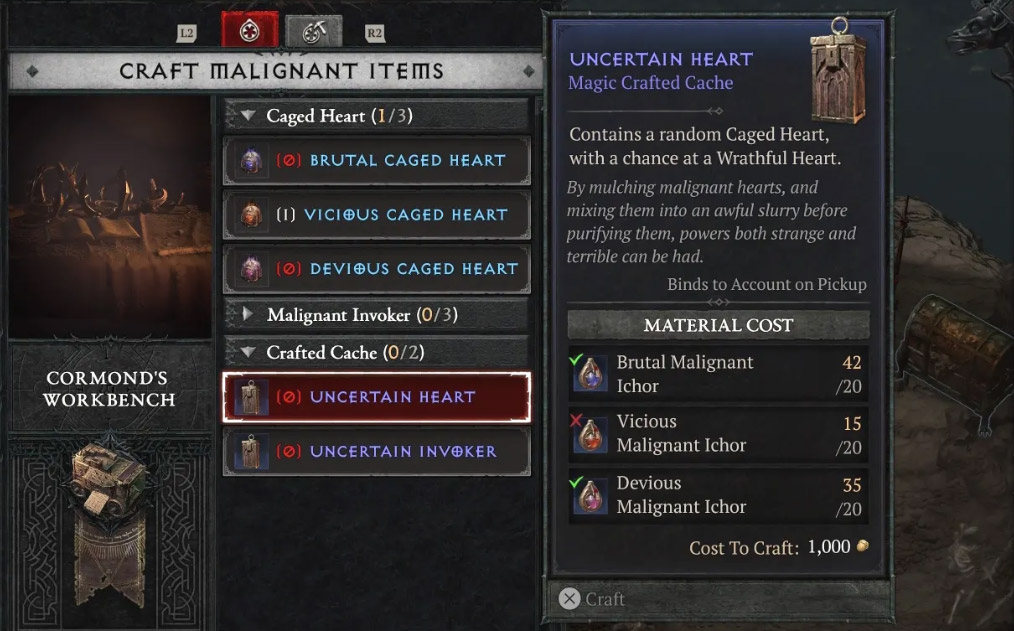 Crafting a Wrathful Heart is only possible by using your Ichor to make Uncertain Hearts at Cormond's Wagon. However, these Uncertain Hearts have only a small chance of resulting in a Wrathful Heart. It is important to note that crafted Wrathful Hearts scale with your level, so it's advisable to wait until you encounter difficulty in clearing content before investing your Ichor in trying to craft one.
| Material | Quantity |
| --- | --- |
| Brutal Malignant Ichor | 20 |
| Devious Malignant Ichor | 20 |
| Vicious Malignant Ichor | 20 |
| Gold | 1,000 |
↖ Conclusion
If you're looking to stock up on Wrathful Malignant Hearts for your Diablo 4 endeavors, the Ravening Pit Malignant Tunnel is your go-to farming spot. Its simple layout and the ability to reset it quickly make it the most efficient method to gather these essential resources. Happy farming, and may your stash overflow with these coveted hearts!
Most Popular Posts
Popular Category Lists