RuneScape Necromancy Guide: Essential items and quests should preparation
Runescape Necromancy is an exciting new skill that will be released on August 7th, and if you want to hit the ground running, you need to be prepared! This guide reviews some essential items and quests you should complete before the skill's release. Being ready for necromancy means spending less time on old quests and skills and more time enjoying the new content. So let's begin with the essential items you'll need to excel in necromancy!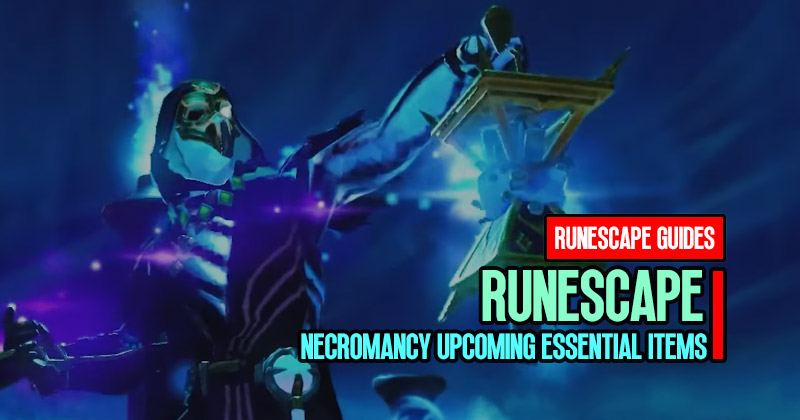 ↖ Enchanted Salve Amulet
The Enchanted Salve Amulet is one of the most critical items for necromancy training. To obtain it, complete the "Haunted Mine" quest to receive the regular Salve Amulet. Then, finish the "Layer of Tarn Razzler" mini-quest to enchant the amulet. This amulet will grant you a +20 damage and +20 hit chance boost for all combat styles against undead creatures, making it invaluable for training necromancy.
↖ Ghost Hunter Gear
While not as crucial as the Salve Amulet, Ghost Hunter Gear can significantly aid in necromancy training. This gear can be a rare drop from Ghost creatures, providing you with up to a 10% damage boost against ghosts. Combining this with the Salve Amulet will maximize your effectiveness against undead and ghost-type creatures.
↖ Slayer Helmet
The Slayer Helmet is another essential item to have. The corrupted version gives a 14.5% damage boost to all combat styles and will likely include the necromancy skill. Make sure to have the best Slayer Helmet you can obtain before the skill's release for maximum damage output during training.
↖ Archeology Relics
Certain archeology relics can significantly impact your combat-related skills, making them extremely valuable for necromancy. Berserker's Fury, Fury of the Small, and Blessing of Het are recommended relics to use for enhanced damage, adrenaline generation, and healing during necromancy training.
↖ Necromancy Tabs
Prepare your inventory with items like Ectoplasmic Residue, various bones, Mystic Robe items, Spider Silk, and other materials needed for necromancy. Having these items stocked up will save you time and allow you to focus on training once the skill is released.
↖ Metal Bars
Be sure to stock up on various metal bars in your metal bank, as they will likely be used to create some necromancy-related armor. Having a supply ready will give you a head start on crafting.
↖ Spectral Spirit Shield and Appraisal Codex
Obtaining a Spectral Spirit Shield and the Appraisal Codex is essential to unlock the tier 99 curse for necromancy. Be sure to have these items on hand to maximize your skill progression.
↖ Conclusion
By following this comprehensive preparation guide, you'll be well-equipped and ready to dive into the exciting world of necromancy when it's released. With the Enchanted Salve Amulet, Ghost Hunter Gear, Slayer Helmet, archeology relics, and all the necessary items in your inventory, you'll be able to train necromancy effectively and make the most of this thrilling new skill. Get ready to raise the dead and explore the mysteries of necromancy in RuneScape!
Most Popular Posts
Popular Category Lists