How to Maximize DPS and Loot Gains in World of Warcraft Raiding?
Raiding in World of Warcraft offers thrilling challenges, epic battles, and the opportunity to obtain powerful gear. This guide will walk you through the strategies, tactics, and considerations that can help you not only achieve high DPS (damage per second) but also increase your chances of acquiring valuable loot. Whether you're a seasoned raider or a newcomer to the world of Azeroth, these insights will help you optimize your performance and loot gains in raid encounters.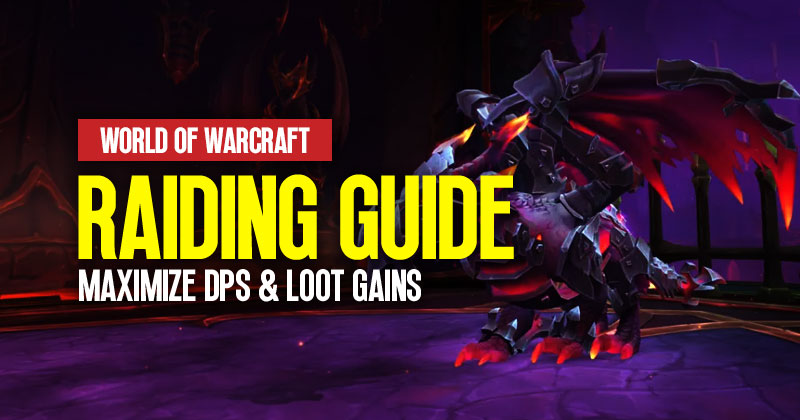 ↖ Section 1: Optimizing Your DPS
1. Gear Selection and Optimization
Choosing the right gear for your character's specialization and playstyle.
Utilizing gear sets and trinkets that synergize well with your abilities.
Balancing stats such as Critical Strike, Haste, and Mastery to maximize your damage output.
2. Rotation and Ability Usage
Mastering your class's rotation for optimal ability usage.
Timing cooldowns and abilities to align with key raid mechanics and boss phases.
Properly managing resources (e.g., mana, energy, rage) to ensure consistent DPS.
3. Talent and Glyph Choices
Experiment with different talent builds to find the one that suits your playstyle and maximizes DPS.
Selecting appropriate glyphs to enhance your abilities and improve performance in raid encounters.
↖ Section 2: Coordination and Communication
1. Team Synergy and Group Composition
Understanding the strengths and weaknesses of your raid group's composition.
Coordinating with other raid members to optimize buffs, debuffs, and crowd control abilities.
2. Communication
Effectively using voice chat or text communication to share critical information during encounters.
Calling out mechanics, positioning, and strategy adjustments to ensure smooth execution.
↖ Section 3: Loot Strategies
1. Understanding Loot Distribution
Familiarizing yourself with the loot distribution system used by your raid group (e.g., Master Loot, Personal Loot).
Being aware of any loot rules or priorities established by the raid leader.
2. Loot Priority and Upgrades
Prioritizing gear upgrades based on the impact they will have on your overall performance.
Identifying key items that significantly improve your DPS and focusing on acquiring them.
3. Investing in Gear
Considering spending wow gold or resources to acquire specific gear items that will boost your effectiveness in raids.
Evaluating the cost-benefit ratio of purchasing gear versus waiting for drops.
↖ Section 4: Adaptation and Improvement
1. Analyzing Logs and Performance
Utilizing combat logs and performance analysis tools to review your performance in raids.
Identifying areas for improvement and refining your gameplay based on the data.
2. Research and Learning
Studying boss mechanics, encounter guides, and raid strategies to understand the fights thoroughly.
Keeping up to date with class changes, patch notes, and optimizations that may affect your DPS.
3. Continuous Improvement
Embracing a growth mindset and consistently striving to enhance your skills and contributions to the raid.
Seeking feedback from experienced players and raid leaders to refine your playstyle.
Conclusion:
Achieving exceptional DPS and maximizing loot gains in raid encounters requires a combination of preparation, coordination, and adaptability. By optimizing your gear, refining your rotation, communicating effectively, and adopting a strategic approach to loot, you'll position yourself as a valuable asset to your raid group while enjoying the satisfaction of being a top performer in the World of Warcraft universe. Remember, the path to greatness is paved with dedication and continuous improvement. Good luck, adventurer!
Most Popular Posts
Popular Category Lists