Diablo 4 Patch 1.1.1 Tier List: Class Changes, Endgame,Speedfarming, Builds, Nightmare Dungeon Farming and More
Hello fellow adventurers! With the upcoming Patch 1.1.1 for Diablo 4, we're about to see some substantial changes to several classes, particularly Sorcerers and Barbarians, who are receiving significant buffs. This patch marks a major power shift. Therefore, we compiled all Tier Lists for Diablo 4 Patch 1.1.1, including New Class, Changes, Endgame, Speedfarming, Best Builds, and Farming.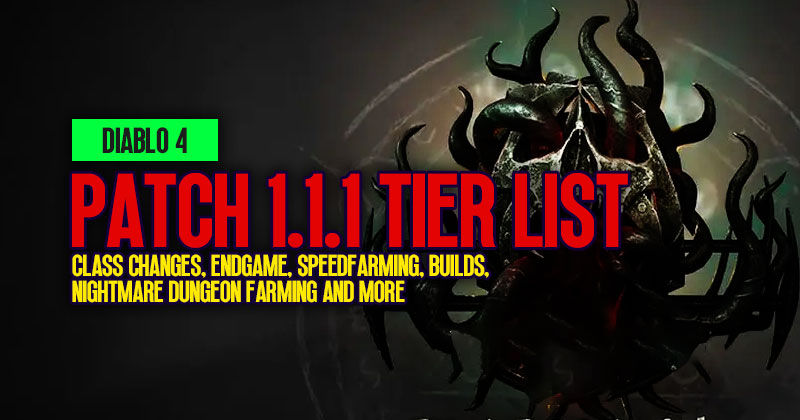 ↖ New Class Rankings
In Patch 1.1.1, various classes are getting adjustments that are bringing them closer in terms of power. While Sorcerers and Barbarians are getting some love in terms of buffs, it's important to note that they won't suddenly become the top-tier classes. Despite the changes, the overall class rankings might remain relatively high. As of now, the class ranking seems to remain relatively unchanged:
Rogue

Necromancer

Barbarian

Sorcerer

Sorcerer Changes
Sorcerers are getting some exciting buffs in this patch, making them more resilient across all their builds. While Sorcerers might not rise to the top of the charts, they are definitely improving. Fireball, in particular, is receiving multiple improvements, significantly boosting its performance. This might lift Fireball from its lower position in the endgame tier list.
Barbarian Changes
Barbarians are also in for some changes. While not every build is getting significant buffs, there's an effort to bring various builds closer together in terms of power. The Walking Arsenal build seems to be receiving a substantial buff, possibly propelling it to the top of the Barbarian builds.
Inter-Class Balance
The developers are working to improve the balance within each class and then extend that balance to other classes as a whole. This patch focuses on closing the gap between various builds within a class, promoting diversity and allowing different builds to shine.
Other Class Changes

The Rogue class might see an interesting improvement for the False Arrow build.
Necromancers will receive some unique buffs, especially for the Severance build.
Druids are receiving small improvements, mainly targeting the early game with generator skills and companions.

Nightmare Dungeon Changes
Beyond class adjustments, the patch brings changes to the nightmare dungeons. Monster density is expected to increase significantly, leading to more efficient farming and leveling. However, the change in boss health might pose a challenge for builds with lower single-target damage.
↖ Endgame Tier List
This list categorizes level 50-100 experience after unlocking all activities. Includes Nightmare Dungeons, Tree of Whispers, Helltide, PvP farming, and World Bosses. Top-tier builds level efficiently through World Tiers, while lower tiers excel in specific tasks but struggle in competitive content.
S Tier

Flurry Rapid Fire Rogue
Lightning Shred Druid
Twisting Blades Rogue
Pulverize Druid
Barrage Rogue
Werewolf Tornado Druid
Death Trap Rogue
Lightning Storm Druid
Bone Spear Necro

A Tier

Infinimist Necro
Flurry Rogue
Omnistorm Necro
Rapid Fire Rogue
Double Swing Barb
Penetrating Shot Rogue
Whirlwind Barb
Blizzard Sorc

B Tier

HotA Barb
Ice Shards Sorc
Thorns Barb
Chain Lightning Sorc
Walking Arsenal Barbarian
Ball Lightning Sorc
Rend Barb
Sever Necro
Trampleslide Druid
Blight CE Necro
Poison Shred Druid
Blood Lance Necro

C Tier

Arc Lash Sorc
Blood Surge Necro
Firewall Sorc
Shadow Summoner Necro
Meteor Sorc
Pure Summoner Necro
Fireball Sorc
Upheaval Barb
Frozen Orb Sorc
Leapquake Barb
Stormclaw Druid

D Tier

Companion Druid
Bone Spirit Necro
↖ Speedfarming Tier List
This list rates meta builds for quick outdoor activities like Tree of Whispers, Helltide, and Zone Events, excluding major Boss fights. High Tier is determined by mobility and AoE damage.
S Tier

Twisting Blades Rogue
Lightning Shred Druid
Flurry Rapid Fire Rogue
Lightning Storm Druid
Barrage Rogue
Pulverize Druid
Death Trap Rogue
Werewolf Tornado Druid
Ice Shards Sorc
Blizzard Sorc
Chain Lightning Sorc
Ball Lightning Sorc

A Tier

Penetrating Shot Rogue
Arc Lash Sorc
Flurry Rogue
Firewall Sorc
Rapid Fire Rogue
Frozen Orb Sorc
Bone Spear Necro
Fireball Sorc
Whirlwind Barb
Infinimist Necro
HotA Barb
Omnistorm Necro
Double Swing Barb

B Tier

Trampleslide Druid
Meteor Sorc
Poison Shred Druid
Sever Necro
Thorns Barb
Blight CE Necro
Walking Arsenal Barbarian
Blood Surge Necro

C Tier

Stormclaw Druid
Blood Lance Necro
Upheaval Barb
Shadow Summoner Necro

D Tier

Rend Barb
Pure Summoner Necro
Leapquake Barb
Bone Spirit Necro

F Tier
↖ Tier 100 Nightmare Dungeon Farming Builds Tier List
This list ranks optimal builds for efficiently farming Tier 100 Nightmare Dungeons. While most builds can complete a Tier 100 Dungeon, the speed and ease of clearing vary significantly based on your chosen build. Top-tier builds swiftly conquer any Nightmare Dungeon, effortlessly defeating bosses. Lower-tier builds complete the task more slowly, relying heavily on gear and demanding cautious dungeon progression.
S Tier

Twisting Blades Rogue
Werewolf Tornado Druid
Rapid Fire Rogue
Death Trap Rogue
Barrage Rogue

A Tier

Double Swing Barb
Penetrating Shot Rogue
Infinimist Necro
Flurry Rapid Fire Rogue
Bone Spear Necro
Flurry Rogue
Omnistorm Necro
Lightning Storm Druid

B Tier

HotA Barb
Sever Necro
Thorns Barb
Blight CE Necro
Whirlwind Barb
Pure Summoner Necro
Trampleslide Druid
Blood Surge Necro
Blizzard Sorc

C Tier

Ice Shards Sorc
Pulverize Druid
Ball Lightning Sorc
Stormclaw Druid
Chain Lightning Sorc
Shadow Summoner Necro
Rend Barb
Blood Lance Necro

D Tier

Firewall Sorc
Walking Arsenal Barbarian
Arc Lash Sorc
Upheaval Barb
Meteor Sorc
Lightning Shred Druid
Frozen Orb Sorc
Poison Shred Druid
Fireball Sorc
Companion Druid
Bone Spirit Necro
↖ Solo Experience Farming Tier List
Optimal dungeons for rapid character leveling. Rankings are determined by XP gained per time invested, owing to the presence of high-yield monsters and elites, coupled with minimal backtracking.
S Tier

Akkhan's Grasp
Hoarfrost Demise
Immortal Emanation
Mariner's refuge
Mercy's Reach
Sarat's Lair
Tomb of the Saints
Uldur's Cave

A Tier

Dead Man's Dredge
Forgotten Ruins
Komdor Temple
Kor Valar Ramparts
Lost Keep
Nostrava Deepwood
Pallid Delve

B Tier

Ancient Reservoir
Betrayer's Row
Charnel House
Garan Hold
Twisted Hollow

C Tier

Collapsed Vault
Stockades
Shifting City

D Tier

Bastion of Faith
Domhainne Tunnels
Faceless Shrine
Halls of the Damned
Heretics Asylum
Iron Hold
↖ Fast Glyph Leveling Tier List
Optimal dungeons for quickly leveling your Glyphs. Key consideration: minimize time from start to finish, prioritizing shortcuts and avoiding full clears.
S Tier

Garan Hold
Hoarfrost Demise
Immortal Emanation
Mercy's Reach
Mariner's refuge
Sarat's Lair
Twisted Hollow
Uldur's Cave

A Tier

Ancient Reservoir
Bastion of Faith
Dead Man's Dredge
Domhainne Tunnels
Iron Hold
Nostrava Deepwood
Tomb of the Saints

B Tier

Betrayer's Row
Collapsed Vault
Kor Valar Ramparts
Pallid Delve
Shifting City

C Tier

Akkhan's Grasp
Faceless Shrine
Halls of the Damned

D Tier

Charnel House
Forgotten Ruins
Heretics Asylum
Komdor Temple
Lost Keep
Path of the Blind
Stockades
↖ Closing Thoughts
While Patch 1.1.1 might not bring sweeping changes to class power dynamics, it does show a clear effort from the developers to improve the overall balance and close the gaps between different builds. All of the above Tier Lists will allow you to be fully prepared before the new patch arrives. Exploring the buffs and changes to your favorite class and builds. Experiment, adapt, and conquer the challenges that Diablo 4's evolving world presents. May your loot be legendary and your adventures epic! See you in Sanctuary!
Most Popular Posts
Popular Category Lists