New World Sword & Shield/Spear (Melee Combatant) PVP Builds: High Damage & Strong Survivability
Are you seeking the most formidable PvP build in New World? Your search ends here! In this guide, we'll delve deeper into the Sword & Shield / Spear build that is currently dominating the game's competitive scene. Developed by the highly skilled player Crotha, this build embodies a perfect blend of raw damage potential and impressive survivability. Let's dive into the details and uncover how you can assert your dominance on the battlefield.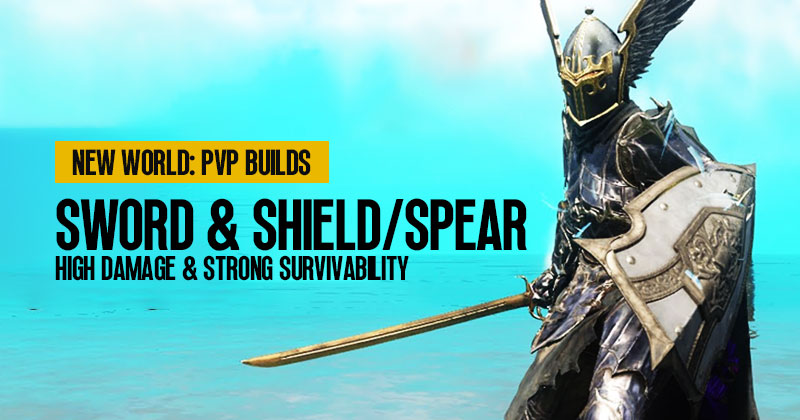 ↖ Build Overview
Weapon Combination: Sword & Shield / Spear
Armor Preference: Medium Armor
Playstyle Essence: Up-close and personal melee combatant
Core Focus: Delivering substantial damage, efficient self-healing, and adept crowd control
↖ Attributes
Crotha has devised two distinct attribute setups tailored for varying combat approaches:
Tank-Centric Setup: Invest in 300 Constitution and enhance Grit for light and heavy attacks.
Damage-Optimized Setup: Prioritize attributes that amplify your damage output, resulting in more potent strikes and amplified healing from leeching effects.
↖ Gear and Perks
Armor Strategy: Emphasize Resilient and Freedom perks to fortify your defensive capabilities. Include Elemental Aversion and Shirking Fortification perks wherever feasible.
Weapon Perks (Armor/Weapon): Key perks encompass Leeching Cyclone, Feebling Skewer, Fortifying Shield Rush, and Fortifying Perforate. These perks combine to facilitate debuffing, buffing, and self-healing.
Rune Glass Gems: Choose between Leeching and Energizing based on your preference for ultimate generation and sustainability.
↖ Accessories
Necklace Preferences: Prioritize Health as the primary perk. Opt for Divine or Stamina Recovery as the secondary attribute. For the third perk, consider Shirk and Power, or select a specialized perk contingent on the nature of your opponents.
Rings Selection: Acquire a Stone Form Heart (or Leeching Ring for amplified lifesteal) and complement it with a secondary ring to further customize your build.
Earring: Equip the Champion's Earring, and complement it with Refreshing Toast and Regenerating perks. Alternatively, choose Nimble for enhanced stamina sustainability.
↖ Weapons and Abilities
Sword Mastery: Focus on Rogue, Plague Strikes, and Aboriginal Attunement to harness backstab damage and instill healing debuffs.
Shield Proficiency: Prioritize Enchanted Keen and Sturdy perks to augment your damage output and bolster your defenses.
Spear Expertise: Opt for Feebling Skewer, Thwarting Strikes for amplified damage during grit phases, and Keenly Jagged for ongoing bleeding damage.
Ultimate Usage: Employ the Stone Form Heart Rune to maintain a consistent healing factor.
↖ Masteries to Consider
Choose masteries that revolve around prolonging your buffs, weakening your adversaries through debuffs, and enhancing your crowd control prowess. Prioritize mastering skills that expedite ultimate generation.
↖ Effective Playstyle and Strategies
Continuously alternate between your weapons to maximize the potency of your Runeglass Gem dots and accelerate ultimate generation.
Harness the power of Cyclone for healing, application of debuffs, and swift stamina recovery.
Place your focus on the ultimate generation by quickly switching weapons and applying persistent damage over time effects.
Concentrate your efforts on neutralizing enemy healers, utilizing your crowd control skills to hinder their healing endeavors.
Leverage the assortment of debuffs and buffs at your disposal to engineer advantageous scenarios on the battlefield.
↖ Concluding Remarks
This ultimate PvP build, ingeniously crafted by Crotha, amalgamates the resilience of a sword and shield with the offensive capabilities of a spear. Whether you gravitate towards a tenacious tank or a high-damage playstyle, this build can be tailored to accommodate your preferences. Experiment with diverse gear setups, perks, and strategic approaches to unlock your true potential as an indomitable force on the battlefield.
Most Popular Posts
Popular Category Lists