Diablo 4 Season 1 Twisting Blades Trapper Rogue Build
Greetings, fellow adventurers of Sanctuary! In this guide, we're delving into the explosive power of the Twisting Blades Trapper Rogue build. This build revolves around crowd control, powerful burst damage, and synergies that can obliterate your enemies. After the patch 1.1.1, the build has received significant changes and now incorporates the mighty Barber weapon. Let's jump into the details and break down how to master this thrilling build.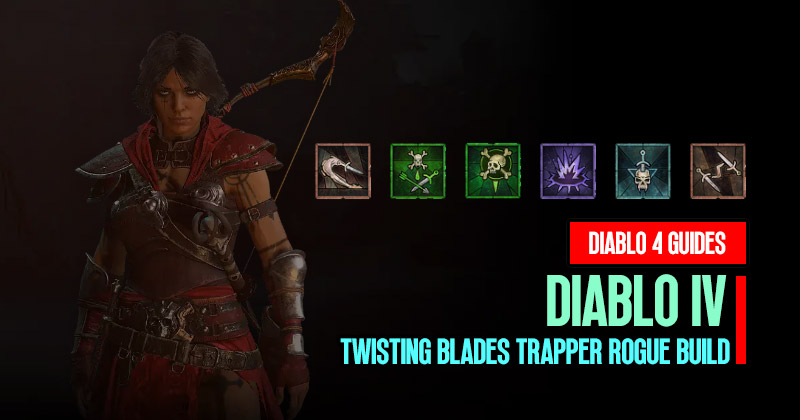 ↖ Build Planner
https://d4builds.gg/builds/2c004142-4399-49dd-97eb-1af83737a2d8/
↖ Skills Overview
Puncture (Fundamental Puncture): Your basic skill for applying guaranteed single-target vulnerability, vital for taking down bosses and elites.
Twisting Blades (Improved Twisting Blades): The heart of this build. This skill synergizes with various aspects of the build and offers exceptional crowd control and damage potential.
Shadow Step: Your essential CC break and movement skill. Provides extra survivability and the cooldown reduction will be helpful.
Concussive Trick Attacks: Enhances your critical hit chance when you knock down enemies, which ties into your crowd control effects.
Poison Trap (Death Trap): A key skill for both damage and crowd control. Can also detonate other skills, providing you with additional synergies.
↖ Aspects
Shared Misery: Increases the chance to share crowd control effects with enemies. Highly valuable for group play.
Crash (Death Trap): Ensures that your energy is always at max, thanks to the Barber's massive damage output.
Chilled: Provides additional freezing potential, synergizing with Frostbite and your overall crowd control theme.
Frostbite: Amplifies your damage against frozen enemies, a great addition to your AoE burst.
Blast Trappers: Core to the Trapper archetype, granting your traps a chance to apply the "Explosive Stun Grenades" effect.
↖ Gear and Gems
Armor: Prioritize damage reduction stats, total armor, and bonuses against specific enemy types (poison, distance, close). Ruby gems can provide more damage in armor slots.
Weapons: Look for critical strike chance, critical strike damage, and vulnerable damage. Use emerald gems to maximize critical strike damage against vulnerable foes.
Accessories: Aim for critical strike chance, critical strike damage, and vulnerable damage. Topaz gems can add more critical strike chance, while rubies can provide vulnerability damage.
Heart Gems: Consider Revenge Heart for incoming damage reduction. The Barber and Frostbite hearts are core for damage and crowd control synergy. The third heart is flexible, potentially choosing between more damage or stun grenades.
↖ Specialization and Paragon
Specialization: Preparation offers sustained energy regeneration due to the Barber's damage, granting you more skill uptime. Swap to Combo Points or Inner Sight during boss fights if needed.
Paragon: Focus on Close Glyph for damage reduction and attack speed while using melee weapons. Deadly Ambush enhances your critical strike damage, while Control Glyph synergizes with your crowd control effects.
↖ Combat Strategy
Trash Clearing: Utilize your Poison Trap, Twisting Blades, and Poison Imbuement to deal AoE damage and crowd control. Be cautious of ranged enemies and crowd control resistant foes.
Boss Fights: Your primary focus is crowd control. Drop Poison Traps to apply vulnerability, CC with Twisting Blades, and detonate them for massive damage. Always keep an eye on your energy, as it's not infinite during boss encounters.
↖ Conclusion
The Twisting Blades Trapper Rogue build is a potent combination of crowd control and burst damage, allowing you to dominate both trash mobs and bosses. Synergies between skills, aspects, and gear choices provide a dynamic and engaging playstyle. Remember to adapt your Paragon and specialization to suit different scenarios, and keep an eye out for opportunities to CC and unleash your devastating combos. May your journey through Sanctuary be filled with triumph and treasures!
Most Popular Posts
Popular Category Lists