Diablo 4 Elixirs Guide: Mastering The Alchemist Crafting to Easy Fight Boss
We delve into the intriguing realm of The Alchemist in Diablo 4. Join us as we uncover the importance of The Alchemist, its location, and how this knowledge can empower your potions and elixirs. From gathering herbs to crafting powerful elixirs, this guide will equip you with valuable insights for your journey.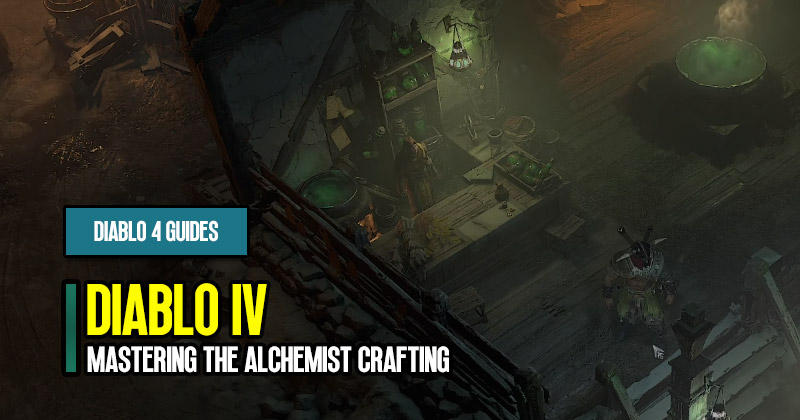 ↖ Harvesting the Bounty of Herbs
As you traverse the world of Diablo 4, you'll come across valuable resources like the Bite Berry. Like an MMO, these herbs can be collected by interacting with them. Collecting these herbs is essential for enhancing your health potions. Your inventory can initially hold up to four potions, replenishing as you defeat enemies, including formidable foes like bosses. Upgrading your health potions is a critical strategy; boosting the healing amount and increasing the quantity of potions you can carry.
↖ Unlocking The Alchemist's Expertise
Kevoyashod is where you'll encounter The Alchemist, Varoka. She bears the key to upgrading your potions and crafting elixirs. To access her services, reach Level 10 and embark on a priority quest that leads you to her presence. Varoka is marked on the map with a mortar and pestle icon, making her easy to locate.
↖ Upgrading Potions for Resilience
Upgrading your healing potions via The Alchemist enhances your survivability in battles. The potency of these potions evolves as you level up. Weak healing potions transform into Minor Healing Potions, with more significant healing and a shorter duration for recovery. The Alchemist upgrades are based on both your player level and the availability of ingredients.
↖ Boss Battles and Health Potion Management
Boss fights in Diablo 4 often last longer compared to its predecessor. Your health potions play a pivotal role in these encounters. The health bar displays arrows pointing downwards, indicating certain thresholds. As you reach these thresholds, the boss drops additional potions, often signifying new phases or mechanics in the fight. Effective use of health potions becomes crucial for success.
↖ Crafting Potent Elixirs
The Alchemist upgrades potions and crafts elixirs that provide beneficial effects for up to 30 minutes. These elixirs offer attribute enhancements, resistance boosts, and experience gains. For instance, the Weak Crushing Elixir increases overpower damage by 20% and experience gained by 5% for half an hour. Crafting these elixirs involves gathering specific herbs and ingredients.
↖ Conclusion: A World of Opportunities
In conclusion, The Alchemist and its offerings hold immense potential for your adventure. Upgrading potions and crafting elixirs through Varoka's expertise can differentiate triumph and defeat. Whether you're honing your strategy for boss fights or seeking to enhance your levelling experience, understanding The Alchemist's mechanics is a must. As you journey through the realm of Diablo 4, may your elixirs be potent and your victories legendary.
Most Popular Posts
Popular Category Lists