RuneScape Necromancy Guide: Valuable Strategies for maximizing Spellbook Efficiency
In this RuneScape guide, we'll cover valuable tips and strategies for maximizing your efficiency and effectiveness while using the Necromancy spellbook. From optimizing your conjure order to utilizing powerful abilities and gear, we'll delve into various aspects of the Necromancy spellbook gameplay.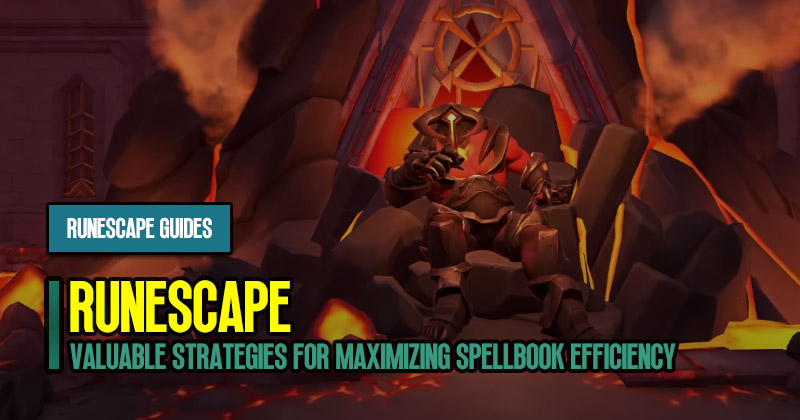 ↖ Tip 1: Skeleton Conjuring and Cooldowns
One of the key observations in Necromancy is the interaction between the skeleton conjure and the command ability. If you summon a skeleton and then activate the command ability, don't worry about cooldowns. Even if your skeleton is removed or defeated, you can immediately reconjure a new one without waiting for the command ability's cooldown. Keep your skeleton alive, as it deals significant damage. Use the command ability whenever possible to maximize its potential.
↖ Tip 2: Living Death Rotation
Living Death ability allows you to cast your death school's ability three times. To optimize this rotation, ensure you have the passive Ring of Vigour, the Conservation of Energy Relic, and the Killing Game relic. These requirements grant you the ability to use the death school ability, reset it instantly with Living Death, and then reuse it for maximum damage. If you're struggling with the precise timing, consider substituting a super adrenaline potion for an easier rotation.
↖ Tip 3: Conjure Order for Maximum DPS
When pre-conjuring your creatures before a fight, follow this order: zombie, ghost, and skeleton. This sequence ensures your skeleton, which deals the highest DPS, is the last creature conjured. When entering combat, prioritize using the ghost ability, followed by the skeleton's ability as late as possible. This approach optimizes the skeleton's duration and damage output.
↖ Tip 4: Threads of Fate Setup
Before engaging in a boss fight, utilize Threads of Fate and the Soulsap ability to gather souls. However, for situations where souls aren't required, perform a powerful combo by using Threads of Fate followed by a tier 70, 80, or 90 weapon special attack (like Death's Grasp). This combination deals substantial damage and clears enemies effectively. Remember to use anticipate before conjuring to maintain your adrenaline level.
↖ Tip 5: Essence of Finality Weapon Spec
When considering an Essence of Finality, opt for a tier 71 off-hand weapon rather than a tier 90. This choice doesn't affect the weapon's special attack, which scales with your main-hand weapon's level. This can save you money while still providing a powerful special attack.
↖ Tip 6: Neck of Orcus and Darkness Ability
For a more relaxed approach to PvM or when you want to AFK content, utilize the Neck of Orcus combined with the Darkness ability (available at level 86). This combination offers substantial damage reduction and increased dodge chances, greatly enhancing your survivability. Additionally, the tier 90 set grants a significant health boost that further strengthens your tankiness.
↖ Conclusion
With these tips, you can navigate the Necromancy spellbook more effectively in RuneScape. Mastering the conjure order, optimizing ability rotations, and utilizing powerful gear and abilities will undoubtedly enhance your performance in PvM encounters. Experiment with these strategies to find the playstyle that suits you best, and enjoy the power of necromantic magic in your RuneScape adventures.
Most Popular Posts
Popular Category Lists