World of Warcraft Melee DPS Specs Ranking in Mythic+: From Easy to Hard
Mythic+ dungeons in World of Warcraft offer varying challenges for different player skill levels. Melee DPS specs play a crucial role in these dungeons, but their difficulty levels can differ significantly. To help players navigate this, we've collaborated with top guilds Echo and Method to rank melee DPS specs from easiest to hardest in Mythic+. Keep in mind that these rankings are based on general criteria, but they should provide useful insights for players aiming to excel in Mythic+ content.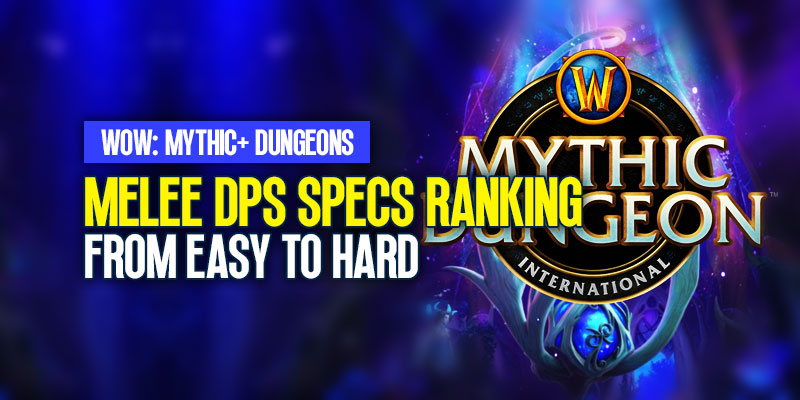 ↖ Easy Difficulty Tier: Beginner-Friendly Specs
Retribution Paladin:
Quality of Life Improvements: Recent rework made the spec more forgiving.
Passive Auto Attack: Crusading Strikes simplifies rotation.
Extended Range: Reduces DPS downtime during movement.
Accessible Defensively: Solid mix of passive and active mitigation.
Frost Death Knight:
Streamlined Rotation: Simple sequence of abilities for burst damage.
Passive Defense: Strong absorb effects and additional stamina.
Reduced Chance of One-shots: Mitigates risk in higher-level keys.
↖ Moderate Difficulty Tier: Intermediate Specs
Warrior (Fury/Arms):
Balanced Mob Control: Reliable interrupts and stuns.
Accessible Defensively: High Armor, active self-healing, and mitigation options.
Intense Damage Rotation: Fury's GCD-intensive rotation requires precision.
Rogue (Assassination/Subtlety/Outlaw):
Abundant Control Toolkit: Interrupts, stuns, and unique crowd control abilities.
Unique Utility: Tricks of the Trade, Shroud of Concealment, and more.
Varied Defensive Tools: Strong cooldowns but relatively squishy without them.
Varied Rotations: Different playstyles for each specialization.
Feral Druid:
Hybrid Responsibilities: Healer support, crowd control, and dispelling.
Defensive Versatility: Bear Form offers solid damage reduction.
Accessible AoE: Strong cleave abilities simplify AoE pulls.
Windwalker Monk:
Balanced Control Options: Interrupt, AoE stop, single target CC.
Diverse Cooldowns: Mix of powerful defensive cooldowns.
Unique Damage Mastery: Requires precise ability sequencing.
↖ Hard Difficulty Tier: Advanced Specs
Enhancement Shaman:
Complex Rotation: Multiple cooldown-based rotational abilities.
Intense Cooldown Management: Requires quick decision-making.
Limited Passive Survivability: Few options for blocking one-shot mechanics.
Unholy Death Knight:
Pet Management: Maintaining pet effectiveness for cleave damage.
Challenging Cooldowns: Juggling multiple disjointed offensive cooldowns.
Niche Mob Control: Assist with difficult pulls and interrupts.
Havoc Demon Hunter:
Abundance of Mob Control: Multiple AoE stops, single target interrupts.
Limited Passive Defense: High leech but squishy against big hits.
Complex Burst Management: Requires proper stacking of modifiers.
Survival Hunter:
Limited Defense: Reliant on non-standard damage reduction.
Minimal Passive Mitigation: Leather-wearing, lacks stamina bonuses.
Unique Role in Mob Control: Uses traps and interrupts for control.
Conclusion:
Navigating the complexities of Mythic+ dungeons requires careful consideration of the melee DPS spec you choose. The difficulty levels can vary significantly, from beginner-friendly options like Retribution Paladins and Frost Death Knights to more advanced specs like Enhancement Shamans and Unholy Death Knights. Intermediate specs, such as Warriors, Rogues, Feral Druids, and Windwalker Monks, offer a balanced challenge for those seeking a middle ground. Remember, these rankings are intended to assist players aiming to tackle Mythic+ content effectively and progress in higher-level keystones.
Most Popular Posts
Popular Category Lists