Diablo 4 Season 1 Frost Porcupine Frost-based Attacks Rogue Build
Welcome to the Frost Porcupine Rogue Build Guide, a chilly alternative to the Twisting Blades build that offers a unique and exciting gameplay experience. In this guide, we'll break down the gear, skills, and strategies that make the Frost Porcupine build a formidable choice for tackling the darkest depths of Diablo 4. This build focuses on using frost-based attacks and crowd control to freeze enemies in their tracks before unleashing devastating blows. So let's dive in and explore this frosty adventure!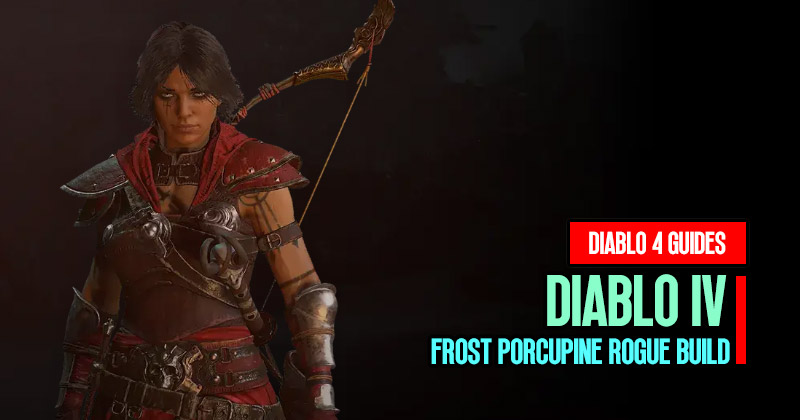 ↖ Build Planners
https://d4builds.gg/builds/4990c825-e968-4c7a-a9e7-2d14e224fb07/
↖ Gameplay Suggestions
By following these gameplay suggestions, you'll be able to master the Frost Porcupine Build's tactics and maximize your effectiveness in battle. Adapt your approach to different situations, prioritize survivability, and unleash your frosty fury on the demonic hordes of Diablo 4.
↖ - Engaging Mobs
Avoid Shadowstepping into Groups: While Shadowstep is tempting, it's best to avoid using it directly into crowds of enemies.
Large Elite Groups: Against sizable groups, consider using Puncture to pull them together or deploy a poison trap to create a shadow decoy that taunts enemies.
Cold Imbue + Dash Combo: When facing a multitude of foes, Cold Imbue and then Dash into the most threatening area of the group. Follow up with an immediate Flurry to freeze them instantly. Dispose of them while they're frozen and then deal with the remaining enemies.
↖ - Initiating Elite Trios
Cold Imbue + Dash Initiate: For a standard trio of elite enemies, start with Cold Imbue and Dash. Flurry can usually finish them off before the taunt from the shadow decoy wears off. If needed, add a poison trap for extra damage.
Shadowstep + Flurry + Poison Trap: Another initiation tactic against elite packs involves Shadowstep followed by Flurry and a poison trap. This combination can swiftly eliminate enemies, particularly if Cold Imbue is on cooldown.
↖ - Sustaining in Larger Groups
Enhanced Flurry Sustain: Enhanced Flurry's healing effect makes it great for sustaining against larger enemy groups. The armor gained from spamming Flurry compensates for any delay in stacking combo points and expectant bonuses.
↖ - Identifying Threats
Risk Factors: Remember that small groups of elite enemies are usually less dangerous compared to post-death explosions, trash mobs, and mistimed Shadowsteps.
↖ - Shadowstep Caution
Avoid Reckless Shadowstepping: While it's enjoyable to Shadowstep into action, it's generally recommended to exercise caution and avoid overusing this skill.
Balancing Fun and Strategy: Feel free to use Shadowstep occasionally for fun, but be mindful of when and where to employ it strategically.
↖ Gear Affixes Recommendations
In Diablo 4, Items gear affixes play a crucial role in shaping your character's power, survivability, and versatility. Understanding the different types of affixes and how they interact can significantly enhance your gameplay experience. you can get Custom Gear Affixes in LOLTANK
Helm Affixes:
Total Armor
Cooldown Reduction
Max Life
Basic Attack Speed
Chest Piece Affixes:
Total Armor
Damage Reduction from Close and Distant Attacks
Flat Damage Reduction
Max Life
Gloves Affixes:
Increased Flurry Skill Damage
Critical Chance
Attack Speed
Lucky Hit Chance
Pants Affixes:
Total Armor
Damage Reduction from Close and Distant Attacks
Flat Damage Reduction
Max Life
Boots Affixes:
Pennington Greaves (if available)
Movement Speed
Energy Cost Reduction
All Stats
↖ Jewelry
Amulet: Total Armor, Energy Cost Reduction, Damage Reduction
Rings: Critical Chance, Vulnerable Chance, Crit Damage
Aspect Recommendations
Helm: Quickening Fog (CC and survival)
Chest: Cheat (damage reduction from CC)
Gloves: Frostbitten (freeze shielded enemies)
Pants: Might (permanent damage reduction)
Boots: Ravages (extra Shadow Step charge)
↖ Heart Selection
Caged Heart of Trickery (CC and survival)
Caged Heart of Revenge (damage suppression)
Wrathful Heart of the Barber (explosive damage)
↖ Skill Tree and Specializations
Puncture Path:
- Fundamental Puncture
Core Skills: Max out Flurry, Enhanced Flurry, Improved Flurry
Sturdy: 3 ranks for close damage reduction
Siphoning Strikes: 3 ranks for healing on crit strikes
- Agility Path
Shadow Step with Discipline (shorter cooldown)
Dash with Methodical (lower cooldown)
Rapid Gambits: 1 point
Trick Attacks: 1 point
- Subterfuge Path
Enhanced Smoke Grenade
Poison Trap: 1 point (for imbuement uptime)
Exploit: 2 points
Malice: 3 points
Frost Imbuement (damage to CC and Frozen enemies)
- Imbuement Skills
Shadow Crash with Consuming Shadows
Deadly Venom: 1 point
Alchemical Advantage: 1 point (for attack speed)
Debilitating Toxins: 3 points (reduced damage from poisoned enemies)
Cold Imbuement: Mix Cold Imbuement
- Ultimate Skills
Leave these slots empty
- Key Passive
Close Quarters Combat (for attack speed)
↖ Paragon Board
To visualize the Paragon board, refer to the provided link in the description. Follow these key highlights:
Closer Glyph: Max out Dexterity and Strength
Cheap Shot Board: Safeguard, Control Glyph
Exploit Weakness Board: Combat, Artifice, Exploit Glyph
Deadly Ambush Board: Turf Glyph, Cunning Stratagem
Legendary Node: Legendary Endurance for increased crit damage against trap-affected enemies
↖ Gem Selection
Weapons: Emeralds for Critical Strike damage and Vulnerable damage
Armor: Topaz for damage reduction while controlled
↖ Strategy
Diablo 4 Engage enemies using various crowd control techniques to freeze them and unleash powerful flurry attacks. Focus on generating combo points with basic skills and consuming them with core skills for massive damage. Utilize trap skills to set up enemies for devastating attacks. Prioritize staying mobile and positioning yourself wisely to maximize survival.
Most Popular Posts
Popular Category Lists