Diablo 4 Season 1 Chain Lightning Hydra Oculus Stun Sorcerer Build
Hello, Diablo friends! Are you ready to push your way to Tier 100 in Season 1 of Diablo 4? If so, we've got an exciting and fun build guide for you! This build focuses on the Sorcerer class, utilizing the power of Chain Lightning, Hydra, and the unique item Oculus to create a devastating and teleport-happy build. In this detailed guide, we'll cover the skills, skill tree, legendary aspects, gear and stat priorities, and Paragon board, and even provide some general gameplay tips to help you master this build.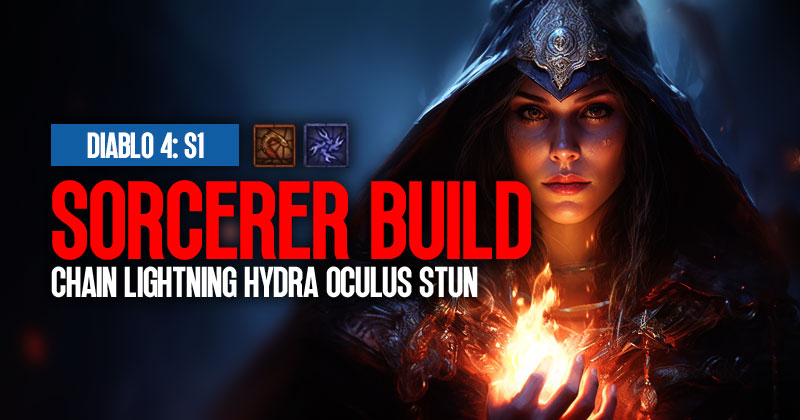 ↖ Build Overview
Before we dive into the specifics, let's briefly understand what powers this build. The core of this build relies on the Caged Heart of the Barber, a legendary item that converts single-target damage into explosive area damage. When you critically strike an enemy while wearing the Barber, the enemy enters an absorbing state for a few seconds before exploding, dealing AOE damage. To maximize this explosion damage, we use the Hydra skill, which scales its burning damage with monster level. We'll also utilize Chain Lightning to trigger Hydra's unique enchantment and generate Crackling Energy for Lightning Snares, which will permastun enemies.
Moreover, this build takes advantage of the Oculus unique item, granting additional evade charges and transforming the evade skill into a random location teleport. This adds a thrilling and unpredictable element to the gameplay, making each teleport an adventure. The build is not only fun but also surprisingly defensive and high-damage, placing it in the high A-tier or low S-tier category.
Now, let's delve into the specifics of the build.
↖ Skill Tree
Core Skills:
Fireball: Invest two points here to unlock the core skills.
Chain Lightning: Place one point into Chain Lightning and acquire the remaining four points from your gloves.
Hydra: Max out Hydra with Enhanced Hydra and Summoned Hydra for its burning damage.
Teleport and Defense:
Teleport: Allocate one point in Teleport, Enhanced Teleport, and Shimmering Teleport for damage reduction.
Frost Nova: Invest one point in Frost Nova, Enhanced Frost Nova, and Mystical Frost Nova for vulnerability.
Elemental Attunement: One point here.
Glass Cannon: Max out Glass Cannon.
Conjuration Skills:
Lightning Spare: Place one point into Lightning Spare, Enhanced Lightning Spare, and Invoked Lightning Spare.
Conjuration Mastery: Allocate three points here.
Precision Magics: Invest three points in Precision Magics for damage.
Defense and Crowd Control:
Lucky Hit: Prioritize gear with Lucky Hit instead of investing points here.
Align the Elements: One point here.
Mana Shield: Max out Mana Shield for constant protection.
Protection: Allocate three points here.
Unstable Currents: One point into Unstable Currents and one into Prime Unstable Currents for increased attack speed.
Causing Currents: One point here.
Electrocution: Invest three points into Electrocution.
Convergence: Consider putting extra points here for more crowd control.
Ultimate Passive:
Combustion: Max out Combustion for increased Hydra burn damage.
↖ Skills & Enchantments
Skills
Unstable Currents: Ultimate skill for spawning Lightning Snares
Frost Nova: Primary vulnerable applicator.
Teleport: For mobility and engagement.
Flame Shield: Primary defensive skill.
Chain Lightning: To trigger Hydra enchantment and generate Crackling Energy.
Hydra: Main DPS skill.
Enchantments
Lightning Spare Enchantment: To permastun enemies.
Hydra Enchantment: To maintain four active Hydras.
↖ Legendary Aspects & Unique Items
Defensive Aspects:
Frost Blitz Aspect: For an extra Frost Nova charge.
Aspect of Shared Misery: To spread crowd control.
Aspect of Disobedience: Essential for its damage reduction.
Exploiters Aspect: For increased crowd control duration.
Offensive Aspects:
Smiting Aspect: Adds 40% increased crowd control duration.
Serpentine Aspect: Grants an additional Hydra.
Aspect of Control: Provides additional damage to crowd-controlled enemies.
Accelerating Aspect: Boosts attack speed.
Recharging Aspect: For Mana regeneration from Chain Lightning.
Unique Item:
Oculus: Prioritize higher item levels and resource generation on hit for teleporting and damage.
↖ Gear & Stat Priorities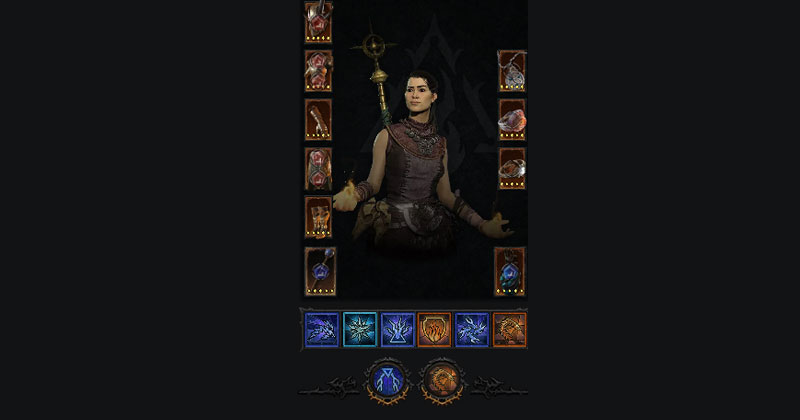 | Item Type | Stat 1 | Stat 2 | Stat 3 | Stat 4 |
| --- | --- | --- | --- | --- |
| Helmet | Crowd Control Duration | Maximum Life | Armor | Hydra Skill Levels |
| Chest Armor | Damage Reduction from Distance | Damage Reduction (in general) | Total Armor | Damage Reduction from Burning |
| Gloves | Critical Strike Chance | Attack Speed | Ranks to Chain Lightning | Intelligence |
| Pants | Damage Reduction from Distance | Damage Reduction (in general) | Flat Damage Reduction | Maximum Life |
| Boots | Movement Speed | Mana Cost Reduction | Flame Shield | Frost Nova |
| Focus | Critical Strike Chance | Critical Strike Damage | Vulnerable Damage | Maximum Life |
| Rings (Both) | Critical Strike Chance | Critical Strike Damage | Vulnerable Damage | Maximum Life |
| Amulet | Movement Speed | Defensive Skills | Conjuration Mastery | Mainstad |
↖ Caged Hearts

The Barber: Prioritize a low roll (close to 2 seconds) for the absorbing state duration. Armour is the preferred secondary stat.
Tar Russia: Synergizes well with the Barber, providing additional damage types for explosions. Prioritize armour.
Revenge: Essential for its 20% damage reduction. Please don't use the Tempting Fate variant, as it reduces non-critical damage, which affects Hydra damage negatively.
↖ Paragon Board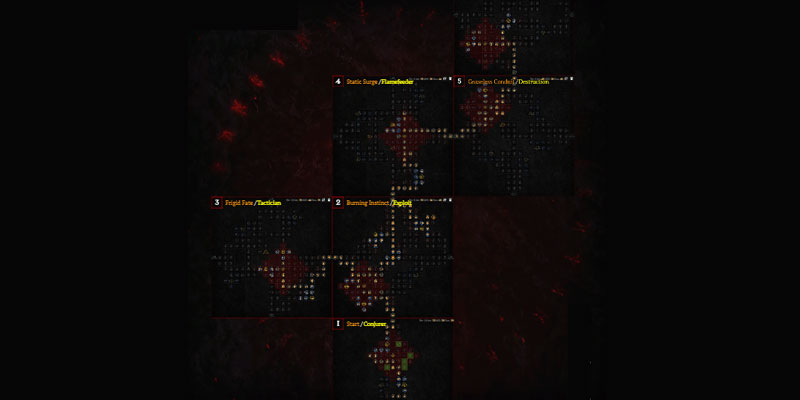 First Board (Non-Physical Damage): Prioritize non-physical damage nodes.
Burning Instinct Board: Burning Instinct Glyph, Reduction from Burning Damage, Vulnerable Damage Increase
Frigid Fade Board: Vulnerable Damage Increase, Tactician Glyph (for Vulnerable Damage)
Static Surge Board: Mana Bonus, Damage to Stunned
Keystone Conduit Board: Glyph Socket (with Destruction Glyph for Critical Strike Damage)
Searing Heat Board: Glyph Socket (with Control Glyph for Damage to Crowd Controlled Enemies), Critical Strike Damage
Conclusion:
This Sorcerer Chain Lightning Hydra Oculus Stun build is a powerful and exhilarating choice for Tier 100 pushing in Diablo 4 Season 1. It offers a unique and chaotic playstyle while maintaining strong defensive capabilities and high damage output. By following this comprehensive guide, you'll be well-equipped to master the build and tackle even the toughest challenges the game has to offer.
Most Popular Posts
Popular Category Lists