Runescape Slayer Guide: Aberrant Demons and Necromancy Training
In this Runescape guide, we will delve into the world of Aberrant Demons, a fantastic way to train your Invention skill and a viable option for Necromancy training. Aberrant Demons are an excellent choice if you find yourself in that sweet spot where you're too strong for weaker enemies but not quite ready for the big bosses. They not only offer great experience points (XP) but also provide decent loot. However, the recent fluctuations in Pure Essence prices have affected their profitability. In this guide, we will also explore another creature found in the Slayer Tower, the Nec.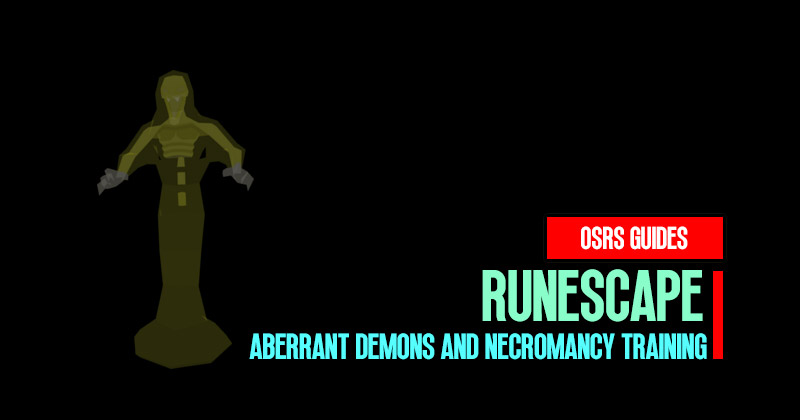 ↖ Aberrant Demons: The Ultimate Training Ground
Aberrant Demons are your go-to choice for leveling up your Invention skill, and they also provide substantial profit and Necromancy training potential. You can expect to make around 5 million Runescape GP per hour, excluding the cost of using the Def Note Archaeology relic, which allows you to note your ashes and bones.
↖ Loot from Aberrant Demons
Pure Essence: While the price has decreased, it's still a decent source of income.
Salvage: Collect large plated Rune Salvage, medium-bladed Addy Salvage, tiny Rune Salvage, and tiny Spike Salvage for additional profit.
Coin Drops: You can expect 2 to 3 million GP from coin drops.
XP Capacitators: If you have these, you can significantly boost your experience gains.
Charming Imp: Great for collecting Crimson charms, which Aberrant Demons drop frequently.
↖ Recommended Gear and Setup
Best armor with perks like Demon Slayer, Ruthless, and Scavenging.
Consider using a Bunyip for gradual healing.
Abilities: Utilize area-of-effect (AOE) abilities to maximize damage output.
Inventory: Carry aggression overloads, Excalibur, the Attuned Ectoplasmator, and Magic Notepaper.
Optional: Familiars, food, or additional healing items based on your level and preferences.
↖ Necromancy Training with Aberrant Demons
Aberrant Demons are also an excellent choice for training Necromancy. With the right setup, you can expect to make 5 to 7.5 million GP per hour. Using the Def Note Archaeology relic is highly recommended for this purpose.
↖ Necromancy Training: The Nec Alternative
If you're looking for an alternative to Aberrant Demons, consider Nec. They require an 80 Slayer level, making them accessible for many players. While they might not be as profitable as Aberrant Demons, they offer a steady source of income. Additionally, they have the potential to drop Conal Blood, which is valuable due to its use in potions.
↖ Gear and Setup for Necromancy Training
Similar gear and abilities as with Aberrant Demons.
Consider the use of Soul Split for better sustainability.
Utilize AOE abilities for efficient kills.
Carry aggression overloads, the Attuned Ectoplasmator, and Magic Notepaper.
Bring prayer potions or use the Demon Horn Necklace for infinite prayer.
↖ Conclusion
Runescape Aberrant Demons remain a top choice for Invention training, providing decent profit and a great experience. With the inclusion of the Nec alternative, you have flexibility in your Slayer tasks and training methods. Choose the one that suits your level and goals, and don't forget to adapt your setup based on your preferences. Happy demon hunting and Necromancy training in the world of Runescape!
Most Popular Posts
Popular Category Lists