ESO Secrets of The Telvanni Event 2023 Guide: What Should You Need to Know?
Secrets of Telvanni Event is a celebration centered around the Necrom chapter of The Elder Scrolls Online. To take part in this event, you'll need to own the Necrom Chapter. Mark your calendars, as the event is set to run from September 28th to October 10th, 2023. In the following article, we will uncover all the intricacies, rewards, and adventures that await you during the Secrets of Telvanni Event.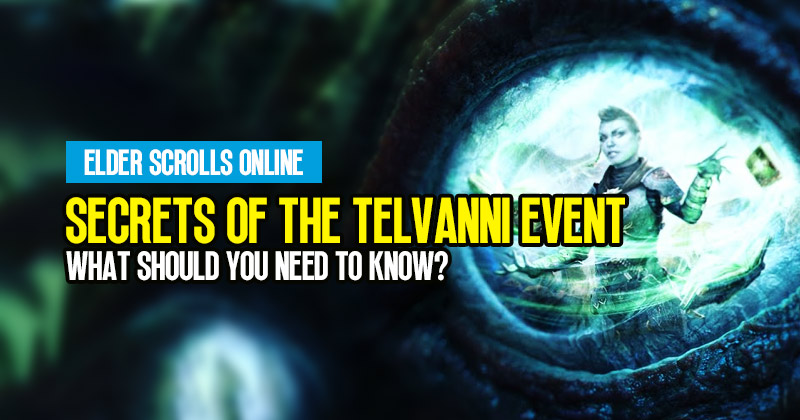 ↖ Community Challenges
ESO has spiced things up this year by introducing a community challenge during the Secrets of Telvanni Event. Here's what's at stake:
33.3% Completion: Unlock the Ebony Scarab Pet.
66.6% Completion: Unlock the Nightmare's Nests Markings.
100% Completion: Unlock the Kelesan'ruhn player house.
It's a collective effort, so get ready to join forces with your fellow adventurers to achieve these milestones.
↖ Double Rewards
During the event, you'll have the chance to earn double rewards in Telvanni Peninsula and Apocrypha for various activities, including:
Defeating World Boss and Delve Boss enemies.
Completing Necrom Daily Repeatable quests.
Conquering bosses in the Sanitiys Edge Trial.
Harvesting nodes in Telvanni Peninsula and Apocrypha.
↖ Sublime Secret of Telvanni Coffer
Completing your first daily repeatable quest in Necrom or the daily event quest Turn the page will reward you with a Sublime Secret of Telvanni Coffer. These coffers contain a plethora of valuable rewards, including:
Unique motif pages from the Necrom zone.
Furnishings and furnishings recipes.
Companion gear.
Returning Kwama Miner's Kit outfit style.
Returning Ashen Militia weapon style.
The new Apoycrypha Expedition Armor Style pages.
↖ Rare Secret Telvanni Coffers
Participating in activities within Necrom can also grant you rare Secret Telvanni Coffers, although they have a lower chance of providing rare rewards.
↖ Event Participation
To participate in the Secrets of Telvanni Event, you have two options:
Direct Travel: Travel directly to Necrom and begin your adventure there.
Crown Store Quest: Pick up the Event Quest The Telvanni Secret for free in the Crown Store. Then, speak with Master Faras in the Necrom Outskirts and complete his request. Your efforts will be rewarded with an event coffer, and you'll unlock the daily repeatable event quest Turn the page.
↖ Daily Repeatable Quests
Necrom offers a variety of daily repeatable quests for you to undertake:
Ordinator Tilena offers six delve daily repeatable quests.
Ordinator Nelyn provides six group boss daily repeatable quests. You can pick up one delve and one group boss per character per day. However, you can complete all six delve dailies and all six group boss dailies by grouping up with other players and sharing the quests.
Ordinator Tandasea offers Bastion Nymic daily repeatable quests, which can be completed once per day and are not shareable. These quests are designed for a group of four players, so consider teaming up with others.
You can also complete one weekly Trial repeatable quest in Necrom. Wizard Telvane offers the quest "War Within" for the Sanity's Edge Trial. The weekly quest giver can be found at the entrance area of the Trial.
↖ Event Tickets
During the Secrets of Telvanni event, you can earn 2 Event Tickets per day per account. These tickets are awarded for completing your first daily repeatable quest or the Sanity's Edge weekly quest in Necrom.
↖ Event Merchants
The Impresario Event Merchant has some exciting offerings during the event. You can purchase Apocrypha Expedition Style pages for 5 event tickets each. Additionally, the Impresario offers Passion Dancer Blossom fragments, which are needed to create the Passion Dancer Garment costume, among other ESO items.
The Indrik Vendor will also be available during the event's third quarter of 2023. You can purchase Nascent Indrik feathers, Onyx Indrik berries, Mossheart Indrik berries, and even the Ebon-Glow Indrik Pet and Sapling Indrik Pet from her.
Philius Dormier, the Impresario's Assistant, will open his shop during the Secrets of Telvanni Event's third quarter of 2023. You can find Unstable morpholith pet fragments and Deadland's Firewalker Personality fragments among his offerings.
Conclusion:
That wraps up our comprehensive guide to the Secrets of Telvanni Event in The Elder Scrolls Online. I hope you found this information helpful in your journey through Necrom. As always, remember to like, subscribe, and leave a comment if you enjoyed this guide. Have a fantastic day, and until next time, happy adventuring! Toodles!
Most Popular Posts
Popular Category Lists