Diablo 4 Season 2 Everything You Need to Know
Diablo 4 Season 2 is just around the corner, and it promises to bring a wealth of changes and updates to the game. In this comprehensive guide, we'll break down all the information from the recent developer stream and provide insights into what you can expect in Season 2. Whether you're a seasoned player or new to the world of Sanctuary, this guide will help you prepare for the upcoming season.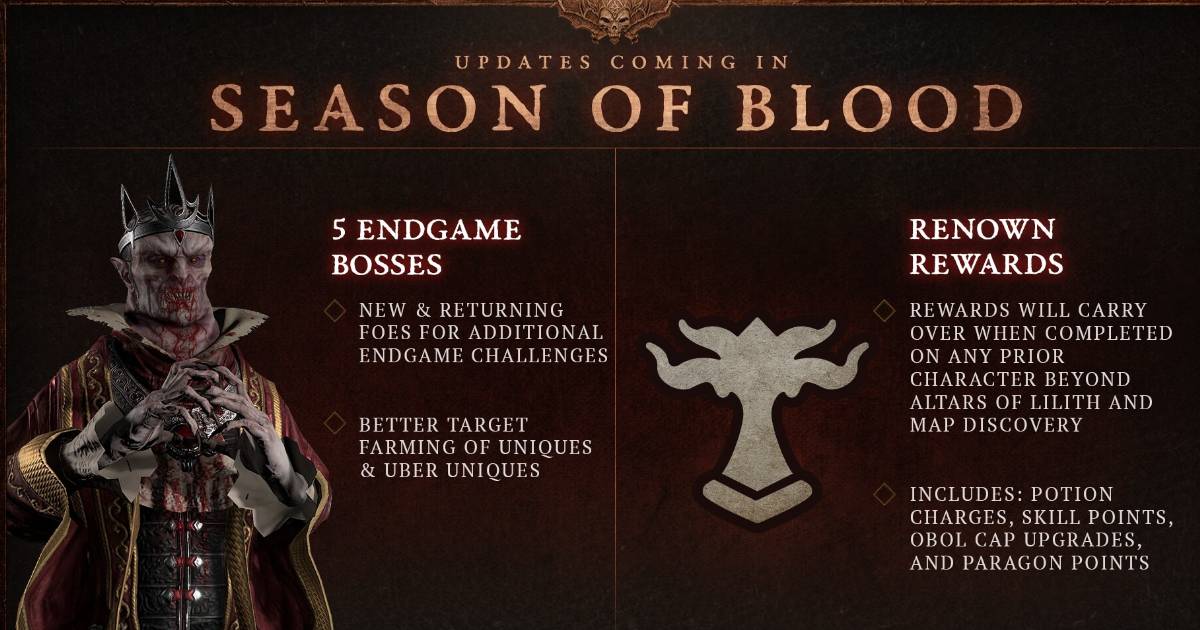 ↖ Season 2 Release Date
Season 2 of Diablo 4 is set to release on October 17th at 10:00 AM Pacific Time. The central storyline revolves around the invasion of Sanctuary by Lord Zir, an ancient vampire with sinister intentions. Players will engage with the main NPC, Aries, a vampire hunter, as they embark on a quest to combat Lord Zir's forces and uncover the secrets of his invasion.
↖ New Features and Changes
Vampiric Powers: Season 2 introduces 22 vampiric powers that players can equip, with the ability to use up to five simultaneously. These powers have evolving levels, up to a maximum of level three. Equip powers based on specific requirements indicated by packs on your gear.
Gear types have different pack limits: normal gear (3 packs), sacred gear (4 packs), and ancestral gear (5 packs).
You can customize packs using specific items, reducing RNG and making the system more manageable.
Vampiric Curses: Vampiric powers allow players to apply curses to enemies. Killing cursed enemies generates souls, which some abilities can consume for enhanced effects, adding a dynamic element to gameplay.
New Dungeons (Crips): Season 2 introduces new dungeons known as Crips, which players will encounter throughout the seasonal story. The end dungeon of the story is teased as "very cool," offering an exciting challenge.
Blood Seekers: These enemy lieutenants of Lord Zir's army drop items that can add packs to your armor. They can be found in the Overworld, dungeons, or fought intentionally using lures.
New Monster Families: Shadow Vampires and Blood Skeletons bring variety to enemy encounters in Season 2.
Blood Harvest Event: Similar to Hell Tide, Blood Harvest is a season-specific event that spawns unique monsters and captured civilians. Participating in this event yields special materials, lures, and vampiric keys, which can unlock valuable rewards.
Lord Zir: The primary antagonist of Season 2, Lord Zir, is not just a seasonal boss but will also become a significant endgame boss in Diablo 4.
↖ Endgame Bosses
Diablo 4 Season 2 introduces a revamped endgame boss system. Five new bosses, including Lord Zir, offer a heightened chance to drop specific uniques and cosmetics. These bosses are accessible by collecting materials and summoning them. Notably, Duriel, the King of Maggots, has a low but increased chance of dropping Uber Uniques.
↖ Gameplay and Progression Changes
Experience Gains: Experience gains from Level 1 to 100 are expected to be 40% faster, making leveling more accessible for players. This change aims to address the need for more endgame content.
Scrolls of Escape: Hardcore players will have Scrolls of Escape automatically used upon disconnect to prevent character death.
Skip Campaign: Loading into a new character that has skipped the campaign will grant 10 unlocked waypoints to improve the player's experience.
Item Power and Loot System: Item power drop ranges have been adjusted, with a maximum item power cap of 920. Monsters will drop crafting materials instead of items that don't match your character's level.
Nightmare Dungeons: Quality-of-life changes in Nightmare Dungeons include improved layout design, increased event density, and scaling of NPC enemies during dungeon events.
User Interface Improvements: The user interface has seen several improvements, including stash sorting, search functionality, and easier access to key locations within towns.
Mount Changes: Mounts have received various quality-of-life improvements, including enhanced movement tracking, increased base move speed, longer sprint durations, and the ability to break through barriers while mounted.
World Events: Legion and World Boss event timers have been adjusted for more frequent occurrences, with warnings provided in advance.
Whispers of the Dead: Changes to Whispers of the Dead make it a more rewarding experience, offering gold rewards and items closer to your character's level.
Auto-Run: An auto-run button has been added for smoother movement, and the mini-map has been zoomed out for improved visibility.
↖ Conclusion
Diablo 4 Season 2 brings a significant amount of changes and updates to the game, addressing various player concerns and improving overall gameplay. While it may not be a complete solution to all of the game's issues, it marks a positive step forward in making Diablo 4 more engaging and enjoyable. With the promise of more updates and expansion announcements on the horizon, there's hope for the game's continued growth and improvement.
Most Popular Posts
Popular Category Lists