Diablo 4 Season 2 Vampiric Powers Guides
Hey there! Let's dive right into the all-new Season 2 vampiric powers mechanic in Diablo 4.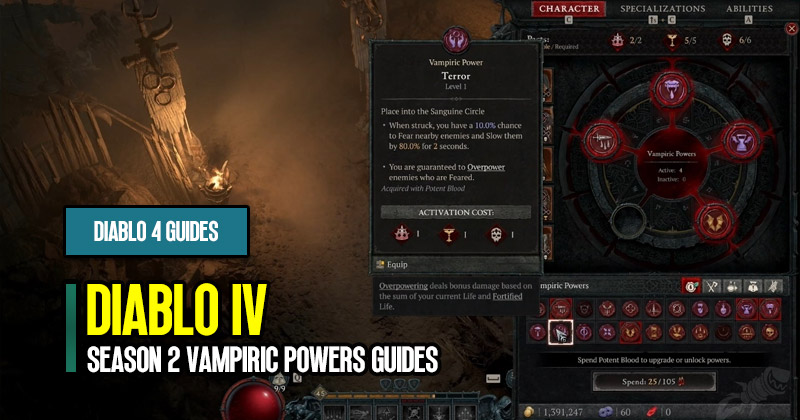 ↖ How it Works
The Vampiric Power System: Unlike season 1 where we used sockets in jewelry, season 2 requires you to have packs on your gear to use the skill.
Armor Packs: An armor piece like gloves might say Pax granted: 3 out of 5. These packs can vary, representing different skills, with a maximum of 5 packs per armor.
Total Packs: With 5 armor pieces, you can have a total of 25 packs.
Power Activation: Different powers need different amounts of these packs. They also have an activation cost.
↖ Changing Packs
Unlike the previous season's malignant hearts, in Season 2, you can completely change the packs on an item.
Cleansing Acid: This item removes all packs from a piece of gear.
Packs of Ferocity, Divinity, and Eternity: These can be added to match the required pack for a skill.
↖ Vampiric Powers
They're divided into minor (cheaper, simpler effects) and major (costlier, more potent effects).
↖ Minor Vampiric Powers Highlights
Anticipation: Your ultimate skills grant significant cooldown reductions and damage boosts based on enemies affected by your DoT effects.
Domination: Big damage boost against crowd-controlled enemies.
Hectic: For every five basic skills you cast, one active cooldown is reduced.
Pray on the Weak: Deals increased damage to vulnerable enemies.
Ravenous: A chance to get a significant attack speed bonus based on movement speed.
Bulwark: Druids, especially with low life, can get massive damage reduction.
↖ Major Vampiric Powers Highlights
Bathing Blood: While channeling a skill, you get a pool of blood. Standing in it boosts your channeled skills' damage and gives you damage reduction.
Blood Boil: Core skills that overpower enemies spawn volatile blood drops. These cause you to explode, dealing damage.
Moonrise: Hitting an enemy with a basic skill increases your attack speed. At max stacks, you get a damage boost and movement speed increase.
↖ Final Thoughts
The new vampiric powers system in Season 2 of Diablo 4 adds a layer of strategic depth to gear choices and build optimization. The ability to change and customize packs on gear pieces provides flexibility in build design. Some powers, especially the major ones, have the potential to be game-changing for certain builds. With the season not yet live, there's a lot of potential for these powers to shake up the meta.
Most Popular Posts
Popular Category Lists