ESO Witches Festival Event 2023 Guide: Everything You Need To Know
The Halloween season is upon us, and that means it's time for Elder Scrolls Online annual Witches Festival event! In this guide, we'll walk you through everything you need to know about the ESO Witches Festival, from its potential event dates and how to kickstart your journey to the thrilling Plunder Skull rewards, the best farming strategies, and the most sought-after recipes. Get ready for a chilling experience filled with double XP, ghoulish goodies, and a wealth of knowledge to ensure you make the most of this spine-tingling celebration in Tamriel.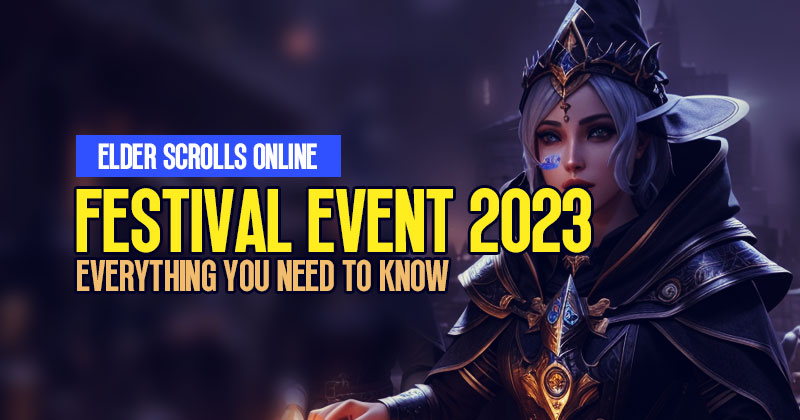 ↖ Event Dates
While ZeniMax Online Studios (ZOS) typically releases the official event dates only a few days before the festival begins, historical patterns suggest that the Witches Festival usually starts in the second or third week of October and runs through the beginning of November. Keep an eye on ESO's official announcements for precise dates.
↖ How To Participate?
To kick off your Witches Festival adventure, you can access the event through the Crown Store's featured section or by completing the free quest. Completing this quest will reward you with the Witch Whistle Memento, which you can use to summon a spectral black cat. If you've participated in the event before and already have the Witch Whistle, you won't need to complete the quest again to access the festival.
One of the main highlights of the Witches Festival is the double XP event. This is a great opportunity to level up your characters faster and unlock new skills and abilities. Additionally, during the event, you can acquire a Memento that can make your character look undead, perfect for embracing the Halloween spirit.
↖ Plunder Skull Rewards
The core of the Witches Festival lies in obtaining Plunder Skulls, which contain a variety of valuable rewards. Here's a breakdown of what you can expect to find inside these coveted skulls:
Provisioning and Furnishing Recipes: These recipes are essential for crafting unique food and furniture items. Some of them can be quite valuable, so keep an eye out for them.
Fragments for Pets: Collect fragments to obtain adorable pets to accompany you on your adventures.
Crafting Materials: Plunder Skulls often contain crafting materials, which can be used for various professions, such as blacksmithing, woodworking, and alchemy.
Creepy Crawlies: You might stumble upon various creepy critters and insects as rewards, perfect for adding eerie ambiance to your in-game home.
Witches Festival Crafting Writs: Completing these special crafting writs will reward you with the Hollowjack Style Motif, a unique and spooky crafting style.
↖ Style Motif Worth
Hollowjack Style Motif, although visually striking, may have reduced value due to its long-standing presence in the game. Motifs that have been available for a while tend to lose their high market value. Nevertheless, if you're a collector or want to embrace the Halloween theme, acquiring the Hollowjack Motif is still worth considering.
↖ Farming Plunder Skulls
To acquire Plunder Skulls, you need to defeat specific types of bosses during the event. Here are the types of bosses you can target for Plunder Skulls:
Arena Final Bosses
Invasion Bosses
Dungeon Final Bosses
Public Dungeon Bosses
World Bosses
Sweeper Bosses
Quest Bosses
Trial Final Bosses
While there's a variety of boss types you can tackle, the most efficient methods for farming Plunder Skulls are usually:
Delve Bosses: Delve bosses are often easy to find, quick to defeat, and provide a steady stream of Plunder Skulls.
World Bosses: World bosses offer a higher chance of rewarding Plunder Skulls, and they tend to drop valuable gear sets that can be sold.
Alik'r Desert Dolmens: These dolmens offer an excellent balance of Plunder Skulls and experience points. They are easily accessible for all players.
Bangkorai World Boss Triangle: This area provides a good balance of Plunder Skulls and valuable gear sets. It's a popular spot for farming during the event.
Deshan: A reliable backup location with decent World Boss density and accessibility.
↖ Event Tickets
You can earn event tickets by defeating any boss type mentioned above for the first time each day. Event tickets are essential for acquiring special items from the Impresario, a vendor that appears during events. These rewards vary from year to year, so keep an eye on the vendor's offerings.
↖ Witch's Grab Bag
Consider investing in the Witch's Grab Bag, which contains items from previous years' events. While these items are non-tradable, they can be a valuable addition to your collection. You might also find opportunities to complete your collection of event masks by trading with other players.
↖ Special Quest
A special quest added in 2021, Plucking the Crow, offers three Plunder Skulls as a reward. While it can be completed for additional rewards, it may not be the most efficient method for farming Plunder Skulls due to its length and difficulty.
↖ Recipes
The true highlight of the Witches Festival is the collection of recipes you can obtain. Here are some of the notable ones:
Witchmother's Potent Brew: A universally popular buff food that is both cost-effective and beneficial for various content.
Purifying and Corrupting Bloody Mara: Useful recipes for those who want to adjust their vampirism level on the fly.
Pack Leader Bone Broth: A top-tier recipe that provides excellent stat bonuses.
Ghastly Eye Bowl: Ideal for magic characters looking to maximize magicka and magicka recovery.
These recipes can be a significant source of ESO gold profit if you stock up during the event and sell them later when the prices increase.
↖ Furnishing
Don't forget to check out the festival's furnishing options, which can also be valuable to craft and sell throughout the year. Pre-made furnishings can fetch a good price from players looking to decorate their homes with a spooky touch.
↖ Farming Locations
Alik'r Desert: Ideal for XP and Plunder Skull farming, especially for new players.
Bangkorai World Boss Triangle: Offers a good balance of Plunder Skulls and valuable gear.
Deshan: A reliable backup location with decent World Boss density.
For those looking to maximize profit, consider dragon farming in Southern Elsweyr. Dragon farming can yield valuable resources like Dragon's Blood and Dragon's Bile, which will likely see increased demand due to Q4 PvE content.
Conclusion:
The ESO Witches Festival is a fantastic opportunity to earn valuable rewards, level up your characters, and immerse yourself in the Halloween spirit. With a variety of bosses to defeat, recipes to collect, and items to trade, there's something for every player to enjoy during this annual event. So, don your costume, sharpen your sword, and embark on a spooky adventure in the world of Tamriel!
Most Popular Posts
Popular Category Lists