Diablo 4 Season 2 Best Vampiric Powers Tier List
With Diablo 4 Season 2 right around the corner, everyone's talking about the Vampiric Powers. I won't be covering every single ability today, but rather focusing on what I believe will define the meta for the upcoming vampiric powers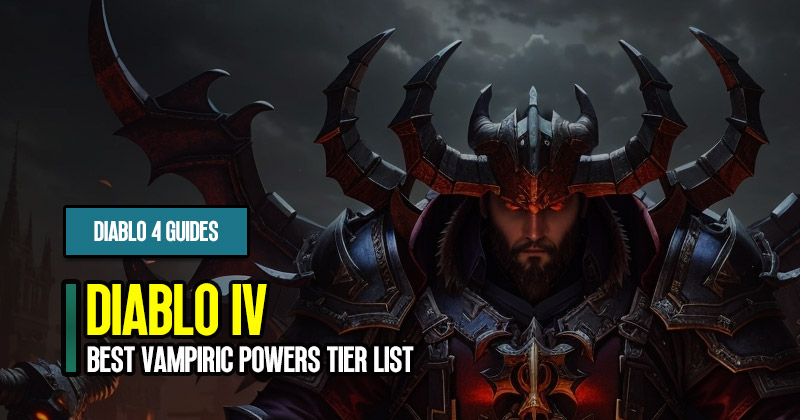 ↖ Top Tier Powers
↖ - Ravenous
Category: Minor Vampiric
Requirement: Three ferocity
Effect: Lucky hit up to 20% chance to increase attack speed by 40% of your total movement speed for 6 seconds.
Importance: Almost every build will use this due to its huge impact on attack speed without a cooldown.
↖ - Undying
Category: Minor Vampiric
Requirement: One eternal
Effect: Casting skills heals you for 3% life, and double this bonus below 50% life.
Importance: Great for healing, especially for newer bosses.
↖ High Potential Powers (A and B Tier)
Hectic: Great for cooldown reduction.
Flowing Veins: Amplifies damage over time.
Sanguine Brace: Offers fortification and crit chance.
Resilience: Provides damage reduction based on missing life.
Prey on the Weak: Boosts damage to vulnerable enemies.
Anticipation: Reduces ultimate cooldown and increases damage based on DOT effects.
↖ Niche Powers (C Tier)
Jag Spikes: For thorns-based builds.
Metamorphosis: Evasion tactic turning you into bats.
Feed the Coven: Resource regeneration through minion or companion attacks.
↖ Experimental Power
Coven's Fang: Attacks deal a percentage of your maximum life as damage. This could potentially lead to huge damage output based on life scaling.
↖ Conclusion
While these are my top picks based on current data, always remember the dynamic nature of Diablo 4. The meta is subject to change as players discover new builds, synergies, and as updates roll in. Keep experimenting, and always stay updated with new content to ensure you're at the top of your game. Happy demon hunting!
Most Popular Posts
Popular Category Lists