Diablo 4 Season 2: Spotlight on New Uniques and Legendaries
Diablo 4's Season 2 has ushered in a wave of fresh unique items and legendaries, promising to reshape gameplay and strategy for avid players. This guide dives deep into these new additions, offering insights into their abilities, stats, and potential game-changing impacts.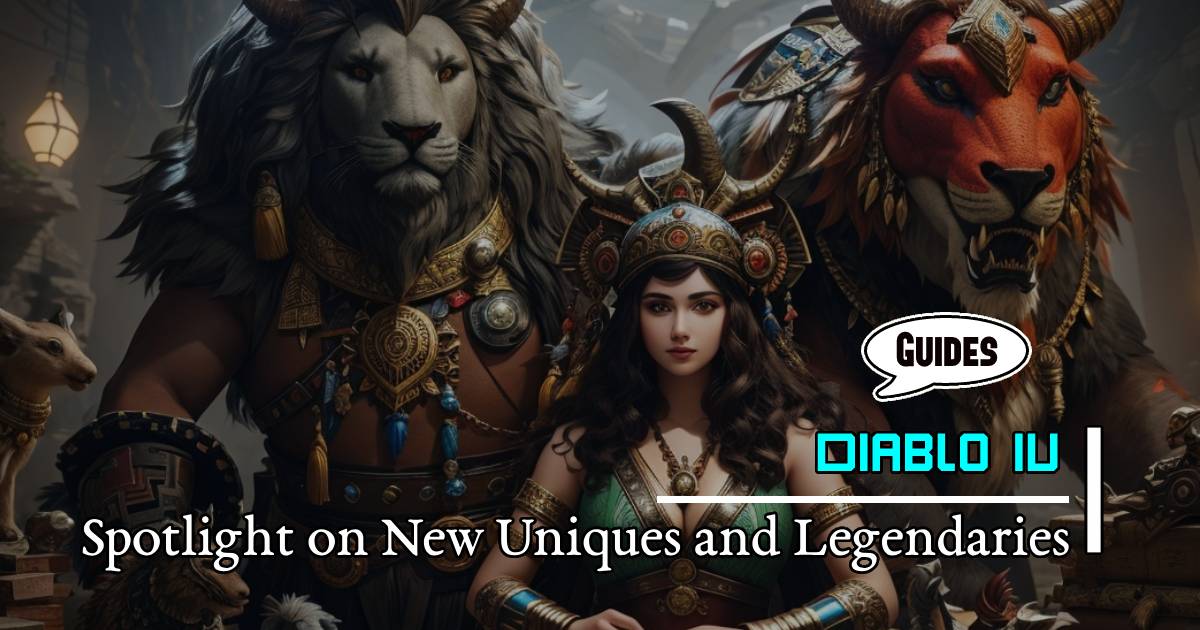 ↖ Druid Unique - Dolman Stone
Stats: All resistance, life, resource generation, nature magic skill cooldown reduction, and a bonus of +2 to all Wrath skills.
Special Ability: Casting Boulder while Hurricane is active causes boulders to rotate around the player, hitting enemies multiple times.
Impression: Offers a significant DPS boost. A must-have for Druid players aiming to maximize damage output.
↖ Rogue Unique - Scoundrel's Leathers
Stats: Bonus trap skill damage, damage reduction from enemies affected by trap skills, dodge chance.
Special Ability: While having unlimited energy from Inner Sight, core skills have a 64% chance to spawn traps like cow trops, poison trap, or death trap.
Impression: Offers versatility in trap play and potential synergies with ultimate abilities. However, the loss of chest piece damage reduction is worth noting.
↖ Sorceress Unique Boots - Flicker Step
Stats: All stats, movement speed, ultimate skill damage, damage reduction from close enemies.
Special Ability: Evading enemies reduces active ultimate cooldown by 2-4 seconds, up to 10 seconds.
Impression: Has potential for multiple classes. A boost in cooldown reduction makes it a desirable choice for many.
↖ Additional Noteworthy Uniques
Tets of the Dawning Sky (Generic): Gain 6-10% maximum resistance against non-physical damage types.
Tusk Helm of the Jorit the Mighty (Barbarian): Gain bonuses while berserk, including damage, fury regeneration, and cooldown reduction.
↖ Highlighting Legendary Aspects
Aspect of Slaughter (Generic Mobility Boots): Grants 20% bonus movement speed, which is lost for 2.5-5 seconds after taking damage. Its interaction with barriers is still unconfirmed.
Aspect of Elements (Generic Offensive): Provides alternating damage boosts to sets of damage types.
Wan Rupture Aspect (Barbarian): Rupture retains bleed damage but comes with a significant cooldown.
Aspect of the Long Shadow (Necromancer): Shadow damage over time effects can generate essence.
↖ Conclusion
The new additions in Diablo 4's Season 2 promise a mix of strategy and playstyle adaptations. While some items present significant advantages, players need to weigh their choices against potential trade-offs, especially concerning damage reduction. Armor changes, with resistances being revamped, are set to alter the playing field further. Whether you're diving into the new season or sticking to non-seasonal play, these insights should prepare you for the battles ahead.
Most Popular Posts
Popular Category Lists