Runescape Gold Farming: Mastering Griffins in Poer Dungeon
In our quest to determine if a mob is worthwhile, we are challenging ourselves to defeat each mob times. Today's highlight: the Runescape Griffin (also referred to as "Grip Fallin" and "Galopin").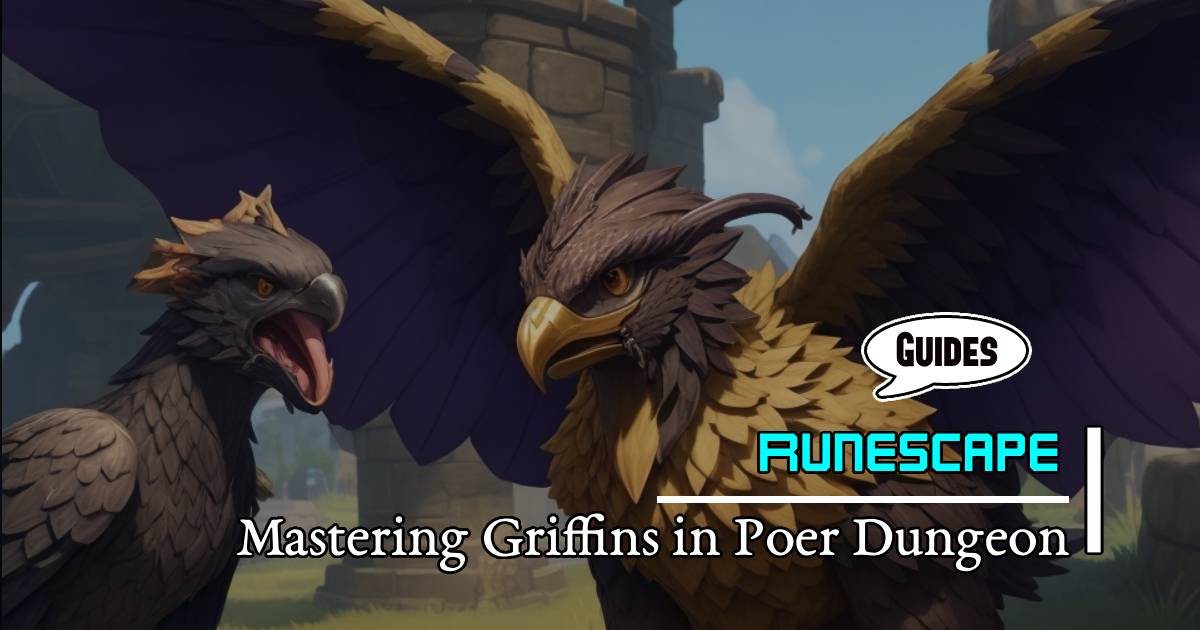 ↖ Location and Basics
Primary Location: Poer Dungeon
Alternative Location: Player-Owned Slayer Dungeon
Hit Points (HP): Griffins boast 7,400 HP.
Slayer Requirements: You need a Slayer level of 88 to take them on. If you want to host them in your personal Slayer dungeon, you'll need to be level 99.
↖ Recommended Gear and Skills
Weaponry: At least a tier 0 weapon to ensure faster kills.
Skills: Use the Magic and the recently released Necromancy skill. Especially, Necromancy proves to be extremely efficient for training in this location.
For our experiment, we relied on the Magic skill for all kills.
↖ Noteworthy Drops
Guaranteed Drop: Bones
High-Value Drops: Grifolic flakes, grifolic wand, and grifolic shield.
Other Drops: Gargoyles, mushrooms, snap grass, and other miscellaneous items. Every drop can add to your profit, so don't ignore any!
↖ Essential Equipment for an Efficient Hunt
Vampyric Amulet and Soul Split: These are vital for health regeneration.
Bone Crusher and Demon Horn Necklace: Convert bones into prayer points, ensuring longer stays.
Agressors Gloves: Keep Griffins from getting too aggressive, especially for lower levels.
Alchemy Runes: Turn grifolic wand and shield drops into pure gold!
↖ Strategy
Equip your best combat gear, fill your inventory with the above-mentioned items, and start your Griffin hunt! With a fast respawn time and 49 spawns distributed across the Poer Dungeon's various levels, you won't be waiting long between kills. The ideal spots have four Griffins on a single mushroom head.
For lower levels, it's advisable to take on the Griffins one at a time. Boosting potions can be beneficial, and the use of alchemy runes will convert precious drops into cold, hard cash.
↖ Results from Griffin Kills
After tirelessly killing Griffins, we amassed an impressive loot pile:
Estimated Gross Value: 16.4 million Runscape GP, with the grifolic flakes being the most profitable drop.
Net Profit: After accounting for all expenses, we pocketed around 15 million GP. Given it took less than 2.5 hours, that's an hourly rate of 6-8 million GP!
Experience Gained: Roughly 190k to 250k combat XP/hour. Incorporating demon tasks could also yield an additional 100k to 140k Slayer XP.
↖ Conclusion
Griffin hunting in Poer Dungeon is both a lucrative moneymaking and XP-gathering activity, especially for lower levels. We highly recommend incorporating this into your gameplay. If you observe varying results, let's discuss and compare notes!
Most Popular Posts
Popular Category Lists