Diablo 4 Season 2 The Conjuration Vampiric Hydra Sorcerer Build
Diablo 4 is undergoing exciting changes in Season 2, particularly with the revamped damage formula that's making DOT builds more potent than ever. In this guide, we'll explore a theorycrafted build that leverages these changes to create a formidable Vampiric Hydra Sorcerer. By the end of this guide, you'll understand why this build could be your new favorite for Season 2.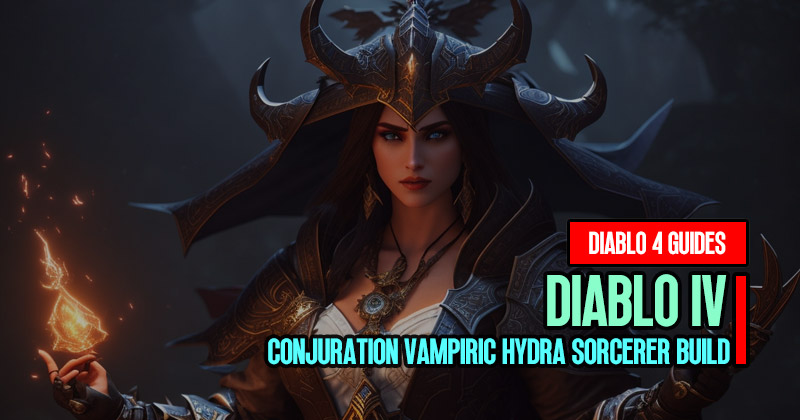 Build Planner: https://tinyurl.com/47zwujmy
↖ New Features
Before we dive into the build, let's briefly discuss some new features and aspects that play a crucial role in this setup. Keep an eye out for these elements as they contribute to the build's success.
Coven's Fangs: Enhances your conjuration companion minions and bat familiar attacks, dealing 52% more damage to crowd-controlled enemies. It also provides a 30% chance to inflict Vampiric Curse, setting the stage for our DOT damage.
Prey on the Weak: Grants a 16% damage boost against vulnerable enemies. Vulnerable status is now additive, so we don't need Frost Nova to apply it.
Feed the Coven: Provides a 44% chance to inflict Vampiric Curse, which can also spread to nearby enemies. This introduces additional damage possibilities through the Vampiric Curse.
Flowing Veins: Grants 60% increased damage over time to moving enemies or those affected by Vampiric Curse. This significantly boosts our DOT damage output.
Feed the Coven (Resource): Conjuration, companion minions, and bat familiar attacks have a 60% chance to restore 10 primary resources and increase our damage output by 10% for 4 seconds.
Anticipation Node: This is a great alternative if resource generation isn't an issue for you. It provides cooldown reduction and damage bonuses based on the number of enemies affected by your DOT effects.
Battle Casters Aspect: A new source-specific aspect that enhances your conjuration skills. It's essential for boosting your skill ranks, which is crucial in this build.
Aspect of Engulfing Flames: Increases burning damage significantly. When enemies are below 50% health or under the influence of your DOT effects, they receive up to a 150% bonus burning damage.
Unique Rings: New rings provide unique effects that can lead to DOT explosions, enhancing your damage output.
↖ Skills and Enchantments
Let's break down the skills and enchantments that make this build work seamlessly.
↖ - Skill Bar
Chain Lightning (Core skill)
Flame Shield (Enhanced mobility and crowd control)
Teleport (for additional mobility and damage reduction)
Hydra (Your main source of damage)
Inferno (DOT skill)
Firebolt (Bonus burning damage and versatility)
↖ - Hydra Enchantment
Hydra after spending $2 Mana, a five-headed Hydra spawns for 5 seconds.
Lightning spear absorbing crackling energy has a 10% chance to conjure a lightning spear.
↖ - Skill Tree
Invest in skills that improve the burning damage from Firebolt and Inferno. Prioritize DOT enhancements and crowd control.
↖ Aspects
Binding Embers: Allows unhindered movement through enemies with Flame Shield and guarantees immobilization.
Disobedience: Reduces damage taken from crowd-controlled or vulnerable enemies.
Every Living Aspect: Provides further damage reduction from crowd-controlled or vulnerable enemies.
Charged Aspect: Enhances movement speed for greater mobility.
↖ Paragon Board
Customize your Paragon board based on your preferences and needs, with a focus on damage, crit chance, and mobility.
↖ Conclusion
This theorycrafted Vampiric Hydra Sorcerer build in Diablo 4 Season 2 offers a fresh take on the game. While not yet tested in-game, it capitalizes on the synergy of the revamped damage formula, new aspects, and skills to unleash the potential of conjuration and DOT builds.
Most Popular Posts
Popular Category Lists