Diablo 4 Season 2 Powerful Most Popular Sorcerer Builds
Season 2 of Diablo 4 brings forth a surge of excitement and new opportunities for Sorcerer players. With fresh challenges, evolving metagame dynamics, and an ever-shifting landscape of power, Sorcerers are in for a thrilling ride. In this guide, we delve into the most powerful and popular Sorcerer builds of the season. Whether you're a veteran adventurer or a novice seeking glory, these builds will empower you to conquer the darkest forces of Sanctuary.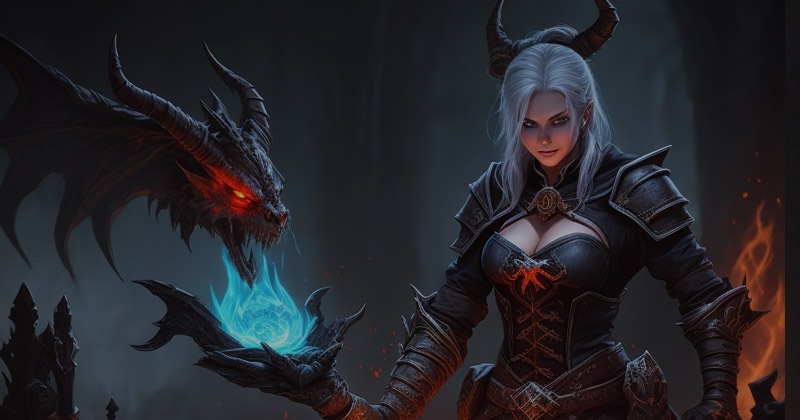 ↖ Highest Damage Sorcerer Build
The Diablo 4 Sorcerer Season 2 build presented here is a powerful choice for early to mid-game content, particularly for transitioning into torment difficulty. With its focus on AR Clash, this build offers incredible damage output, high survivability, and rapid cooldown reduction. The synergy between skills and Vampiric Powers makes it a formidable choice for Sorcerer players. While some specific gear and Vampiric Powers are required, the build delivers impressive results with minimal gear dependencies. As you progress into the late endgame, further optimizations and legendary gear will make this build even more potent. Enjoy obliterating your foes and progressing through the game at an astounding pace with this Sorcerer build in Diablo 4 Season 2.
Build Planner: https://tinyurl.com/2zv7rwwx
Pros
Exceptional early-game build for transitioning into torment difficulty.
Incredibly powerful and sustainable damage output.
High survivability, making you feel nearly unkillable.
Minimal gear requirements for entry into torment levels.
Synergy between skills and Vampiric Powers optimizes efficiency.
Cons
The build relies on specific Vampiric Powers.
Some legendary gear might be required for full optimization.
Build effectiveness may decrease in the late endgame without extensive min-maxing.
Vampiric Powers
Anticipation: 20% Cooldown Reduction for the ultimate skill (AR Clash).
Hemomancy: Heals a percentage of your health when damaging enemies.
Ravenous: Increases Lucky Hit Chance and Attack Speed.
Moonrise: Further boosts Attack Speed and Movement Speed.
Hectic: Reduces cooldowns with every five basic skills cast.
↖ Sorcerer Shockwave Lightning Build
The Sorcerer's Shockwave build in Diablo 4 is a powerhouse, delivering immense damage and impressive crowd control. With a strong mix of skills, vampiric powers, and effective gear choices, it excels in both damage output and survivability. Players who master the complex resource management and timing of abilities will find this build to be a thrilling and rewarding choice. Whether you're clearing dungeons or facing tough enemies, the Sorcerer's Shockwave build electrifies the battlefield and keeps you in control.
Build Planner: https://tinyurl.com/2p9k9dz6
Pros
Devastating Damage: This sorcerer build dishes out incredible damage through its chain lightning ability, making it a formidable force in Diablo 4.
Stun and Control: With the ability to stun and freeze enemies consistently, this build provides excellent crowd control.
High Survivability: By utilizing vampiric powers, this build offers reliable life steal and damage reduction, ensuring survivability in challenging encounters.
Barrier Synergy: With the protection of barriers and barriers generated from various skills, your sorcerer becomes a tanky spellcaster.
Fast-paced Gameplay: The attack speed and cooldown reduction mechanics keep the action fast and engaging.
Cons
Reliance on Mana: Managing your Mana pool is crucial, as many skills are tied to Mana consumption.
Cooldown Timing: Efficiently timing cooldown abilities is essential for maximizing damage output and survivability.
Specific Gear Requirements: To fully optimize the build, certain unique gear and affixes are needed.
Skills
Arlash: Maximize Arlash for its stunning and damage-dealing capabilities. Enhance it for more critical strikes and reduced cooldown.
Chain Lightning: Prioritize Chain Lightning for your primary damage source. Enhance it for increased damage and bounces.
Devastation: Invest one point to unlock Elemental Dominance, increasing damage when above 50% mana.
Flame Shield: Provides damage reduction and is essential for survival. Enhance it for movement speed.
Teleport: Use Teleport for mobility and damage reduction. Enhance it for cooldown reduction per enemy hit.
Frost Nova: Add a point for access to Mystical Frost NOA, which applies the vulnerable effect.
Glass Cannon: Boost your damage with Glass Cannon.
Mana Shield: Prioritize Mana Shield to increase damage reduction when spending mana.
Protection: Acquire Protection for barrier creation.
Unstable Currents: As the ultimate skill, Unstable Currents allows for constant shock skill casting. Enhance it for faster pulsing.
Overwhelming Current: Maximize this to increase Unstable Currents' damage.
Ball Lightning: Enchant Ball Lightning for additional damage and bounces.
Static Discharge: Ensure you can crit and generate Crackling Energy for reduced Unstable Currents cooldown.
Vampiric Powers
Anticipation: Enhance your ultimate's cooldown reduction.
Hemomancy: Sustain yourself with life leech from enemies.
Pray on the Weak: Increase damage against vulnerable enemies.
Domination: Boost damage against frozen enemies.
Moonrise: Increase your attack speed for even more damage.
Resilience: Gain damage reduction based on missing life.
↖ Power of Conjurations Hydra Sorcerer Build
The Hydra Sorcerer Build, based on DOT and conjuration synergy, is a promising theorycrafted build for Season 2 in Diablo 4. It offers an impressive combination of crowd control, damage output, resource management, and versatile gameplay. However, keep in mind that this build is untested in the actual game, and its effectiveness might vary in practice. Be prepared to fine-tune and adapt as you progress. If you enjoy experimenting with complex and powerful builds, this Hydra Sorcerer is a fascinating choice to explore in the new season.
Build Planner: https://tinyurl.com/2mye6t5n
Pros
Versatile Summoner: This build combines the power of conjurations and damage over time (DOT) effects, offering versatility and adaptability in different gameplay scenarios.
Impressive Crowd Control: Utilizing crowd control, including stuns and immobility, this build gives you an edge in controlling and incapacitating your enemies, providing enhanced survivability.
Resource Management: The incorporation of various aspects and abilities ensures you have a steady supply of Mana, allowing you to consistently cast your skills without running out of resources.
Sorcery Synergy: With its focus on the burning effect, crit damage, and increased damage to vulnerable enemies, this build perfectly aligns with the Sorcerer's strengths and plays to its unique abilities.
High Damage Output: The build's DOT damage and Hydra minions, when combined with your skills and buffs, result in impressive and sustained damage output, making it a formidable choice for both solo and group play.
Cons
Unproven Theory: Keep in mind that this build is theorycrafted, and while it appears promising on paper, real-world performance may vary. You'll need to adapt and fine-tune the build based on your in-game experiences.
Resource Balance: Balancing your Mana consumption might require some practice. Ensure you use your core skill, Chain Lightning, effectively to spawn Hydras consistently.
Gear Dependent: The effectiveness of the build may rely heavily on acquiring specific gear and legendary items. Be prepared for some grinding and item hunting to fully realize its potential.
Complex Skill Rotation: Managing all the different aspects, skills, and enchantments can be challenging. It might take some time to master the intricacies of this build.
Skills
Firebolt: For increased burning damage to enemies.
Chain Lightning: The core skill for this build, used for spawning Hydras and lightning Spears.
Flame Shield: Provides survivability and an immobilize effect.
Teleport: Grants damage reduction and allows you to quickly reposition.
Hydra: Buffed in Season 2 for additional burn damage, making it a vital part of this build.
Inferno: To maximize burn damage and pull enemies together.
Firebolt Enchantment: Passively applies burning damage to enemies.
Vampiric Powers
Coven's Fangs: Increases the damage of your conjuration companion minions and Bat Familiar against crowd-controlled enemies.
Prey on the Weak: Boosts damage against vulnerable enemies, which will be frequently applied thanks to vampiric powers.
Feed the Coven: Inflicts vampiric curse, a key mechanic in this build.
Flowing Veins: Increases DOT damage to moving or cursed enemies.
Feed the Coven (Alternate Option): Provides additional resource regeneration.
↖ Arlash Fireball Sorceress Build
The Sorceress Arlash build in Diablo 4 is a versatile choice for leveling and early-game content. It excels in mobility, area damage, and crowd control, making it an excellent option for new characters. While some skills and gear may not be optimized for the endgame, this build provides a smooth and powerful leveling experience, ensuring you can progress through the game efficiently. The use of Vampiric Powers adds an extra layer of damage and survivability to this build. As you advance, consider transitioning to an endgame Chain Lightning Sorceress for even more devastating power. For more details and gear recommendations, please refer to the provided links.
Build Planner: https://tinyurl.com/4stpcerc
Pros:
Excellent for leveling and early-game content.
Requires minimal reliance on specific legendary gear.
High mobility with Flickering Arlash.
Effective area damage with Fireball and Blizzard.
Vampiric Powers provide damage and sustainability.
Cons:
Some skills and gear are not optimized.
Relatively lower critical hit chance for endgame.
Vulnerable to crowd control effects.
Limited ranged options.
Skills:
Flickering Arlash: Provides high mobility.
Fireball: Creates explosions for area damage.
Blizzard: Provides crowd control and damage.
Flame Shield: Adds extra protection.
Teleport: Enhanced mobility with coold down reduction.
Frost Nova: Offers crowd control and applies vulnerability.
Vampiric Power
Metamorphosis: Applies vulnerability.
Dying: Increases survivability.
Moonrise: Boosts attack speed and skill damage.
Pray on the Weak: Applies vulnerability.
↖ Fast Leveling Sorceress Build
This Diablo 4 Sorcerer build guide is a versatile choice for leveling from 1 to 50 and beyond, offering effective area damage, crowd control, and single-target damage. With an adaptable skill set and a combination of Vampiric Powers, Codex Aspects, and gear optimization, this build can handle various challenges within the game. While the gameplay rotation changes post-level 50, this build remains a strong choice for efficient leveling and content clearing. Consider this guide as a starting point and tailor your setup as you acquire better gear and reach higher levels in the game. Enjoy your journey through Diablo 4!
Build Planner: https://tinyurl.com/5dwhp3b2
Pros
Ideal for leveling from 1 to 50 and even up to level 80.
Strong area damage for fast clearing, especially effective in Domain Tunnels.
Balanced skill set with good single-target damage output.
Vampiric Powers and Codex Aspects enhance overall performance.
Versatile playstyle adaptable to different situations.
Cons
Requires gear optimization for the best performance.
Advanced skill rotations may be challenging for beginners.
Gameplay rotation may change post-level 50.
Skills
Levels 1 to 50:
Flickering Arlash: High mobility, low resource cost.
Fireball (Enchantment): Adds explosion damage and benefits from the Flickering Arlash movement.
Blizzard (Enchantment): Provides crowd control and additional damage.
Level 50 and Beyond:
Frozen Orb (Enchantment): Adds vulnerability and extra damage to the build.
Hydra (Optional): Use instead of Arlash for better burn damage.
Skill Rotation:
Pre-Level 50: Use Arlash, Fireball, and Blizzard in combination for efficient clearing.
Post-Level 50: Replace Arlash with Hydra for improved burn damage and apply vulnerability with Frozen Orb.
Vampiric Powers:
Hemomancy: Increases damage and provides healing.
Flowing Veins: Enhances damage over time on moving or cursed enemies.
Anticipation: Reduces the cooldown of the Ultimate skill.
Feed the Coven: Boosts primary resource gain.
Coven Fang (Optional): Increases Vampiric Curse application.
Domination (Optional): Deals increased damage to crowd-controlled enemies.
Paragon Board:
Optimize your Paragon board for more non-physical damage, elemental damage, and critical hit chance.
Prioritize the "Elementalist" glyph for capping non-physical damage.
Gear:
Focus on Fire Damage, Damage over Time, Damage to Burning, and resource generation.
Increase your crit chance and damage in later stages.
Equip gear that enhances your Hydra and Fireball skills.
Defensive stats are important for survivability.
↖ Season 2 Vampiric Powers Sorcerer Build
This Diablo 4 Season 2 Vampiric Powers Sorcerer Build Guide provides a comprehensive overview of an effective leveling experience, Vampiric Powers recommendations, and preparation strategies for conquering the Capstone Dungeon. Whether you're looking to level quickly or tackle challenging content, this guide offers insights into gear, skills, and power selections. Embrace the fun of Season 2 and prepare to take on endgame bosses as you level up.
Build Planner: https://tinyurl.com/mtvj8yhn
Pros
Efficient leveling experience in Season 2.
Detailed recommendations for Vampiric Powers.
Key preparation strategies for conquering the Capstone Dungeon.
Effective gear choices and skill tree progression.
A fun and engaging leveling journey.
Cons
Some advanced gear may be required for challenging content.
Capstone Dungeon can still be challenging even with this build.
Vampiric Powers Recommendations
Domination: Instantly eliminates injured non-elite foes.
Chain Explosions: Aids in rapid monster elimination.
Infection: Adds significant extra damage.
Hemancy: Powerful full-screen AOE with life regeneration.
Anticipation: Reduces ultimate cooldown significantly.
Resilience: Boosts survivability.
Disobedience: Enables tanking even at level 50.
Leveling Build
Viable leveling build with detailed skill progression.
Recommendation to use minor powers early on to avoid power loss when upgrading gear.
Advice on farming in the Blood Harvest area for both gear and experience.
Efficient Whispers completion for substantial gold gains.
Utilization of XP farming techniques in the Dom Hey Tunnel.
Capstone Dungeon Preparation
Strategy for challenging the Capstone Dungeon.
Gear and skill choices for an easier encounter.
Leveling progression from 35 to 50, suitable for the dungeon.
Detailed gear selection and amulet and weapon aspect recommendations.
↖ Inferno Veil Fireball Sorceress Build
The Inferno Veil Sorceress build in Diablo 4 has taken the community by storm due to its incredible damage potential and ease of use. This build synergizes perfectly with the Vampiric Powers system, making it a formidable choice for both solo play and group content. Players can expect to melt enemies, including bosses, with the fiery power of Fireball and the crowd control capabilities of Frost Nova. While it may face potential nerfs in the future due to its overwhelming power, it remains an enjoyable and highly effective choice for adventurers in Sanctuary. For those looking to harness the raw power of the Sorceress, this build guide provides the foundation for an unforgettable gaming experience.
Build Planner: https://tinyurl.com/5dz3up8u
Pros
Exceptional damage output.
Easy-to-learn and enjoyable to play.
Incredible synergy with Vampiric Powers.
Effective against a variety of foes, including bosses.
Doesn't require many specific gear pieces to be effective.
Cons
Potential for future nerfs due to its overwhelming power.
Can be resource-intensive without proper gear.
May not excel in group play.
Skills
Primary Attack: Fireball
Secondary Attack: Frost Nova
Support Skills: Inferno, Teleport
Defense Skills: Flame Shield, Ice Armor
Signature Skill: Unleash
Vampiric Powers
Domination: Ideal for immobilizing enemies and inflicting Vampiric Curses.
Pray on the Weak: Boosts vulnerability damage and adds crowd control effects.
Flowing Veins: Increases damage over time to moving or cursed enemies.
Cursed Touch: Applies Vampiric Curses to target enemies.
Enchanter: Amplifies damage to vulnerable enemies.
Searing Heat: Enhances Fireball damage and synergizes well with Fireball's burning damage as direct damage.
↖ Lightning Sorcerer Fast Leveling Build
The Lightning Sorcerer is an exceptional leveling build for Season 2 of Diablo 4. Its incredible speed, high AOE damage, and synergy between skills make it a fun and powerful choice for early gameplay. While the build adopts a glass cannon playstyle, it provides adequate damage output to compensate. With the right codex aspects and legendaries, this build can truly shine. Whether you're storming through dungeons or exploring the vast world, the Lightning Sorcerer will make your Season 2 experience electrifying.
Build Planner: https://tinyurl.com/km4c6msp
Pros
Incredibly fast and fun leveling build for Season 2.
High movement speed, making traversing the world a breeze.
Massive AOE damage with lightning-based skills.
Excellent synergy between skills and abilities.
Stuns, immobilizes, and freezes enemies for added damage.
Efficient use of codex aspects for quick gear enhancement.
Cons
Glass cannon playstyle with limited defensive options.
Heavily relies on specific codex aspects and legendaries for optimization.
Lightning Spear skill may not be as effective as other skills in the build.
Skills
Spark: This skill serves as your basic attack, and you enhance it with 'Enhance Spark' and 'Flickering' for increased chances of forming crackling energy.
Chain Lightning: Max this skill as it is the primary source of your damage. Enhance it for increased critical hit chance.
Teleport: Necessary for movement, reduce its cooldown, and enhance it with 'Crackling Energy Release' for additional damage.
Frostenova: One point in this skill is sufficient to make enemies vulnerable and keep them in place.
Lightning Spear (Optional): Use this skill and enhance it to stun enemies for two seconds on critical hits.
Vampiric Powers
Domination: Deal 24% increased damage to enemies that are stunned, immobilized, frozen, or feared, enhancing the control aspect of the build.
Hectic: Reduce active cooldowns for every five basic skills cast, synergizing with the chain lightning's cooldown reduction.
Pray on the Weak: Deal 16% increased damage to vulnerable enemies, benefiting from skills that make enemies vulnerable.
Anticipation: Gain 20% cooldown reduction and 12% increased damage for ultimate skills, further enhancing your crowd-clearing abilities.
Infection: Inflict enemies with pox, allowing you to deal 70% poison damage when the infection is expelled.
Most Popular Posts
Popular Category Lists