Classic Plus 3 Latest Leaks and Rumors: What Can We Expect?
Classic Plus is generating a buzz in the World of Warcraft community, and today we'll delve into all the leaks and rumors surrounding this exciting topic. From fanfiction to data mining discoveries, we'll explore the leaks that suggest Classic Plus is on the horizon. While we should take these leaks with a grain of salt, the mere fact that they exist points to the possibility of exciting changes in the world of Azeroth.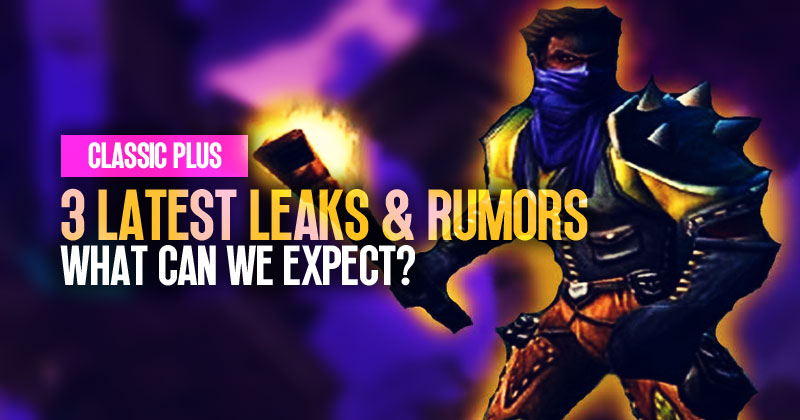 ↖ Leak 1: Awakening
One of the most intriguing leaks to date is the idea of the first Classic Plus expansion called Awakening. Here's a quick summary of what this leak entails:
The expansion is expected to cost $50.
It proposes an alternate timeline where the Dark Portal didn't open after Vanilla, adding new content to Classic WoW instead of heading to The Burning Crusade.
Chris Metzen is the lead behind this project, which gained credibility after his return was announced.
It suggests the reuse of assets from TBC, Wrath of the Lich King, and Cataclysm to maintain a consistent visual style.
The level cap would be raised to 70.
High Elves and Ogres are proposed as new playable races for the Alliance and Horde.
The expansion will introduce new zones like Hyjal, Gilneas, and the Emerald Dream.
The first raid will be against the Scourge, paving the way for a potential Cataclysm Classic after Wrath.
The legitimacy of this leak is open to debate, but it's worth considering due to its early appearance before Chris Metzen's return was announced. This leak could be a ground-breaking revelation for the Classic community.
↖ Leak 2: The Forgotten Dwarves of Kalgar
Another leak hints at an expansion centered around the Forgotten Dwarves of Kalgar. This one is intriguing because it aligns with a heroic edition mount called The Alaran Storm Rider, which suggests a Griffin-themed expansion. While this leak might not be as comprehensive as Awakening, it still offers some tantalizing possibilities.
↖ Leak 3: Storm Break
The third major leak to discuss is Storm Break, which aligns with an expansion concept that could take us to an evolved Azeroth. With new mechanics, systems, and a return to classic vibes, it suggests a soft reboot of World of Warcraft. The screenshots and details have sparked debates among the community, and although it remains uncertain, it hints at exciting possibilities for the game's future.
↖ Evaluating the Leaks
While these leaks are fascinating and have caused quite a stir in the WoW community, it's crucial to approach them with caution. Many leaks are more like fanfiction or educated guesses based on the information available. It's important to remember that none of these leaks are confirmed by Blizzard, and the likelihood of them being entirely accurate remains in question.
As Blizzard's BlizzCon 2023 approaches, we'll soon learn the truth about the future of World of Warcraft. Until then, it's essential to maintain a level of skepticism and anticipation. Regardless of what Classic Plus may entail, it's clear that the WoW community is eager for new adventures in Azeroth. Let's stay tuned and see what the future holds for this iconic game.
Conclusion:
While leaks can be thrilling, most should be taken with a grain of salt. The leaks we've discussed often align with Blizzard's previous plans, and some seem more like educated guesses than credible insider information. It's essential to remain cautiously optimistic and not set unrealistic expectations. The future of World of Warcraft holds many possibilities, and we'll have to wait for official announcements to separate fact from fiction.
As you eagerly await the next developments in the World of Warcraft universe, tell us in the comments what you hope for in WoW's future. Do you envision a hard reboot with WoW 2 on the horizon, or are you more excited about Classic Plus? Your thoughts and wishes are crucial to shaping the future of the game we all love.
Most Popular Posts
Popular Category Lists