Diablo 4 Season 2 Class Enjoyable Tier List and Build Strategies
Welcome to the Diablo 4 Class Tier List and Gameplay Strategies guide! Whether you're a newcomer or a veteran, understanding the nuances of each class is crucial for an enjoyable and successful gameplay experience. We'll delve into key aspects like class mechanics, build costs, and endgame power to help you choose the right class and build for your play style.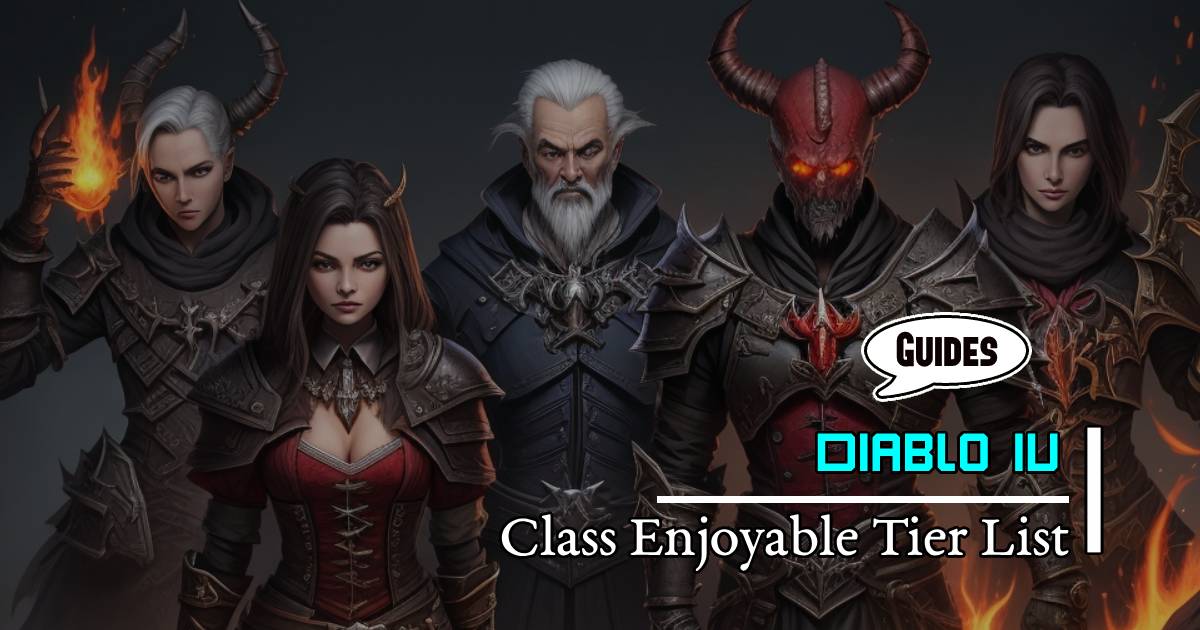 ↖ Barbarian - Rating B
Enjoyability: Season 2 improved playability with diverse builds, moving away from the shout-reliant strategies of Season 1.
Cost: Build effectiveness can be gated by the need for specific cooldown reduction items.
Power: Strong in the current season with multiple top-tier builds, though some earlier issues remain.
Overall Tier Rating: B - Improved but still hindered by some mechanical clunkiness and high build costs.
↖ Necromancer - Rating B
Enjoyability: Offers a unique experience with abilities like Bone Spear and Infinus, but lacks viable minion builds.
Cost: High-end builds require specific items for optimal performance.
Power: Strong in certain scenarios, particularly with Infinus in nightmare dungeons, but lacks versatility.
Overall Tier Rating: B - Fun and unique but limited by the lack of build diversity and power in some areas.
↖ Druid - Rating A
Enjoyability: Druids offer a thrilling play experience with transformative abilities into creatures like bears and werewolves, alongside destructive spells like Pulverize and Tornado.
Cost: Top builds like the Werewolf Tornado build can be cost-prohibitive due to rare drops like Tempest Roar. However, Season 2 has seen a resurgence in the Pulverize build, offering a more accessible yet powerful option.
Power: Exceptional in endgame scenarios, capable of efficiently clearing content and bossing.
Overall Tier Rating: A - A highly enjoyable and powerful class, slightly limited in endgame build variety.
↖ Rogue - Rating S
Enjoyability: Rogues offer a versatile playstyle with a range of builds, including ranged, traps, and more, allowing players to tailor their gameplay.
Cost: Most builds are accessible without needing rare items, enabling earlier progression and power spikes.
Power: Exhibits considerable strength across various builds, though some may struggle in boss fights.
Overall Tier Rating: S - Highly versatile and enjoyable, with a wide array of effective endgame options.
↖ Sorceress - Rating S
Enjoyability: Provides a magical and immersive experience with elemental control, showing a drastic improvement from earlier seasons.
Cost: Highly cost-effective, with powerful builds achievable without rare items.
Power: Exceptionally strong, capable of clearing high-level content with ease.
Overall Tier Rating: S - Currently the top class in terms of power and enjoyability, with a variety of effective builds.
↖ Conclusion
Diablo 4 offers a diverse range of classes, each with unique strengths and playstyles. Understanding the nuances of each class, from the adaptable Rogue to the mighty Sorceress, will greatly enhance your gaming experience. Remember, the best class is one that aligns with your play style and brings you the most enjoyment in your Diablo 4 adventure. Happy gaming!
Most Popular Posts
Popular Category Lists