Unique Items Guide for Druid Dolmen Stone Amulet in Diablo 4
We're exploring a fascinating piece of gear today for our Druid friends - the Dolmen Stone Amulet. This little jewel (quite literally) has stirred up quite a buzz in the community, and I'm here to break it all down for you.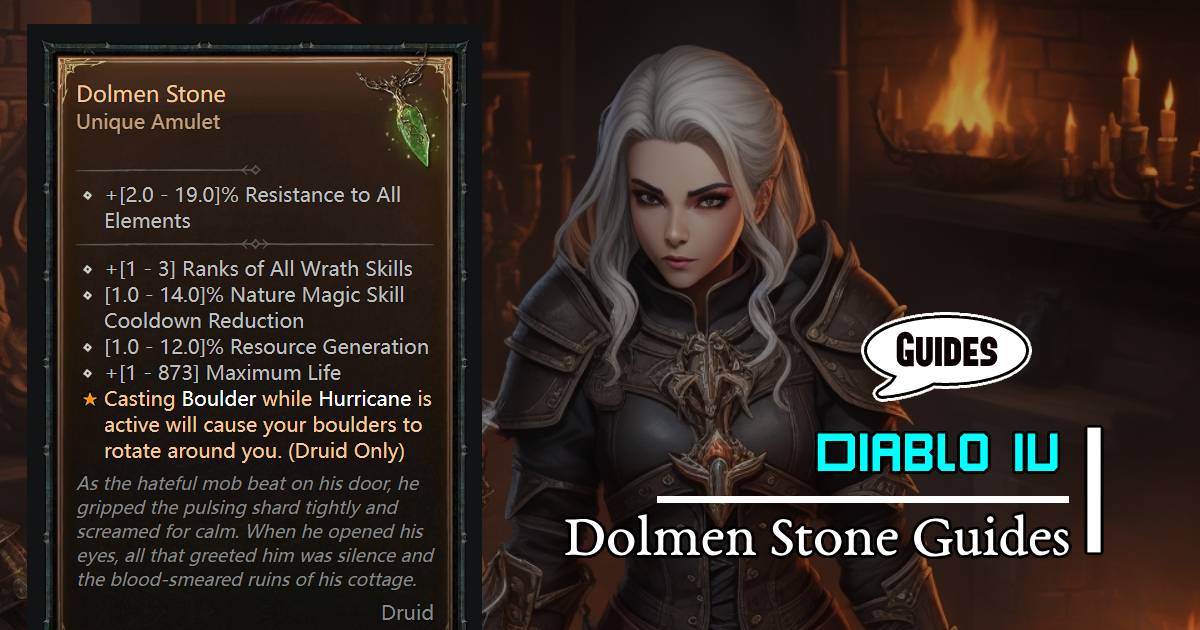 ↖ What's the Dolmen Stone Amulet?
Dolmen Stone Amulets are game-changers for Druids, especially in their interaction with boulders and hurricanes.
By equipping this amulet, Boulders can orbit around you when you cast Hurricane, changing the way you play.
↖ Where to Find It
The hunt for the amulet is part of the fun. Focus on taking down Summoning Duriel, as he is known for dropping this item.
↖ Effects and statistics
Here are some impressive stats about the Dolmen Stone:
Elemental Resistance: A solid 28.5%, which is in line with most high-level amulets.
Maximum Life: Ranges from 605 to 1,310, beefing up your survivability.
Resource Regeneration: A staggering 7.6 to 18.5%, with this particular amulet offering 16.9%.
Nature Magic Skill Cooldown Reduction: Ranges from 10.3 to 20.2%, crucial for keeping your skills ready.
↖ Special Mechanics
Wrath skills (Hurricane, Boulder, Rabies, Trample) are also enhanced by 4 levels with the amulet. However, it's the interaction between Boulder and Hurricane that makes it so incredible. As long as Hurricane is active, you can cast Boulder, creating a destructive orbit of boulders - a sight to behold and a force to be reckoned with.
↖ Maximizing Its Potential
To truly leverage the Dolmen Stone, consider pairing it with Nature's Fury and Symbiotic Aspect.
This combination can drastically reduce Boulder's cooldown, enabling rapid-fire casting.
However, keep in mind that this setup requires Hurricane to be active, so managing your skills effectively is key.
↖ Playstyle Unique to You
The Dolmen Stone shifts your Druid into a melee-oriented role. The orbiting boulders deal significant damage at close range, but you have to engage your enemies up close and personal.
↖ The potential drawbacks
Unlike many items, the Dolmen Stone lacks any movement speed bonuses, which can be a setback for slower players. Also, its pushing effect can create distance between you and your target.
↖ Final Thoughts
With the Dolmen Stone Amulet, Druid gameplay becomes more hands-on and dynamic, especially for those looking to explore a more hands-on approach. The Dolmen Stone isn't a one-size-fits-all item, but it can make a huge impact if you're ready to ride your Druid into the eye of the storm!
Most Popular Posts
Popular Category Lists