Arena Of Valor Tops the Global mobile game revenue list
The Sensor Tower store recently announced the specific revenue data of global mobile games since January 2021. Compared with the sharp increase in revenue and turnover at the beginning of last year due to the epidemic, the revenue of major games this year is still growing steadily. Among them, Tencent's Arena Of Valor has once again become the world's top mobile game with a revenue of 267 million U.S. dollars.
The top global mobile game revenue list for January 2021: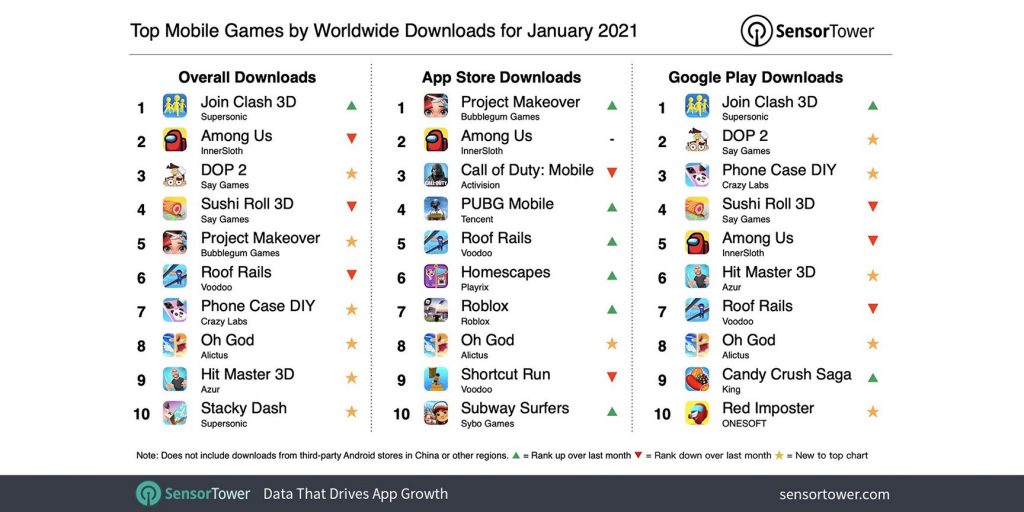 Top ten total income: Arena Of Valor, PUBG, FGO, Yuanshen, Roblox, Pokémon GO, Gold Coin Master, Professional Baseball Soul A, Dream Homeland, Monster Pinball
Top 10 Apple Store: Arena Of Valor, PUBG, FGO, Yuanshen, Roblox, Professional Wild Ball Soul A, Fantasy Westward Journey, Pokémon GO, Zhilong Lost City, Monster Pinball
Google Store Top Ten: Gold Coin Master, Kingdom Era, Heaven M, FGO, Yuanshen, Free Fire-I Want to Live, Pokémon GO, Heaven 2M, Dream Garden, PUBG
According to data, in January, Tencent's Arena Of Valor once again topped the championship, scoring 1.725 billion yuan globally, an increase of 22% year-on-year. 97% of Arena Of Valor's revenue comes from domestic users, 1% comes from Thai users, and the remaining 2% comes from player spending in other countries around the world.
For Arena Of Valor, a national-level mobile game, the Spring Festival period is always the most profitable time of year. The heat caused by the skins put together on the shelves once squeezed the servers on the day of February 10. Even though players have a lot of dissatisfaction with Tianmei, there is still no game of the same type that can see the rear lights of Arena Of Valor in the short term.
The second place is still PUBG mobile games. Its total revenue in January reached 1.67 billion yuan, a year-on-year increase of 26%. Among them, the domestic version of the peace elite represented by Tencent accounted for 60%, and its revenue is still based on Chinese player spending. Mainly, the second-ranked United States only accounts for 9.8% of its revenue. Sony's Fate/Grand Order (Fate/Grand Order Designation FGO) defeated Mikhayu's original god and became the third place.
Yuan Shen, the biggest dark horse in the mobile game market in 2020, is still performing strongly. In January, global revenue reached US$153 million. The largest market-Japan's revenue accounted for 33%, and China's IOS platform reached 25.7%. Obviously, Japan has become the largest market for Yuanshen!
Global download list in 2021: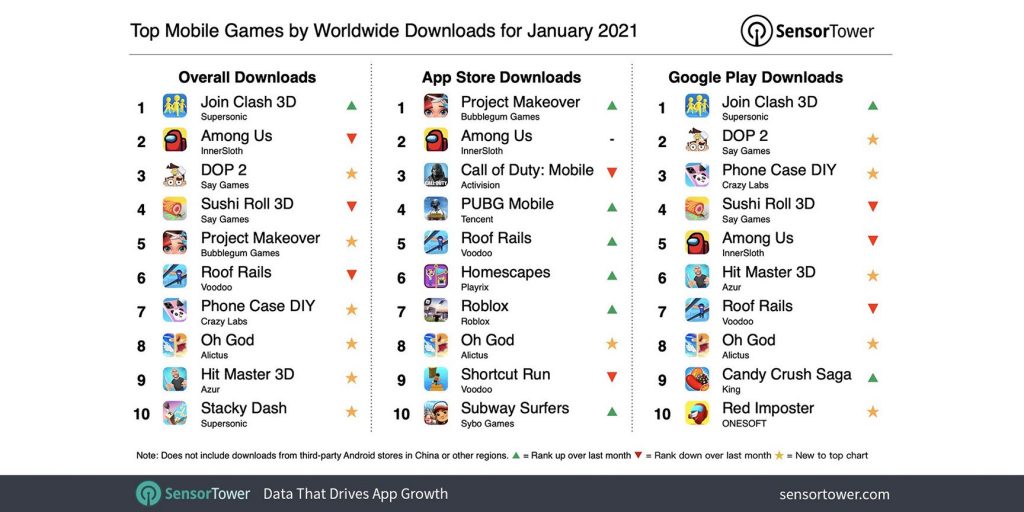 In terms of the global download list, the mobile version of the popular work Among Us in 2020 is on the list; and in the App Store download list, Project Makeover, Among Us, Call of Duty Mobile Games, PUBG Mobile Games, and Roof Rails are ranked 1-5.
Most Popular Posts
Popular Category Lists