WWE 2K22 analysis
Correcting everything that went wrong in WWE 2K20, the franchise returns with a good base to which it still lacks something else to shine.
Sometimes it is necessary to take a break to take perspective and return in the best possible way. This is true for both people and franchises; Nothing burns rather than not being able to rest, disconnect and make a necessary deconstruction exercise that allows us to understand how exactly the internal mechanisms that make up. That is why we see as little risk in the annual franchises, and that is why they come to fail as resulted even when they do not assume risks. Because without time to think, to redefine and understand what is between hands, it is easy to finish sinking something that, with a little perspective, could have worked.
__
Basic information
Developer: Visual Concepts
Editor: 2K Games
Platforms: PS5, X / S Series, PS4, One, PC
Proven version: PS5
Availability: 03/16/2022
In that sense, WWE 2K20 was an absolute disaster. Full of bugs, with outdated graphics and physical without any sense, the game was a criticism and sales disaster that took 2K to cancel the next delivery of the game, WWE2K21, also claiming the impact of the Covid in its work routine. But that did not mean the death of a franchise that works very well both in the United States and in Europe, but the evident need for at least one year of rest to redefine some aspects of it. This has been translated into a WWE 2K22 that, after an important delay after its original output planned for 2021, appears under the promise that the disaster was not repeated that was WWE 2K20. And Visual Concepts, developers of the franchise for almost ten years, have fulfilled in that aspect.
The first to stand out of WWE 2K22 is that it is not a disaster. Graphically is not a pointer, but it never becomes disappointing, and unlike its previous delivery, its mechanics are solid and easily understandable. With a button for hard blow, another for weak blow and another for grip, with the combos based on the mix of these three buttons, it is a game in which it is easy to dominate at least one character, even if to play seriously we will need Master more than that, since we also have dodged and blocking buttons, but they will only serve for the first movement of each combo, having to use the blow or grip button that the opponent is going to be able to break his combo, Forcing us or guessing what you are going to do or know what your combos are to advance to them. All this adds an interactive component very fun at the same time that gives another layer of depth to the game without doing it overly complex.
In fact, one of the greatest virtues of WWE 2K22 is that you can take the command to someone who has never played in your life and can do a moderately worthy work without needing to pump the buttons without ton or are. To this contribute the on-screen announcements, which tell us when we can do the different special movements and finishers indicating which buttons to use for it, always a combination of two of them, but also the very simplicity of the game, which ends up using four buttons and two triggers for all of your actions.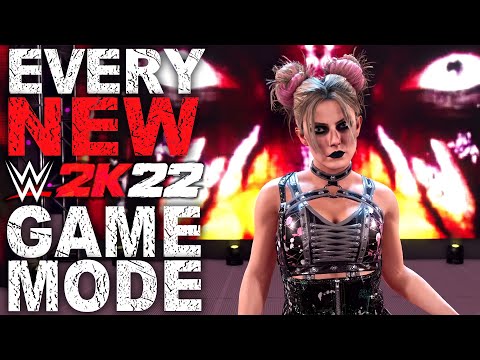 This means that those who play coincidentally, as if of a party game it were, the game will not make them excessive barriers to take the command and play a casual combat without rules, but also that, for those who want to deepen and play beautiful, there is enough space to learn how to do it. And that is due, especially, to the number of different modes that this game presents to us.
In addition to the SempritoNos online and offline game modes, WWE 2K22 offers several modes with which to extend the useful life. In career mode, here renamed my legend, we will have to create our own Wrestler and take it from its origins as a rookie within the company until it becomes a superstar through secondary stories, Fiefs and Fights Contra Legends of the past. In my GM mode, which returns to the game after the disappearance of it after WWE Smackdown vs. RAW 2008, we will have to choose one of the general directors of one of the four brands of the WWE and compete with the other three for making the most successful promotion within the company, negotiating contracts, planning meetings and making fighting that simulate structure Of the weekly programs of the franchise. Unfortunately, both modes are still very in diapers; Very needy of a strong graphic face washing, both in the interface and in the modeling, they also need an important work in their playable depth, very limited and just a skeleton of what they really should be as full game modes. This is the reason why, at the end of the day, the two strong dishes are a new mode of play and another that returns: my faction and showcase.
My faction is a way where we have to create our superstar team, both male and feminine, to fight with them in tests that are updated as long as weekly. They reward them will be points with which to buy envelopes to open and get letters from other superstars to add to our roster, as well as decorative objects to improve our brand image. Being able to buy these envelopes with money from the game, but also being able to invest real money in its random envelope system, it is a way that greatly lengthens the useful life of the game when constantly evolving, but it does not stop being a particularly opaque ghata, No matter how much my faction does not have an online mode and be circumscribed entirely to a PVE experience.
In the same way, Showcase becomes looking at the history of the WWE to narrate the rise of one of its superstars through its fighting, making us fight them ourselves following a series of requirements of what to do at every moment of combat to imitate What happened in reality, interspersing videos of the real combat and comments of the superstar between means. In this case, the lucky protagonist is King Mysterio, which we continue through a dozen combats to witness the most important milestones of him since he entered the WCW to the recent return of him to the WWE.
Unfortunately, even with all the love for the WWE that is contained here, that does not excuse all the problems that follows dragging the game. The most serious is surely his tutorial; While teaches how absolutely basic, many elements needed to play beyond 1V1 in a match without special rules are unplaced, completely held in explanations only in text that are often more confusing than explanatory. This, which also happens with the tutorialized explanations of what to do to meet each goal of Showcase mode, makes the game have a much more abrupt entry barrier for those who are not already familiar with the franchise.
For those who are curious about the Wrestling, but neither are they experts, there are also some problems. In the absence of an encyclopedia, or explanations of any kind in each mode, it is difficult to know what we have to do exactly to win, why they have disqualified us or what exactly is each movement that marks us the combos menu. This greatly lasters the experience by having to go to an external source to know certain elements that can be basic for the Wrestling fans, but they are extremely confused for the neophytes, and that they would be fixed with some shallow explanations or, even, adding a Little video that showed what we are going to execute.
If we add a user interface not always as long as it should, the game can be refreshing for fans, but also a strangely hard roner bone for those who are outside the world of wrestling, something that is difficult to ignore in A game that has some principles closest to party game than to the hardcore fighting game.
Of course, nothing of the above implies that the game is wrong. Those who are already Fans of the WWE 2K should be launched without problems to buy it, because in fact, for them, there are promises of future and basically non-existent problems. But that does not mean that this is so for others. This is a delivery that will excite the fans and, in spite of everything, should also illustrate others. Perhaps it is not the most accessible, the most beautiful or the most polished, but they are good mimbres from which to build annual deliveries that can polish the details that do not end up being well topped. And when that happens, then maybe we can talk about a WWE game not only remarkable for their fans, but outstanding for anyone who feels a minimum of curiosity for this particular fusion of sport and entertainment.
Most Popular Posts
Popular Category Lists