Best FFXIV Tools for Trading, Crafting, and Gathering
Welcome to the ultimate guide to the best websites and tools for trading, crafting, and gathering in Final Fantasy XIV! Whether you are a veteran or just starting out, these FFXIV tools will help you become a master of the market.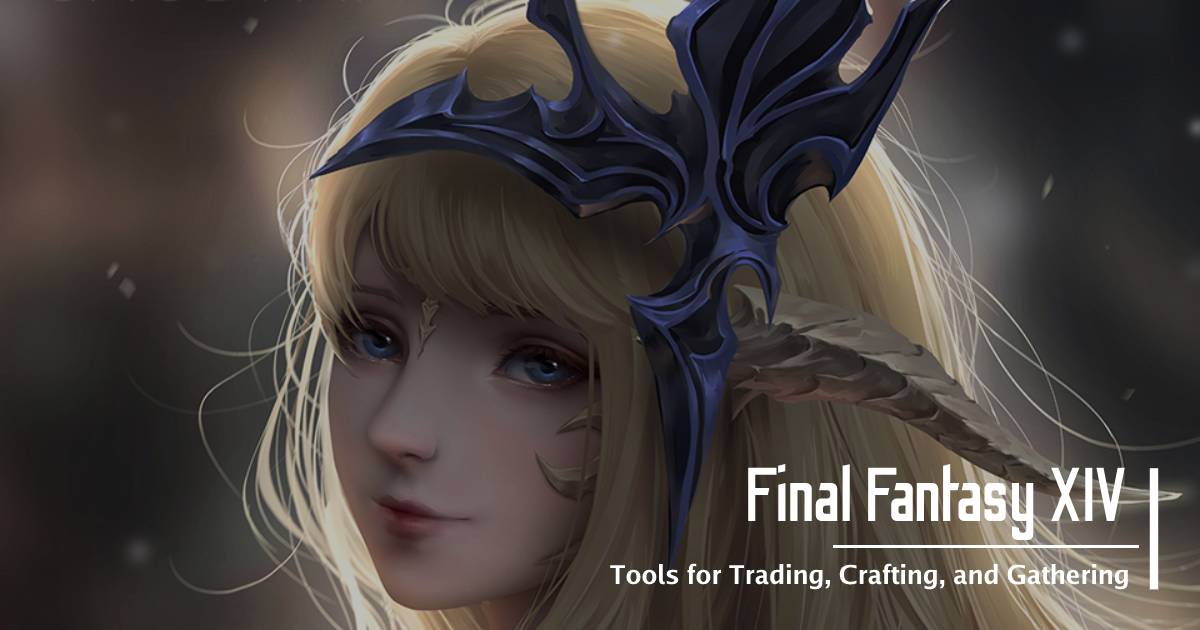 Universalis
Universalis is a must-have for anyone looking to make FFXIV Gil trading items. With Universalis, you can check the sales history of any item on your own server or any server in your region. This can help you make sure you don't overpay for an item and potentially save you thousands, hundreds of thousands, or even millions of FFXIV Gil.
FFXIVCrafting
For even more intricate trading tools, head over to ffxivcrafting. It has a variety of features, including a crafting simulator, gathering node alarms, currency spending calculators, and community lists. These lists contain every item you need to craft a specific submarine part, find out where to buy the supplies or even complete an entire armor class quest line. It also has a list of items to buy to get the most money for your White Scripts.
Wondrous Tails Solver
For Wondrous Tails, use the Wondrous Tale Solver to do the math for you. It will tell you the best strategy for shuffling your stamps and provide a detailed explanation.
Garlandtools
Garlandtools is great for figuring out both leveling gear and endgame gear. It will show you the progression from low-level gear to the optimal end-game gear, giving you a nice path to work along.
Saddlebag Exchange
If you're looking to make some quick cash, check out Saddlebag Exchange. It automates a lot of the processes of trying to find items selling for less than their actual value on servers other than your own. Flip items to make a quick profit.
Log Helper
For completing your Sightseeing Log, use the Log Helper to figure out which locations you need to visit and when the window for them is open. Some locations even require specific weather, so use the Realm Reborn Time and Weather Requirements to help plan ahead.
FFFetch
FFFetch isn't 100% accurate, so make sure to use it next to a Market Board to manually check prices.
Collectables Database
If you want to collect some mounts, emotes, or minions, use the Final Fantasy XIV Collectables Database. It will tell you how to get the item if it can be sold on the Market Board, and for how much, as well as how rare the item is.
Relic Tracker
For relic weapons, use the Relic Tracker to track your progress and see all of the materials you'll need in advance. It also displays your progress on a handy spreadsheet.
Eorzia Collection
If you're having trouble coming up with good glamour, check out Eorzia Collection. It's a database of community-made glamours, broken down by class, race, and even specific pieces of gear.
PaissaDB
To make tracking housing plots easier, check out PaissaDB. It helps speed up the process of hunting for housing plots and visiting each one to see how many bids are on it.
Fishing Log Helper
For fishing, use the Fishing Log Helper to check off which fish you've caught. Some of these fish are so rare that they're only available once a week, so this tool is a must-have for any serious fisherman.
We hope this guide has been helpful in finding the best websites and tools for trading, crafting, and gathering in Final Fantasy XIV. If you want a deeper dive into any of these tools, let us know and we may make an entire video on it. Good luck and happy trading!
Most Popular Posts
Popular Category Lists