POE 3.21 Explosive Arrow Champion Strong and Versatile Build
The Champion is a versatile class in the realm of combat, capable of fulfilling multiple roles including defensive/offensive and support. As a tank for their party, the Champion is skilled in debuffing enemies through taunts and impale, which reduces their effectiveness in battle. Additionally, the Champion is capable of buffing their allies with enhanced Banners, providing valuable boosts to their performance in combat. Expose of POE 3.21 Explosive Arrow Champion is an incredibly strong and versatile build that can take on all the ubers with the right gear. It has great damage uptime and is incredibly tanky. It is a great Poe 3.21 champion build to start with and can easily be scaled to end-game.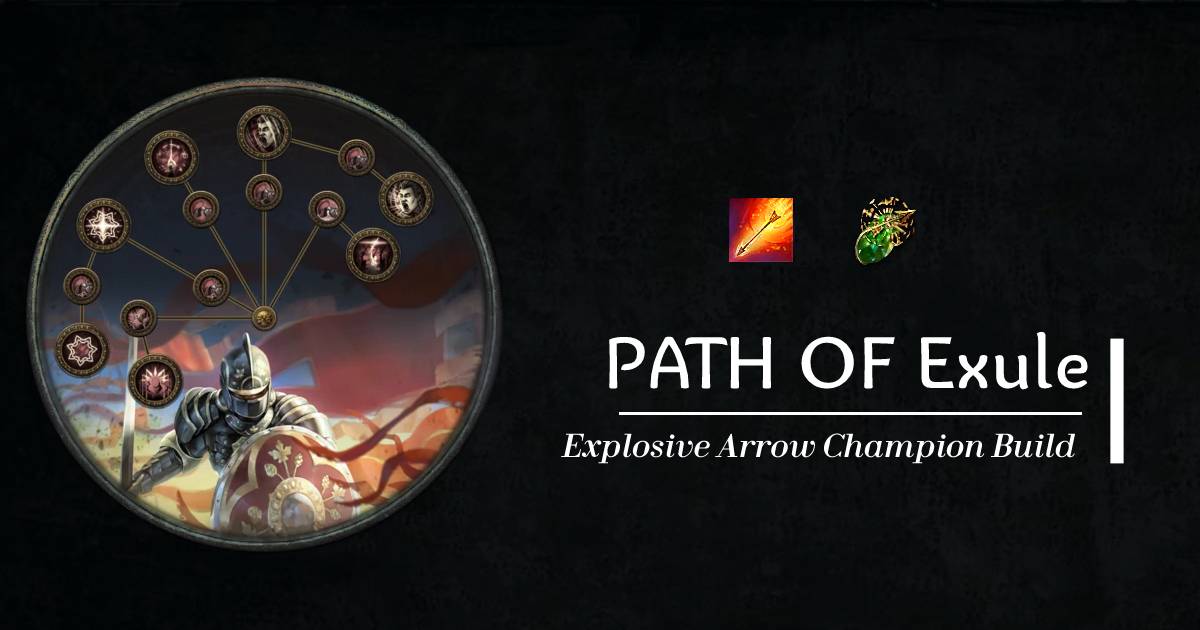 PoB Link: https://pobb.in/T_VnK2EvD19m
Leveling:
Start with Splitting Steel as your main skill until level 28 when you unlock Explosive Arrow.
Take the Mastery with increased reduction to projectile speed, which also applies to damage with bows.
Note that Elemental Overload has changed and is now a small diamond on your Explosive Arrow.
End-Game:
Focus on acquiring high-quality gear and investing in specific items.
Elemental Equilibrium is crucial to take advantage of, so make sure you don't have any flat fire damage on your build.
Use Arcanist Brand for its cursing and Flame Surge capabilities.
The belt is crucial for damage, so look for one with attack or elemental quality.
Reign of Splinters is optional and mainly for clearing, not necessary for more damage.
Make sure you have a 6-Linked Infernal Cry for your main skill, with the chest piece having +2 to socketed gems in order to get the maximum effect from your Infernal Cry.
Weapons
you Need to go with 2 swords, dual wielding them will give you more attack speed to proc your infernal cry faster, while also allowing you to have more frenzy charges up.
Gems
you Need to have an Infernal Cry setup with increased area of effect and increased burning damage(or increased duration), followed by a concentrated effect setup with your Arcanist Brand, then a herald of ash and blasphemy setup with elemental weakness on blasphemy.
Gear
Gear will largely be based on what you have available, but you Need to focus on getting life, resistances, accuracy, and attack speed on your gear. You also Need to try to get as much fire damage as you can on your gear.
Tips:
Remember to use Malevolence to increase your buff duration.
Calculate your attack speed by multiplying your buff duration by the number of totems (6) and your attack rate.
Look for a quiver with no pierce and no additional projectile.
Watch the Everything Explained video to understand the build from scratch.
Conclusion:
Expose of Our Champion is an incredibly strong and versatile build that can easily be scaled for end-game content. With the right gear and understanding of the build mechanics, it can take on any uber encounters. Remember to follow the leveling tips and invest in the recommended gear to optimize your damage and survivability. Good luck on your Expose of Our Champion build journey in Path of Exile!
Most Popular Posts
Popular Category Lists