Guild Wars 2 Map Queue: Make it easier for you to join world events
Guild Wars 2 has introduced a new feature to the mega server system called the Map Queue System. This feature allows players to queue up to join open-world maps that are at their maximum capacity, making it easier for friends to join each other for world events. This new feature is currently in beta as the developers continue to monitor it for any issues and gather feedback from players.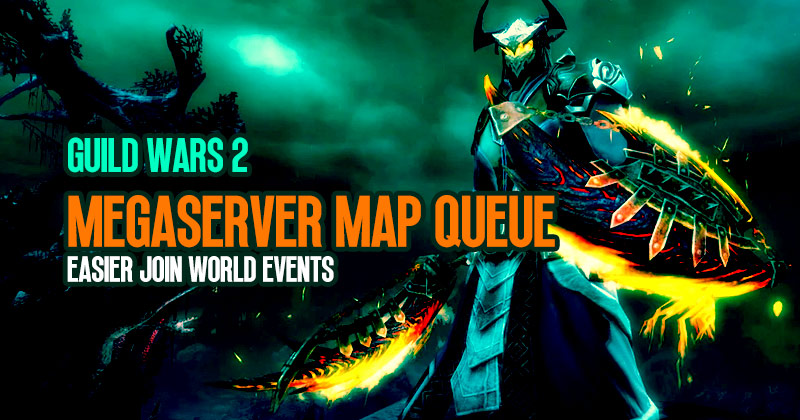 ↖ New Queuing Feature and Upgrades to Mega Server System
The new queuing feature is an upgrade to the mega server system, which was first introduced in April 2014. The developers have migrated all players to using DirectX 11 and have removed the DirectX 9 rendering option from the options menu. They have also re-enabled the Chromium Embedded Framework as a replacement for Coherent UI for web-based UIs like the launcher and the trading post.
In addition to the new queuing feature, the developers have fixed various issues, including fixing the defiance bar for some dragon hearts in the Harvest Temple strike mission and making fishing notes at the Celestial Pool in Gyala Del appear after defeating the Ravenous Wanderer. They have also reduced the stealth duration of the sneak gyro skill for engineers in PvP only and reduced the number of pulses from six to five in PvP only.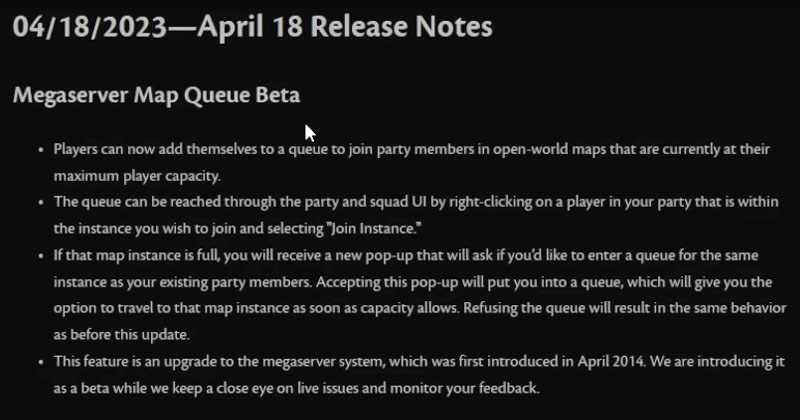 ↖ How to Use New Queue Feature?
To use the new queuing feature, players need to go to Contacts and LFG, then select "Looking for Group." If a map is full, players will receive a new pop-up asking if they would like to enter a queue to join the same instance as their party members. If they accept, they will be placed in a queue and given the option to travel to that map instance as soon as capacity allows. The specific steps are as follows:
Step 1: Right-click on a player in your party
To join a map instance that is currently full, right-click on a player in your party that is already in the instance you wish to join. From the menu that appears, select "Join Instance".
Step 2: Accept the Queue Pop-up
If the instance is full, you will receive a pop-up asking if you would like to join the queue for that instance with your existing party members. Accept this pop-up, and you will be added to the queue.
Step 3: Wait for Your Turn
Once you are in the queue, you will see a marker indicating your position. You can wait until your turn to enter the instance or leave the queue if you change your mind. To check your position in the queue, click on the marker, and you will see your place in the queue.
Note: This feature is still in beta, and the developers are monitoring it closely for any issues. If you encounter any problems, report them on the Guild Wars 2 forums.
Conclusion:
The new queuing feature is a welcome addition to Guild Wars 2, making it easier for players to join their party members in open-world maps. Players should continue to provide feedback to the developers to help them improve the game and fix any issues that arise.
Most Popular Posts
Popular Category Lists