Top Runescape Ability absolutely worth Unlocks
Are you looking to maximize your Runescape 3 experience? If so, then you're in the right place. In this article, we'll go over some of the top unlocks that are absolutely worth your time. Of course, there are plenty of other great unlocks out there, but these are the ones that come to mind right away.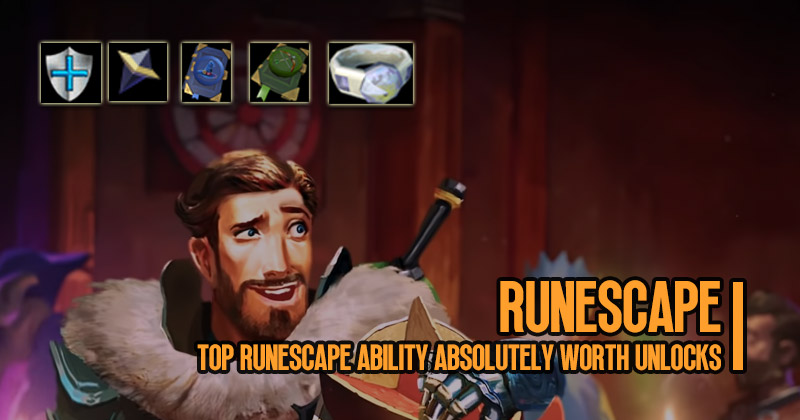 ↖ Disruption Shield
This ability makes the next attack that hits you, whether it be melee, ranged, magic, or soft typeless, completely negate it and hit for zero. It's an incredibly useful ability to have when you're in a tight spot, and it's a lifesaver for those who enjoy PVM. The Disruption Shield is unlocked by completing the Livid Farm activity and costs 290K produce points. It might take some time to obtain, but trust us, it's worth the effort.
↖ Animate Dead
Animate Dead is going to get nerfed soon, but it's still worth unlocking. To do so, you'll need to complete the City at Senntisten quest, which might take some time. Once you've cast Animate Dead, for every piece of magic tank armor you wear, you'll get a flat damage reduction. This ability makes you much harder to kill in PVM, and it's particularly useful for players who are worried about taking extra damage. The spell lasts for 12 minutes and makes PVM a lot easier.
↖ Double Surge Codex
Surge is an ability that most of you are probably familiar with. It's an icon of a person running and allows you to teleport forward by 10 game squares in a straight line. It's particularly useful for dodging mechanics at bosses such as Telos, and it's also great for traveling around the game quickly. The Double Surge Codex gives you two Surge abilities, allowing you to travel around the world much quicker. It's also incredibly useful for dodging mechanics that require you to move quickly.
↖ Double Escape Codex
Double Escape Codex is less convenient than the Double Surge Codex because it moves you backward instead of forward. However, it's still an incredibly useful ability to have, especially if you're a PVM player. If you're in a tight spot and need to escape quickly, the Double Escape ability can help you do just that.
↖ Passive Ring of Vigor
If you're into Player vs Monster (PvM) activities, you know how important it is to save adrenaline. The Ring of Vigor, which you can buy for 50,000 Dungeoneering tokens, refunds abilities whenever you use an ultimate ability or a special attack from a weapon. But you don't have to switch to it anymore after completing the Extinction quest. You can have it as a passive effect that applies to all your special attacks and ultimates. You'll save so much adrenaline effortlessly, making it a game-changing upgrade.
↖ Level 96 Summoning
You'll have access to the yak, ripper demon, tarragon demon, and hellhound, which are some of the most useful Summons in the game. The ripper demon, in particular, can boost your DPS output and help you achieve DPS thresholds. It's expensive and time-consuming to get here, but it's definitely worth it for a huge difference in your PvM experience.
↖ Elite Dungeon Chest Upgrade
This upgrade will cost you 750,000 Dungeoneering tokens, but it's worth it if you're planning to do elite dungeons. It lets you have access to a bank at the chest near the elite dungeons, where the loot would originally have gone into. You can also double any drops that go into the chest without toggling your loot options. Completing the Curse of the Black Stone quest also gives you a damage reduction while you're inside the dungeons to Farming Runescape GP.
↖ Defense Skill Cape
You need to have 99 Defense to get this, but it's a life-saving upgrade. It serves as a sign of life that you can use once every hour. You can also have it stored in your max cape or adventure cape. It's just a good unlock to have, even if you're not into combat.
In conclusion, these are just a few of the top unlocks that are absolutely worth your time in Runescape 3. They'll make your gameplay experience much more enjoyable, and they're particularly useful for PVM players. While there are plenty of other great unlocks out there, these are the ones that come to mind right away.
Most Popular Posts
Popular Category Lists