Poe 3.21 Super Fun Vaal Ice Shot Deadeye Build
Welcome to this guide on the Ice Shot DeadEye build in Path of Exile. In this article, we will be showcasing a budget build that can be achieved under one Poe divine Orb investment. We will be covering the significant changes in this patch that make this build viable and how to gear it up with a total cost of 155 chaos.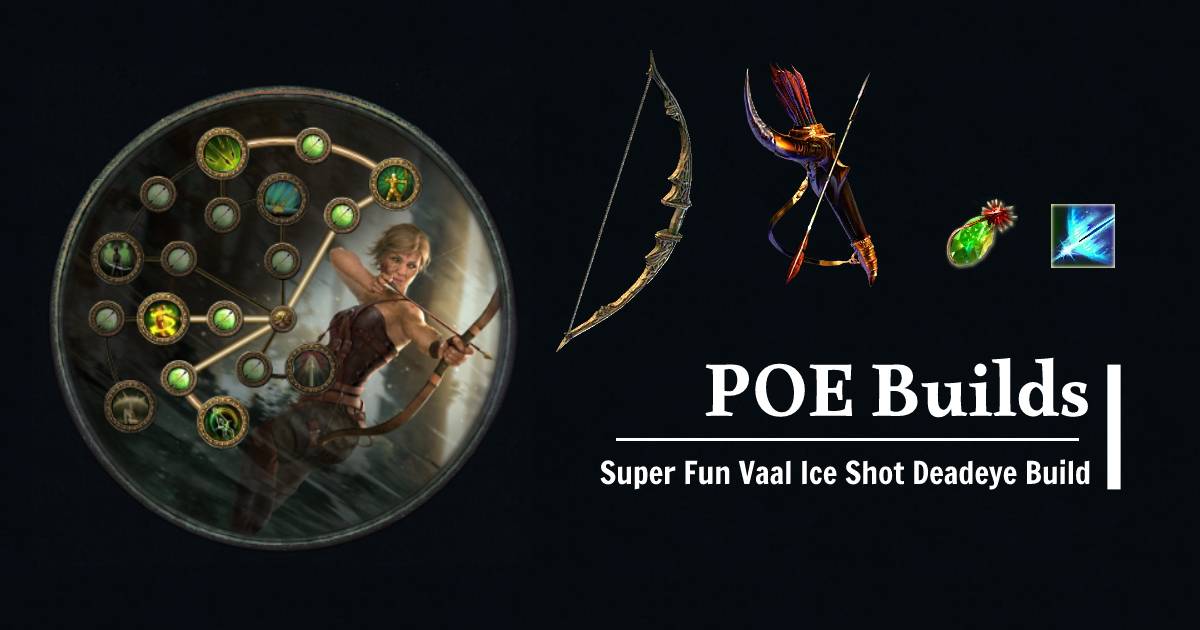 ↖POB Link: https://pobb.in/X1RQbd1D41wq
↖Changes in Crucible:
The introduction of Ice Shot as a vol skill and changes to the skill tree now allows us to take notables that give us up to two additional arrows. We don't have to run additional arrows in our setup anymore, with a support gem, and instead, we can go for another damage support. Last but not least, the change to Vengeance Cascade. A slight change was made to this amulet anoint, but it results in basically double damage for any projectile attack.
↖Gear:
We will be using a single six-link setup for our Vault Ice Shot and utilizing a four-link Ballista totem to augment our single target damage. This build can be flexibly geared, so feel free to make modifications to your liking.
Note that this build will require arrows to pierce at least once to maximize the benefits of Vengeance Cascade. Therefore, we will be achieving that through the unique quiver Drillneck. This build will also incorporate two specific jewels, Lethal Pride, and Fertile Mind, to achieve the attributes necessary. Make sure you put them in the correct jewel sockets, as shown here to maximize their benefit.
↖Crafting:
For our body armor and bow, we will be doing a little basic crafting. For the chest piece, we are only looking for an open suffix, so we can bench craft intelligence, and we are flexible with the other random modifiers that may appear when crafting. We will be demonstrating one of the most basic crafting methods called scour alk. This entails using an Orb of Scouring to wipe the item clean and then an Orb of Alchemy to make it rare, repeating this action until we find what we're looking for.
For our bow, we want a bow that gives us a nice amount of cold damage, which is why we're using essences of hatred. When used on bows, essences of hatred will guarantee flat cold damage. We decided to go with shrieking essences to keep the crafting costs lower than using deafening essences. The bow base we are using is a spine bow, which has a high base critical strike chance and has fractured attack speed.
The overall goal for this bow is to have three things: a high roll of flat cold damage, increased attack speed, and increased critical strike chance. Since the essence and fracture guaranteed two out of the three mods on every roll, all we're looking for is either increased critical strike chance as a suffix or an open suffix so we can bench craft it ourselves.
↖Conclusion:
Once geared, make sure to finalize the build by choosing utility flasks that complement the build. For our ascendancy, we will first choose Gathering Winds, then Far Shot, then Endless Munitions, and finally, Ricochet. This build is super fun and is 100% getting nerfed next patch, so we highly suggest playing this before the league ends. With a total cost of 155 chaos, we were able to save a lot of money by self-crafting our body armor and our bow and by purchasing our amulet with the anoint already on it, as opposed to buying the golden oils and anointing it ourselves.
Most Popular Posts
Popular Category Lists