PoE 3.21 Tanky CI Vaal Summon Skeletons Necromancer Build
In Path of Exile, building a strong character that can take down bosses can be a challenge. However, this guide will show you how to build a Vaal Summon Skeletons Build that can take on Uber Elder and other Uber Bosses. This build is also versatile enough to switch to mapping with just a single gem change. This build focuses on stacking cold and minion damage, so put at least one cold modifier on your ghastly eye jewel. If you want corrupted blood immunity, you will either have to value your own dead reckonings or take a ghastly eye jewel with corrupted blood cannot be inflicted. Use possible escape for increased max resistance.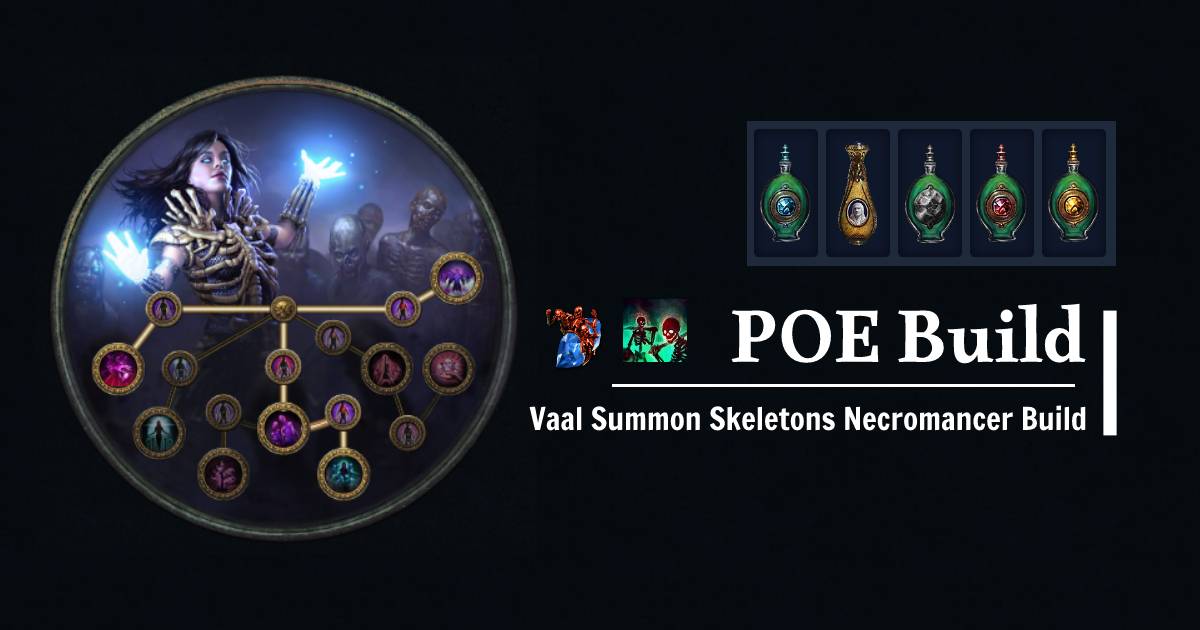 ↖PoBLink: https://pobb.in/A72z_owBes40
↖Gear
The gear for the anime guardian build is focused on maximizing defensive stats and minion damage. The player should look for a minion wand with increased area of effect, high armor innovation rolls, and good implicits. The Aegis Aurora shield is also useful for its chance to block, while the helmet should have the Fractured level of all minions implicit to help fill out the player's auras.
The Crucible Tree is another important part of the build, and the player should look for a tree with good defenses and minion damage. Fleshcrafter Necromancer Silks can also be used to increase the damage of the player's minions.
↖Gems
The main skill for the anime guardian build is Vaal Summon Skeletons, which can deal a massive amount of damage when combined with the right support gems. The build also includes Control Destruction and Awakened Elemental Focus, which can be swapped out for Greater Multiple Projectiles if the player wants to do mapping.
Other defensive skills include Bone Armor and Commitment of Light, which can provide additional defenses and damage reduction. The player should also consider using a pair of rare boots with Brittle and Southbound gloves to further increase their defenses.
↖Skill Tree
Take Dead Reckoning and other Minion nodes to maximize your Skeletons' damage and survivability.
Focus on taking nodes that increase your energy shield and shield masteries, as well as those that reduce the amount of physical damage you take.
Take reservation efficiency nodes to help you manage your auras.
Use large cluster jewels with minion damage and minion increased attack and cast speed to boost your minions' damage output.
Look for medium cluster jewels that provide additional defensive benefits, such as Blessed Rebirth and Renewal, which give your Skeletons a brief period of invulnerability.
Use other medium cluster jewels to further enhance your auras, such as Feasting Phoenix of Renewal, which provides double damage and life leech, and Melting of the Flesh, which turns Purity of Ice into an all-max resistance aura.
Take reservation clusters with more attribute fillers and elemental resistance, as well as nodes that provide added effects to your auras.
↖Defensive Minion Skills
The anime guardian build relies on a number of defensive minion skills to keep the player character alive. The most important of these is the Stone Golem, which provides additional life regeneration and physical damage reduction. The build also includes Raise Zombies, which can be used to distract enemies and absorb damage, and Animated Guardian for the culling strike.
↖Conclusion
The anime guardian build is a powerful and versatile build that can be customized to suit a variety of playstyles. With its focus on defensive minion skills, gear, and skills, the anime guardian build is an excellent choice for players who want to take on the toughest challenges in Path of Exile. By carefully planning and executing their strategies, players can achieve great success with this build and conquer even the most difficult endgame content.
Most Popular Posts
Popular Category Lists