Poe 3.21 Lightning Strike Juggernaut Friendoy Starter Build
Welcome to another POE guide! In this article, we will be discussing the Lightning Strike build and how you can min-max it to its full potential. Whether you're a seasoned POE player or a newcomer to the game, this guide will help you optimize your build for maximum efficiency and power.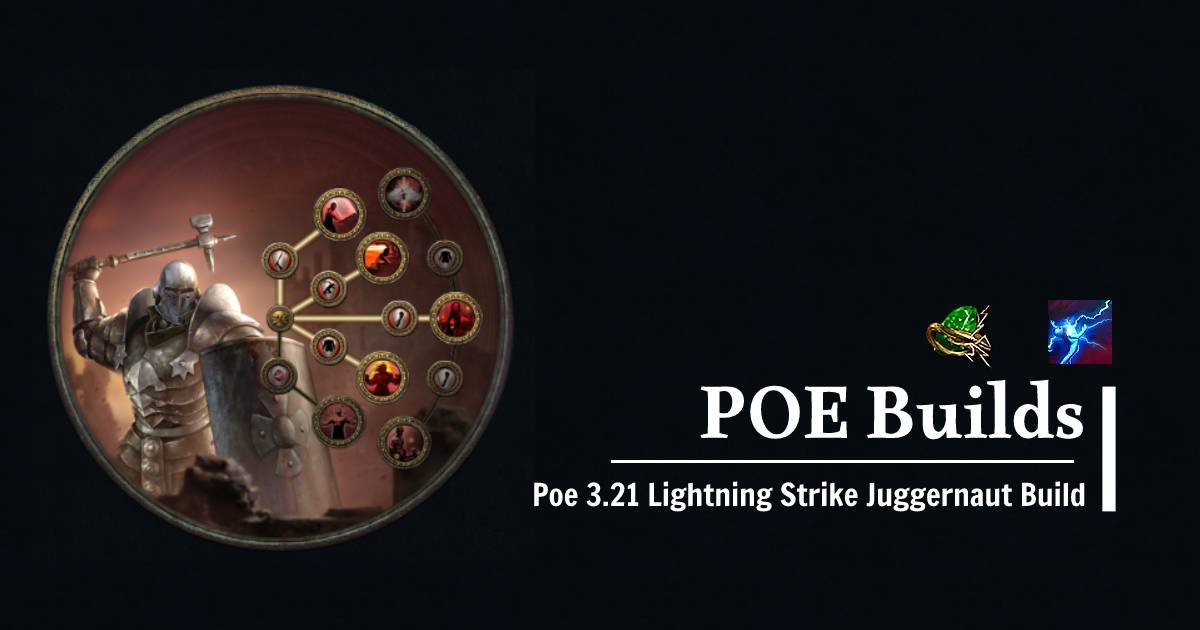 ↖POBLink: https://pobb.in/kY68aBn4PiUQ
↖PlayStyle
Lastly, we want to talk about playing what you like. In POE, killing a boss in 0.5 seconds or 0.1 seconds doesn't matter too much. It's essential to enjoy the build you're playing and have fun. Don't worry too much about the highest output numbers; focus on what's cool and what you enjoy playing.
↖Gear
The Lightning Strike build hasn't changed much since its inception. The only significant upgrade you need is a helmet with the Lightning Strike pierce enchantment and a Volatile Dead Ball Lightning Strike to farm Wave 30 Simulacrums. You can still farm Wave 30 Simulacrums on a budget of around 15 divine orbs. However, as this build gains popularity, the prices for the necessary items may go up, so it's best to act quickly and grab them before they become too expensive.
↖Skill gems
When it comes to the skill gems, we recommend using Frost Blades and Molten Strike. Frost Blades has a projectile speed breakpoint that you'll want to hit to optimize the skill's effectiveness. For Molten Strike, it's single target damage is unmatched, making it the perfect option for tough bosses.
↖Passive Tree
we have two versions of the build: the min-max and the endgame. For the min-max version, you'll want to pick up Coal and save three points. Then, you won't need to use the mana reservation efficiency mastery anymore. For the endgame version, you'll want to pick up Coal and the mana reservation efficiency mastery, giving you more flexibility in your build.
↖Melee and projectile hit
Positioning is key when it comes to getting a double hit with the Lightning Strike build. You'll want to be about one to two character spaces away from your target to get the double hit most of the time. This double hit is critical for taking down Simulacrum bosses and other tough enemies.
↖Min-Maxing
If you want to min-max your build even further, there are a few things you can do. First, you'll want to get as much accuracy as possible. This can be done through gear, passives, and even a Watcher's Eye jewel with the "Adds # to # Accuracy Rating if you've dealt a Critical Strike Recently" mod.
You'll also want to focus on getting as much damage as possible. This can be done through gear, skill gems, and passives. Make sure you're using the highest DPS weapon you can find, and consider using a Vaal version of Lightning Strike for even more damage.
In conclusion, the Lightning Strike build is a powerful and flexible build that's perfect for taking on tough enemies like Simulacrum bosses. With the right gear, tree, and skill gems, you can min-max this build to its full potential. So grab your weapons and get ready to strike with lightning!
Most Popular Posts
Popular Category Lists