How to Make Poe Currency with Sextant Rolling Strategy in the Hideout?
Path of Exile is a game with a massive following, and players are always looking for ways to make extra Poe Currency in-game. One such strategy is known as Sextant Rolling, also called the Hideout Warrior strategy. In this guide, we will discuss the basics of Sextant Rolling, how to do it, and the potential rewards.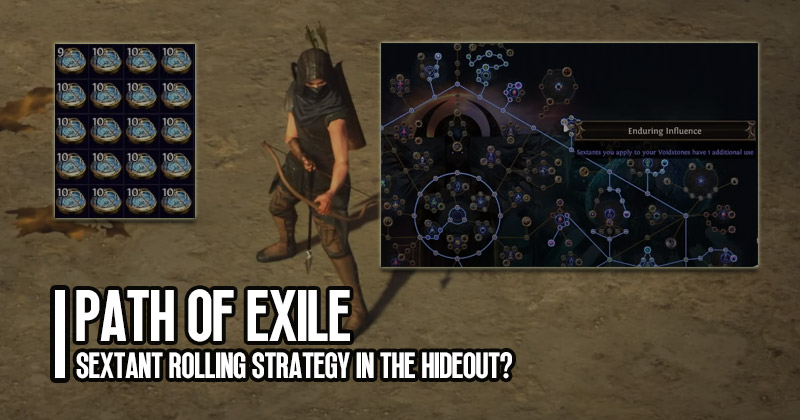 To begin, you will need all four of your watch stones or void stones. These are buying them from a hideout or obtained by killing Uber Elder, Maven, and Searing Exalt. Once you have them, you will need to invest some points in your atlas passive tree. Specifically, look for the "Enduring Influence" node, which increases the uses of your sextants from three to four, making the process much faster.
Next, open your atlas tree and take your awakened sextants. Roll these sextants, blocking two elements and a shrine each. This ensures that you get the highest chance of rolling what you want. Then, use the remaining sextant to roll for valuable mods, aiming for anything worth 10c or more. You can check the online listings to see the current value of each mod.
After collecting your mods, move them to the side and continue rolling the remaining sextants. Look for Elder Guardians, Legion Bros, and Rage Strong Boxes, as these will usually net you the most profit.
Finally, sell all of the mods you have collected, and if you choose, buy more sextants to continue the process. This strategy can take about 15-20 minutes, and it's an easy way to make Divines in Path of Exile without ever leaving your hideout.
In conclusion, Sextant Rolling is an incredibly simple and effective way to make Currency in Path of Exile. With the right strategy and a little bit of luck, you can easily make a ton of Currency.
Most Popular Posts
Popular Category Lists