Path of Exile New Tainted Pact Amulet Guides
In this guide, we will explore the new amulet in the Path of Exile Crucible league, the Tainted Pact, and its interesting modifier that allows you to heal while taking chaos damage over time. We will discuss the different ways you can use this amulet to your advantage, including combining it with Divine Flesh to become effectively immune to elemental damage over time.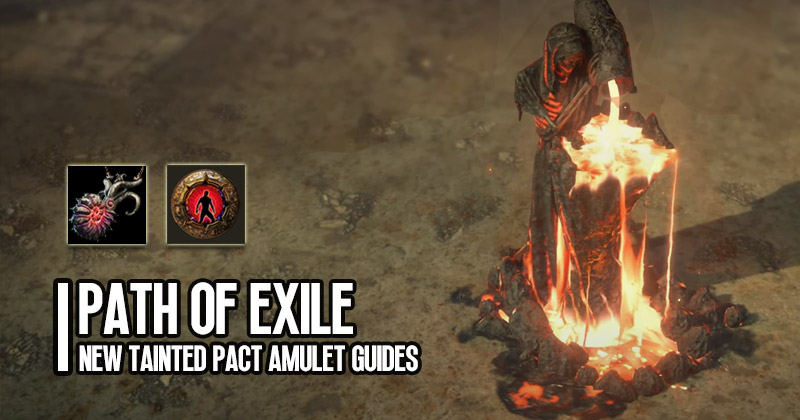 The Tainted Pact amulet has a unique modifier that states that while leeching life, taking chaos damage over time will heal you. This modifier sparked a lot of discussion in the community about how to use it with different setups.
One popular option is to use it with the self-poison of the Golden Rule jewel, which allows for a ramping recovery effect as long as your leech duration is longer than your poison duration.
Another option is to use it with the Forbidden Taste flask, which provides a constant degen effect that is usually mitigated by taking chaos damage. However, with the Tainted Pact amulet, this degen effect is converted into a constant recovery, making it a powerful tool for survival.
The most interesting use case for the Tainted Pact amulet, however, is in combination with Divine Flesh. Divine Flesh is a keystone that can be acquired from the Glorious Vanity jewel from Legion or from Moztos's Machination shield. This keystone makes it so that you take 50% of elemental damage as chaos damage, including damage over time, and half of the chaos damage that you take will heal you as long as you are leeching. This is where the Tainted Pact amulet comes in, as it allows you to leech life while taking chaos damage over time, effectively making you immune to elemental damage over time.
It's worth noting that this setup will not give you anything against bleeding, which is arguably one of the most dangerous damages over time effects in the game. However, there are ways to mitigate bleeding, such as using the Ralakesh pantheon, which significantly improves your survivability against bleeding or getting bleed immunity from various sources, such as the new armor and evasion mastery. There is also the Shield Apep Supremacy, an incursion-exclusive shield that makes you take chaos damage instead of physical damage from bleeding. When combined with the Tainted Pact amulet, this shield can turn dangerous bleeds into massive healing for yourself.
To make this setup work, you will need a reliable way of leeching life, as this is the downside of the Tainted Pact amulet's modifier. There are several ways to get over Leech, such as the Slayer and the Ascendant's Slayer ascendancies, which both have access to over leech. You can also get it through the Immortal Ambition keystone, which can be acquired from the Soul Tether belt. However, some options like the Offering to the Serpent gloves that drop from Venarius in the Cortex are a bit lackluster because they have a downside that makes your leech duration lower. The best option is to use a Petrified Blood with your life at the maximum recoverable amount of 50 or 55 if you're using the new low-life mastery. As long as you're not reserving your life below that threshold, you'll have access to over leech from that as long as you're hitting and you have leech.
It's important to understand that the healing you receive from taking chaos damage over time while leeching life is subject to damage mitigation. The chaos damage you take will first go through your resistances and then be reduced by anything else that will affect the damage that you take before it actually gets converted to healing.
Most Popular Posts
Popular Category Lists