POE 3.21 Single-Target Molten Strike Assassin Build
The Path of Exile Assassin is a class that prioritizes offense, with a strong focus on critical strikes. This class boasts skills that can enhance power charges and increase critical strike effectiveness, as well as provide utility in specific situations. Poison-based skills such as Noxious Strike are available to the Assassin, and critical strikes can also amplify poison damage via the Toxic Delivery skill. Additionally, the Mistwalker ascendancy offers the ability to gain the Elusive buff upon landing critical strikes, along with other benefits while under its effect. Welcome to the Molten Strike Assassin Build, where we will walk you through crafting the perfect dagger and building a character that can easily take on both mapping and single target fights.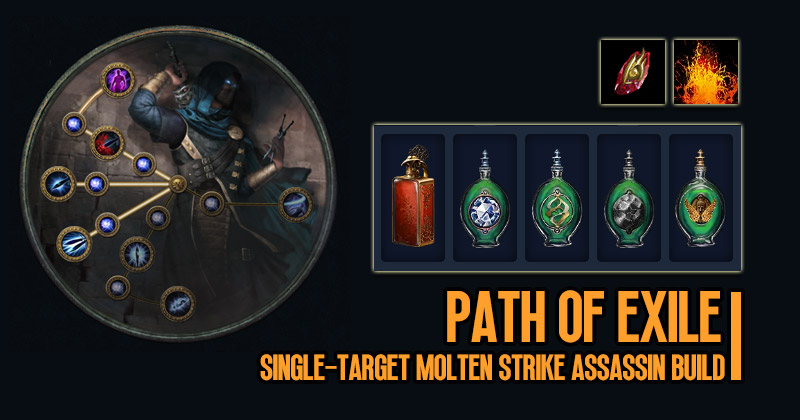 ↖ Pob Link
↖ About Molten Strike
First, let's talk about Molten Strike. This melee attack skill has become much more viable thanks to the Vengeance Cascade rework in patch 3.1. When used with a pneumatic dagger, which allows all damage with its attacks to poison, we can create molten magma projectiles that can both shotgun and overlap for maximum effectiveness.
↖ Playstyle
In terms of playstyle, this build is straightforward. Use Molten Strike to create projectiles that deal damage and poison enemies. With the right gear and ascendancy choices, you can take on any challenge the game throws at you.
↖ To craft the perfect dagger
we will use essences of anger to guarantee added fire damage and aim for at least tier 3 increased attack speed, which will take an average of 14 attempts. Once we have secured the attack speed roll we want, we can further improve the weapon at the crafting bench. This crafting project costs around 157 Chaos Orbs in the current market.
↖ With the right gear
including a rare helmet with plus two projectiles, an upgraded shield with spell suppression and ailment avoidance, and rare boots with ailment avoidance, we can switch out purity of elements for malevolence, which provides even more damage.
↖ Ascendancy
Ascendancy focuses on taking Noxious Strike for poison chance, Toxic Delivery for crit chance and damage, Opportunistic for damage and defense, and Ambush and Assassinate for taking down bosses. For mapping, Mist Walker is a viable alternative.
↖ Skill tree
Skill tree prioritizes capping chance to poison, maxing out spell suppression, and taking increased life and damage over time multiplier. Make sure to place the Inertia jewel in the correct socket for maximum benefit.
Most Popular Posts
Popular Category Lists