Making Runecape Gold by AFK mid-level Smithing Guides
Welcome to a guide on Gold-making in Runescape through the smithing skill. In this article, we will cover different ores that can be smelted for decent profits, along with an AFK smithing method. To start with, you will need access to smelting gauntlets, and the serene prayers to maximize your production.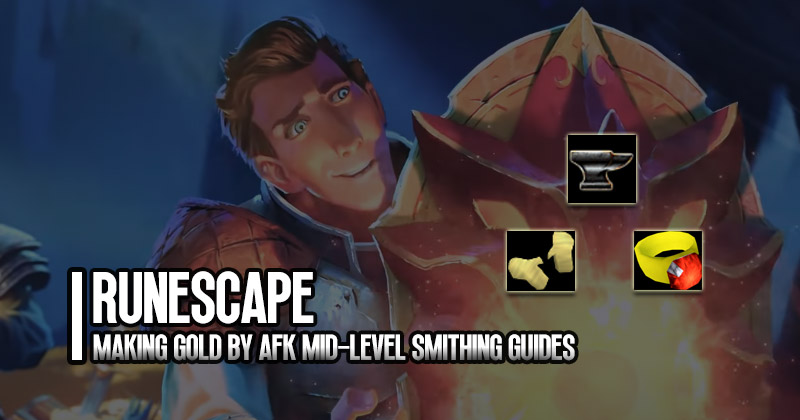 ↖ Smelting Gauntlets
Firstly, it's important to note that if you have access to smelting gauntlets, you'll have a much better time, and the Seren Prayers - Retain Heat prayer, along with the Grace of the Elves - will also help with your production. When Smithing, it's always worth checking out what bars you're doing, because with some bars you have a chance to smelt faster and also have a chance to make more bars as well.
↖ Ring of Forging
When you are smelting iron, please use your Ring of Forging for 140 charges. This will make sure that all iron you smelt will be produced into bars. If you are not using the Ring of Forging, then you have a 50% chance of not getting a bar back, which will basically lead to a loss of profits. Using the ring is definitely worth it, even if it costs 3k per ring, as it will make you a lot more Gold than it's going to cost.
↖ Iron bars
After elder rune and Necroleum, iron bars currently make the most Runescape Gold. To ensure that you get the most out of your iron smelting, use your ring of forging for 140 charges. This will guarantee that all iron you smelt will be turned into bars. Without the ring, there is a 50% chance of not getting a bar back, which will result in a loss of profits. Using the ring will give you just under three minutes of pure AFK time, and a profit of 2k per bar. Iron bars can make up to 3.2m per hour with all the bonuses.
↖ Gold bars
Gold bars are currently making around 1.3k Gold per bar. Previously, smelting gold bars were not very profitable due to the xp gained being too high. However, due to the increased demand for jewelry, the price of gold bars has gone up, making them a more profitable option.
↖ Steel bars
Steel bars currently make a profit of 1k Gold per bar. While it may not be the most profitable option, it is still a decent option for those who have access to it.
↖ Chromium
Chromium is one of the best bars to smelt in RuneScape for players who have reached level 80 in Smithing. Once you reach a higher level of 92 or 94, you can move on to smelting older room bars for even better profits.
↖ Dart tips and star tips
Another profitable method for mid-level smiths is to create dart tips and star tips. These items are in high demand because they provide quick fletching XP and the darts are used in adventure components which are some of the best invention components available. However, you'll need to complete the Tourist Trap quest before you can start making dart tips.
If you have access to the quest, you can potentially make up to 900k Gold per hour with quite AFK XP by creating darts. The process is straightforward: put the required materials on the anvil and hit it to create the dart tip.
When picking which bars to smelt, check the skill guide to see which bars have a chance to smelt faster and give more bars. Choose the one that is 50% faster, as this will give you a better chance of making a lot more profit.
In conclusion, these four different ores can be smelted for decent profits. By using the tips mentioned in this article, you can maximize your profits while minimizing the amount of effort required. Remember to always check margins to ensure that you are making a profit. Happy smelting!
Most Popular Posts
Popular Category Lists