Poe 3.21 Magic Find Lightning Arrow Tornado Shot Deadeye Build
This article is about a Path of Exile build focused on magic finding, Lightning arrow, tornado shots, and character buffs to improve movement and attack speed. The build does not require a headhunter or a mage. The build is based on the use of various items to gain buffs, such as rampage kills and adrenaline, to increase rarity and quantity in drops.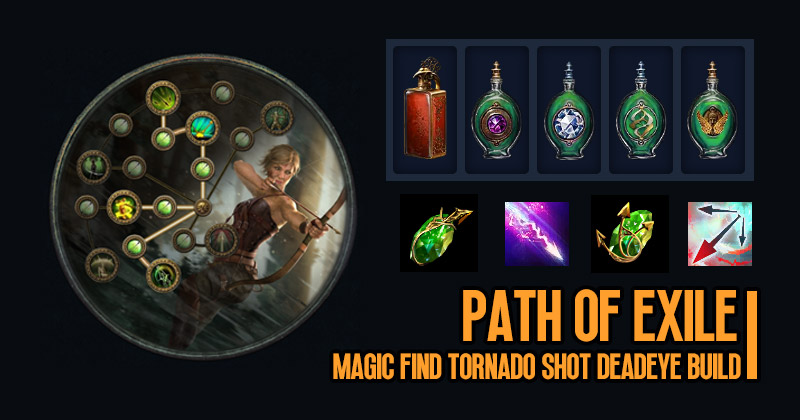 ↖Increase Drop from monsters
Firstly, it is important to note that this build does not require a Headhunter or a Mage. It can still perform well without them.
The primary objective of this build is to increase the amount of Poe Currency and magic items that drop from monsters.
With this build, we can have up to 40-50% increased quantity, depending on the type of monster we are fighting.
The main item that increases our quantity is the Viscous Collar, which can provide an additional 45-95% quantity depending on the monster.
Additionally, we can gain a lot of rarity from our other items, amounting to around 225% rarity in total.
↖POB Link: https://pobb.in/rY3gSpaPzMSh
↖Glove slot
we are using Tanu Ahi gloves, which provide us with Adrenaline, granting us permanent Onslaught Adrenaline.
This is a significant boost to our movement speed and attack speed, which is crucial for magic find build.
We also gain a lot of bonuses from Rampage kills, further increasing our speed and damage.
↖Buffs
It is important to keep our buffs up as much as possible, as this build has a very snowball-like playstyle.
We should prioritize killing monsters and worry about looting afterward, as we want to keep our buffs active at all times.
It is recommended to clear the map first and then go back and loot everything once everything is dead.
↖Difficulty
Regarding difficulty, this build can handle 20 delirious maps with full juice, gilded scarabs, and sextants juiced up to 100% quantity with Wandering Path.
It is not recommended to push it further, as the rewards are not that much greater for 40-60 delirious maps.
Additionally, it is suggested to use an aggressive playstyle for higher delirious maps.
↖Gear
we are using Ahn's Contempt for our chest piece, which provides flat cold damage, spell suppression, and evasion rating.
Avengers Gambit gloves provide a decent increase in quantity and rarity, but they can be expensive.
Our other items, such as the quiver and boots, are relatively cheap.
↖Skills
we are using Lightning Arrow and Tornado Shot. Lightning Arrow is our primary skill, which can hit multiple targets and deal significant damage. Tornado Shot is our secondary skill, which can clear large areas quickly.
In conclusion, the Magic Find Lightning Arrow Tornado Shot Build is an excellent choice for players who want to increase their chances of obtaining magic items. With the right gear and playstyle, this build can handle 20 delirious maps with ease, providing great rewards.
Most Popular Posts
Popular Category Lists