GTA 5 Guide: Surviving the Chaos with the Zombie Virus Vaccine
Welcome to the ultimate challenge in GTA 5! You have to carry a zombie virus vaccine from one side of the map to the other, but the world will slowly begin to end every 30 seconds, with the chaos going through various phases until eventually, the game will probably just crash. To make matters worse, you only have a regular gun, a minigun, a parachute, and 30 seconds between each chaos phase. But don't worry, we've got some tips to help you survive this challenge.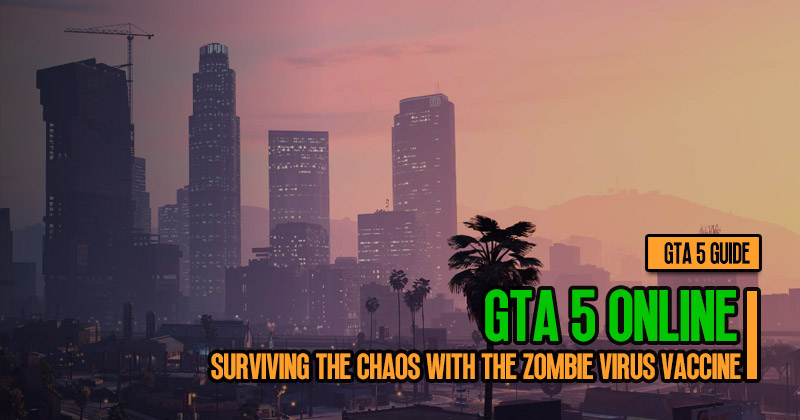 ↖ Move quickly vehicle
you need to find a vehicle that will allow you to move quickly across the map.
Look for a car or a bike, and try to avoid flying vehicles like planes or helicopters.
They may be faster, but they are also more difficult to control and vulnerable to the chaotic phases.
↖ Stay away from the chaos
try to stay away from the chaos as much as possible.
The chaos can range from global warming to alien invasions, black holes, earthquakes, and more.
When you hear the warning sound, get to a safe place and wait for the chaos to pass.
You can also use your weapons to defend yourself, but be careful not to get too close to the chaos.
↖ Take zombies out
If you encounter zombies, try to run them over with your vehicle or use your weapons to take them out.
Remember that in this version of the game, zombies are explosive, so be careful not to get too close to them when they explode.
↖ Parachute safely and deliver the vaccine
When you reach your destination, try to land your parachute safely and deliver the vaccine as quickly as possible.
You can also use your minigun to clear the way if necessary.
In summary, to survive this challenge, you need to stay calm, find a vehicle, avoid chaos, defend yourself against zombies, and deliver the vaccine as quickly as possible.
Most Popular Posts
Popular Category Lists