What to Expect in the Seasons of Diablo 4?
The final developer live stream for Diablo 4 before its launch has just concluded, and it focused on the concept of post-launch content, specifically in relation to seasons. In this article, we will provide you with a guide on what to expect in the seasons of Diablo 4.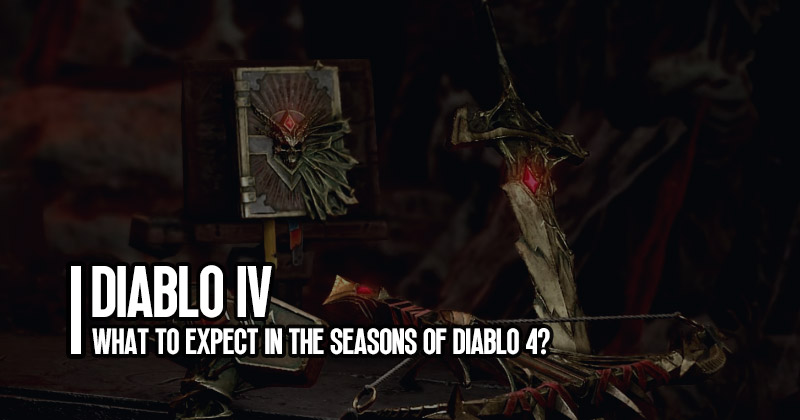 ↖ Seasons in Diablo 4
The base server that players will play on at launch is called the eternal realm. Mid to late July 2023, the first season will begin with the start of Season 1. A seasonal realm will be added, and players will have three months to play on this realm.
Players will have to create new characters in the seasonal realm, which will allow them to experience fresh changes in gameplay, new cosmetics, mechanics, balancing changes, and a whole host of fun things.
Once the season is over, players' seasonal characters will move back to the eternal realm, and they will be kept there. A new season will begin where players have to start all over again.
There will be certain unlocks specific to each season that players can only get by playing on that seasonal realm during the right time, but once the season is over, they will get to keep them forever.
↖ Seasonal Quest Line
Every season will be based around a theme, and there will be a unique storyline associated with that theme.
Players will be given a quest line based on that theme, which will take them to an unexplored concept or theme around the world of Sanctuary.
The battle pass will be filled with themed cosmetics for each class, and mechanics will be introduced for that season related to the theme.
The seasonal journey is sort of like a bingo card for each season, and players will have to complete each objective to progress through the chapters of the journey.
↖ Seasonal Journey
The journey has approximately seven chapters based on the example that we were shown, and each chapter has a number of its own objectives.
Each objective, when completed, gives players favor points, and when they complete a chapter, they get even more favor points, as well as crafting caches and sometimes even a unique legendary aspect for their codex of power.
Every season will come with a new influx of legendary powers and gear to help innovate the game and keep everything feeling properly fresh.
↖ Battle Pass
Favor points are one of the rewards that players will earn when they complete objectives in the seasonal journey, and they are connected to the battle pass.
There are 23 free rewards and 67 that players need to purchase with premium currency to unlock.
Free rewards include certain skins, but more importantly, players can unlock smoldering ashes, which uniquely affect their progress through the season.
Players can use these smoldering ashes in the season blessing menu, which gives them upgrades to various things for the duration of the season, depending on what they choose.
These upgrades can be things like plus three percent experience and Daiblo 4 Gold from monster kills, plus five percent from sales, plus 10 for rare materials from salvaging, or plus 15 boosts to the duration of elixirs.
↖ Conclusion
In conclusion, Diablo 4's seasons are going to be an exciting new way to experience the game. With each season having a unique theme, players can expect a new storyline, cosmetics, mechanics, and gear to keep the game feeling fresh. The seasonal journey and battle pass will provide players with objectives to complete, rewards to earn, and upgrades to improve their gameplay experience.
Most Popular Posts
Popular Category Lists