Diablo 4 Season Start Tips: Important Things Should Be Know Before Launch
Diablo 4 is the highly anticipated action role-playing game that takes players back to the dark, gothic world of Sanctuary. The game features an immersive storyline that will keep players on the edge of their seats as they explore a vast and dangerous world filled with demons, monsters, and other horrors. With its launch, there are a few important things you can do to ensure you're as prepared as possible for the first season.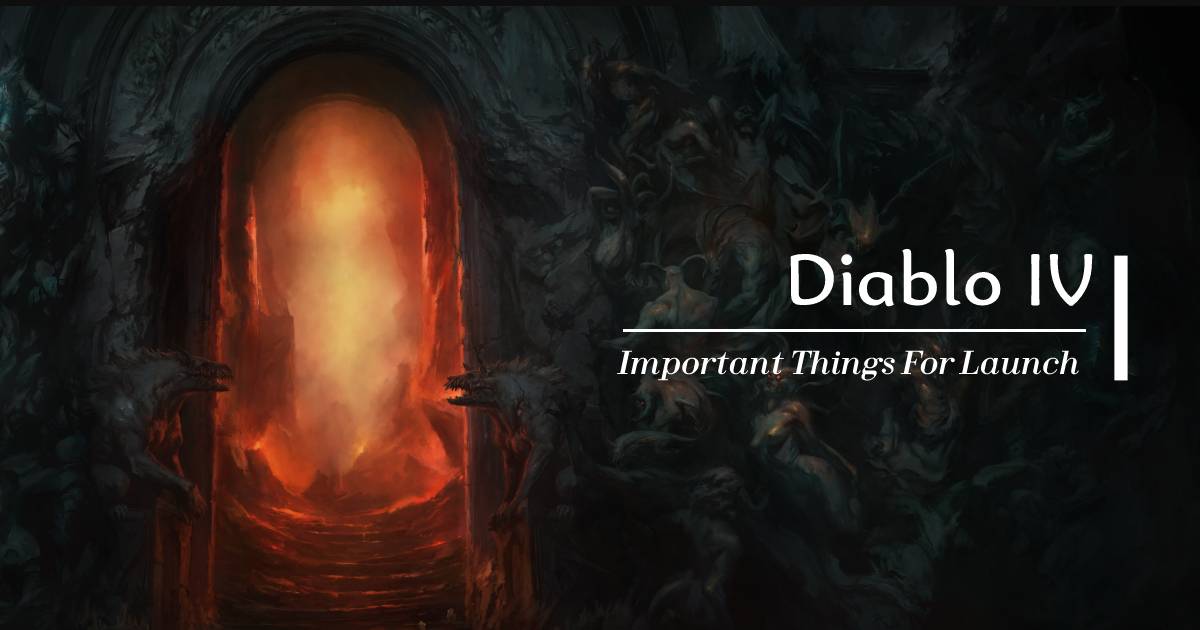 ↖ Release date
The wait for Diablo 4 is almost over, as the game's official release date has been announced as June 6, 2023. However, eager fans can get their hands on the game even earlier if they preorder the ultimate or digital deluxe editions.
Those who opt for these Diablo 4 editions will be granted early access to the game, beginning on June 1 at 4 pm PST / 7 pm EST in North America, June 2 at 12 am GMT in Europe, June 2 at 1 am CET in Central Europe, and June 2 at 10 am AEDT in Australia.
Players who don't preorder these editions can still join in on the action, with general access to the game opening up on June 5 at 4 pm PST / 7 pm EST in North America, June 2 at 12 am GMT in Europe, June 2 at 1 am CET in Central Europe, and June 2 at 10 am AEDT in Australia.
↖ Check Build Calculators
Build calculators can help you see what aspects are available for your class and which ones are worth seeking out in order to complete your leveling build. You might also consider changing your build based on the strength of legendary aspects.
↖ Increase Legendary Aspect Effectiveness
Depending on the item slot, you get increased legendary aspect effectiveness. Amulets provide 50% more, and two-handed weapons provide double the value of other item slots.
↖ Teleporting in Dungeons
Click the entrance of a dungeon to be teleported back outside to the entrance of the dungeon, or select this action on your emo wheel to teleport out even faster. This is much faster than running all the way back or going back to town.
↖ Enable Advanced Tool Tip
Go to the options menu and enable the advanced tooltip to compare items and see the whole picture, including your primary stat increase, damage based on being closer or distant, and plus skill ranks, depending on your build.
↖ Get Your Mount at Level 36
Remember to get your mount at level 36, allowing you to move around the world much faster.
↖ Hunt Down All Altars of Lilith
Altars of Lilith are located in Fractured Peaks and give you plus two to a different stat or increase your maximum number of ovals. You should get as many extra stats as possible on your first seasonal character by finding these altars.
↖ Look for Legendary Aspects
Legendary Aspects are guaranteed from dungeons, and they are an important aspect of building your character's stats. You can find aspects from other zones as well, so check what's available in each zone and map out which ones to get for each.
↖ Save High-Rolled Aspects
Save the high-rolled aspects you get from legendaries for imprinting on end-game gear, as legendary aspects you earn from clearing dungeons will always roll the lowest possible value.
By following these tips, you'll be well on your way to building a powerful character in Diablo 4 and preparing for the first season.
Most Popular Posts
Popular Category Lists