ESO PVP: 6 Tips To Improve Survivability | 2023
Surviving in Elder Scrolls Online PvP can be tough, especially with new players and veterans returning for events like Whitestreak's Mayhem. However, with the right knowledge and preparation, anyone can improve their survivability in PvP. Here are 6 tips to help you survive longer and perform better in PvP.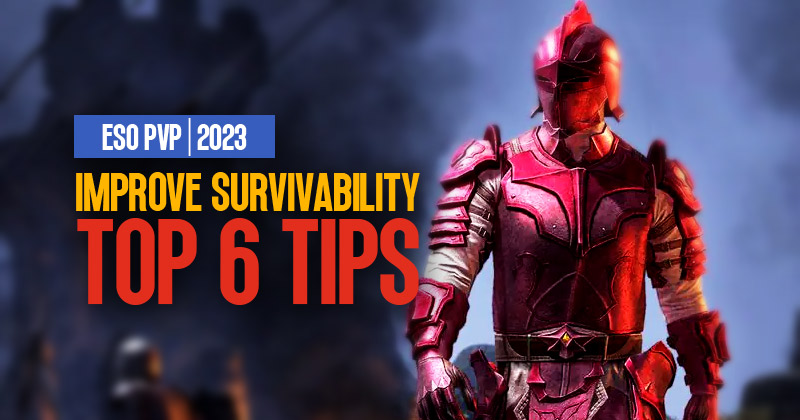 ↖ Tip 1. Manage Your Stamina and Break Free from Stuns
Stamina is crucial in PvP, as it allows you to break free from stuns and crowd control effects that can leave you vulnerable. It's important to be aware of your stamina levels and to react quickly when you're stunned or immobilized. To do this, consider binding your break free ability to a key or button on your keyboard for easy access. Remember to break free as soon as possible, or you'll become an easy target for enemies.
↖ Tip 2. Have a Healthy Amount of Health (HP)
Low HP is a major indicator of an easy kill for your enemies, so it's important to have a healthy amount of health to survive longer in PvP. Most end-game PvPers aim for around 30-32k HP, as this gives them more time to react and handle burst damage from enemies. Make sure to use food, buffs, and potions to increase your HP and restore eso resources.
↖ Tip 3. Min-Max Your Build and Use Proper Traits on Your Gear
To be effective in PvP, you need to min-max your build and use the right traits on your eso gear. For example, many PvPers use the impenetrable trait on their small armour pieces (belts, boots, gloves, and shoulders) to reduce the amount of critical damage they take from players. On the big armour pieces (chest, legs, and helmet), players often use reinforced to increase the armour value of their gear. This will help you survive longer and reduce damage from enemies.
↖ Tip 4. Use Defensive Abilities and Skills
Defensive abilities and skills are crucial in PvP, as they can help you survive longer and mitigate damage from enemies. Make sure to use your class's defensive abilities, such as shields or heels, to stay alive. Additionally, consider using abilities that give you a burst of speed, like Sprint or Rapid Maneuver, to help you escape from dangerous situations.
↖ Tip 5. Stay Aware of Your Surroundings
In PvP, it's essential to stay aware of your surroundings and to keep an eye on your enemies. Make sure to use your minimap to see where enemies are and to avoid getting caught off guard. Additionally, keep an eye on your teammates and try to stay close to them to avoid being outnumbered.
↖ Tip 6. Practice, Practice, Practice
Finally, the best way to improve your survivability in ESO PvP is to practice. Joining a PvP guild or group can help you learn from experienced players and get better at PvP. Additionally, make sure to experiment with different builds, strategies, and tactics to find what works best for you.
Conclusion:
ESO PVP can be challenging, but with these tips, you can improve your survivability and have a more enjoyable experience. Remember to manage your stamina, have a healthy amount of HP, min-max your build, understand your class, use defensive abilities, and play smart.
Most Popular Posts
Popular Category Lists