PoE 3.21 Highest Damage Ice Spear Traps Ascendant Build
Path of Exile is a complex game with many Poe builds, but what everyone wants to know is which build has the highest damage per second (DPS)? One such strategy is to focus on skill gems and their quality. In this guide, we will discuss how to maximize your character's damage output using skill gem quality, flasks, auras, and other items. In this guide, we will be discussing one of the most popular high DPS builds in the game, Ice Spear Traps.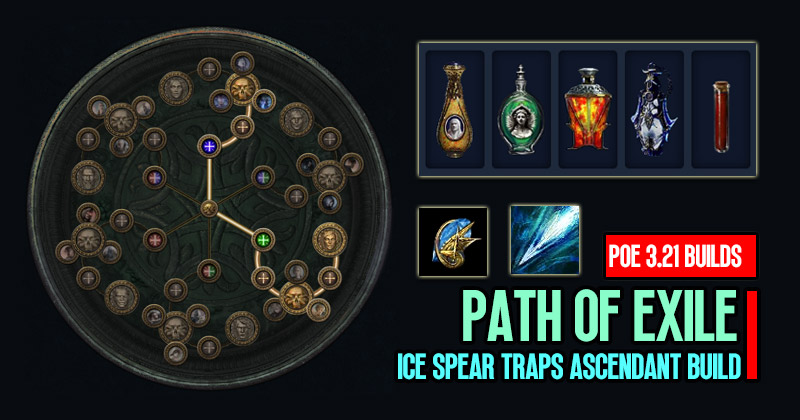 ↖ PoB Link
↖ Ice Spear Traps
Ice Spear Traps are a type of trap that deals cold damage and has very high damage multipliers. The main supports for this skill are Increased Critical Strikes, Elemental Focus, and Awakened Elemental Focus. These supports provide increased damage and crit chance, which are essential for maximizing the damage output of this build. In addition, Charge Traps provides more multipliers and power/frenzy charges, and Divergent Trap and Mine Damage Support adds even more damage multipliers.
↖ Scaling the Damage
One of the main reasons why Ice Spear Traps are so powerful is because of the scaling potential. Ice Spear Traps benefit greatly from the use of trap throwing speed, which can be scaled with items such as Architect's Hand. This allows for a rapid fire of traps, similar to an attack skill, which can increase the overall damage output significantly. In addition, since Ice Spear is a cold skill, it can be used in combination with jewels that have elemental tags, such as crit multi with cold skills, to further increase the damage output.
↖ Maximizing Skill Gem Quality
One of the most important ways to increase your character's damage output is by maximizing the quality of your skill gems. The quality of a gem can be increased by using a Gemcutter's Prism, which increases the gem's quality by 1%. Quality bonuses can be found on many gems, and they can be significant. For example, a level 20 Quality 20 Elemental Hit has 46% increased damage, 20% increased area of effect, and 10% chance to freeze.
↖ Maximizing Flask Effect
Flasks are essential for any Path of Exile build, but their effect can be greatly enhanced by maximizing flask effect. Flask effect increases the potency of flasks, allowing them to provide greater benefits. For example, a Granite Flask of Iron Skin with 50% increased effect would give you 6000 armor instead of 4000 armor. To maximize flask effect, you can use the passive tree to allocate nodes that provide flask effect or use items that grant it.
↖ Maximizing Aura Effect
Auras are another powerful tool that can greatly increase your character's damage output. Auras can provide a wide range of benefits, such as increased damage, resistance, and movement speed. To maximize the effect of your auras, you can use items such as the March of the Legion boots, which grant additional aura effect, or use the passive tree to allocate nodes that increase aura effect.
↖ Other Items
In addition to maximizing skill gem quality, flask effect, and aura effect, there are other items that can greatly enhance your character's damage output. For example, unique items such as the Annihilating Light wand, which provides triple damage, or the Heatshiver ring, which increases damage against frozen enemies, can be incredibly powerful. Additionally, rare jewels with increased critical strike multiplier can greatly enhance your critical strike damage.
↖ Conclusion
Overall, Ice Spear Traps are an extremely powerful build that can deal high amounts of damage per second. While it may require some manual dodging for boss fights making Divines, the build can shred through maps and Mavens with ease. However, it is important to keep in mind that some profiles may have cheating involved, so it is important to be vigilant and look for any discrepancies.
Most Popular Posts
Popular Category Lists