PoE Crafting Guide: How to Craft Maximize Belt?
Crafting in Path of Exile is a complex and rewarding system that allows players to create powerful and customized items for their characters. Whether you're a seasoned crafter or just starting out, this Crafting page will provide you with valuable information and strategies to enhance your crafting skills. In this poe crafting guide, we will focus on crafting a powerful belt for your Path of Exile character. The goal is to maximize important stats such as strength, resistances, and chaos resistance. Let's dive into the crafting process step by step.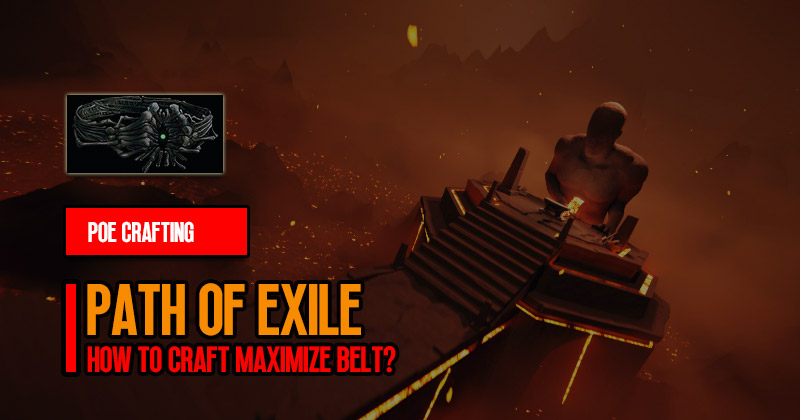 ↖ Step 1: Preparing the Belt
To start, you'll need an I-86 Stygian Vise, which is a solid base for crafting belts. Before beginning the crafting process, apply prismatic catalysts to improve the quality of resistance modifiers on rings, amulets, and belts. Using a white belt will provide a 5% quality boost.
↖ Step 2: Choosing Essences
Use Essence of Envy to guarantee chaos resistance on the belt. This essence will ensure you have a solid tier of chaos resistance, similar to the method used for crafting boots. Remember that strength is the only natural attribute that can roll on belts, so focus on that as well.
↖ Step 3: Crafting Strength and Resistance
Crafting belts requires multiple desirable mods, such as strength, resistance, and life. Look for essences that provide tier one or high-tier rolls for strength and life. Chaos resistance is already covered by the essence.
↖ Step 4: Modifying the Belt
If the crafted belt has an open suffix, you can use an orb of annulment to remove a mod you don't want, such as life regeneration. This step helps refine the belt's stats to your desired configuration.
↖ Step 5: Enhancing Resistances
If your lightning resistance is low, consider using the Holy Crafting Bench to change the fire resistance modifier on one of your items to lightning resistance. This adjustment will help balance out your resistances.
↖ Step 6: Exalted Orb Crafting (Optional)
If you have the currency to spare, you can use Exalted Orbs to further enhance your belt. Consider using a Hunter's Exalted Orb to potentially roll powerful mods like percent max life or increased chaos damage. Note that this step can be costly and is optional.
↖ Step 7: Socketing and Final Touches
Ensure your belt has an Abyssal socket if desired. If any resistance values are still lacking, you can consider using jewels or other gear adjustments to top them off. Remember that your flask uptime will help compensate for slightly lower resistances.
↖ Conclusion
By following these steps, you can create a powerful belt that maximizes essential stats for your Path of Exile character. This guide emphasizes strength, resistances, and chaos resistance while offering optional steps for further crafting with Exalted Orbs. Remember to adapt these techniques to your build and budget. Enjoy your new powerful belt, and keep an eye out for future crafting guides!
Most Popular Posts
Popular Category Lists