FFXIV Patch 6.4: How to make bank with new savage raids & gear?
Patch 6.4 of Final Fantasy XIV is approaching, and it brings exciting new content, including savage raids, crafting materials, battle gear, food, pots, and more. This guide will help you prepare for the patch and capitalize on the opportunities to make a substantial amount of FFXIV Gil. By strategically capping your battle and crafter/gatherer activities, stockpiling materials, and leveraging the market, you can maximize your profits and make bank in Patch 6.4.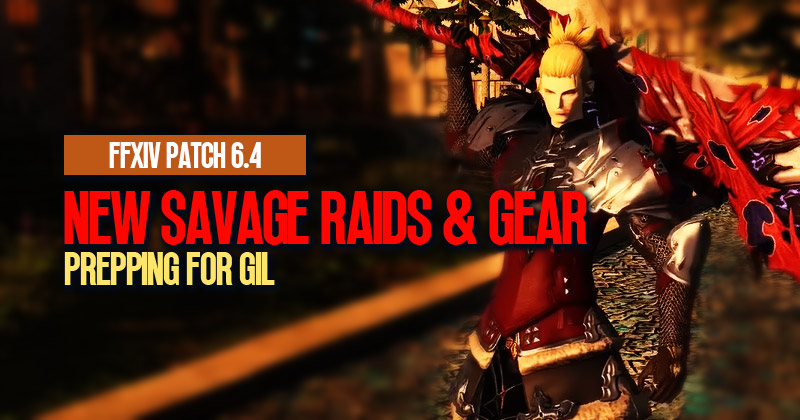 ↖ Battle Tokens: Causality Tomes and Tomes of Astronomy
Causality Tomes will replace Tomes of Astronomy in Patch 6.4 and can be used to purchase crafting materials.
Chianti in Razitan will sell these crafting mats, so expect new materials to be added.
Prepare for the demand by capping your weekly tomes and considering trading excess Tomes of Astronomy for more Causality Tomes from Aruna in Mor Dhona.
↖ Gemstones
Acquire Gemstones by participating in FATEs in Endwalker and Shadowbringers areas.
These Gemstones may be used for crafting ingredients, including Alkahests, food, pots, and housing items.
Check if new items are added to the Gemstone traders, as they can be very profitable upon release.
↖ Sacks of Nuts
While not the highest priority, Sacks of Nuts can still provide some opportunities for profit.
Trade them for items that can be sold or exchanged for materia.
↖ Crafter/Gatherer Scrips: White and Purple Scripts
Cap your weekly white and purple crafting/gathering scripts, with crafting scripts being the priority.
Custom deliveries through the quest "Arms Wide Open" in Idyllshire can help you cap these scripts quickly.
Purple crafting scripts may yield valuable items needed for new crafts, such as food recipes.
↖ Best Crafter to Level for Easy Gil: Alchemist
Alchemists will have a high demand for Alkahests, used in other crafting gear.
The latest pots will be in demand post-patch, providing a steady source of income.
Consider leveling Alchemist for easy gil and efficient levee grinding.
↖ Gatherer Specifics: Aethersands and New Materials
Earthbreak Aethersands, acquired through gathering, will likely be in demand for battle gear, food, pots, and more.
Level a Fisher for the best chance of obtaining these Aethersands.
Mining and botany can also provide valuable new materials needed for crafting and materia.
↖ Materia Stockpiling: Dos and Don'ts
Patch 6.4 will increase the demand for grade X and IX materia, especially the red ones.
Raiders will require fully melded crafted battle gear sets, leading to a surge in material demand.
Form activities such as rank hunts or stockpile material clusters from daily roulettes to sell in large volumes on patch day.
Be cautious when buying materia now to sell later, as the price can be unpredictable.
↖ Faux Hollows
Unlock Faux Hollows by completing the level 80 quest "Fantastic Mr. Foe" in Idyllshire.
Save up Faux Leaves currency to purchase new rewards added in the next patch, such as mounts and minions.
These rewards can sell for high amounts of gil, particularly upon patch launch.
Conclusion:
Players can prepare themselves for the upcoming patch by following these strategies and leveraging the market to maximize their profits. By doing so, they can take advantage of the new content, including savage raids, crafting materials, battle gear, food, pots, and more, and make bank in Patch 6.4.
Most Popular Posts
Popular Category Lists