How to Defeat OSRS Demonic Gorillas Successfully?
Demonic gorillas in Old School RuneScape are formidable creatures that require completion of the Monkey Madness 2 quest to access. These gorillas are reminiscent of the tormented demons from the original RuneScape and are known for their use of all three combat styles: melee, ranged, and magic. To effectively defeat them, you'll need to adapt your protection prayers accordingly during the fight. This guide will walk you through the strategies and tactics to successfully take down these challenging foes.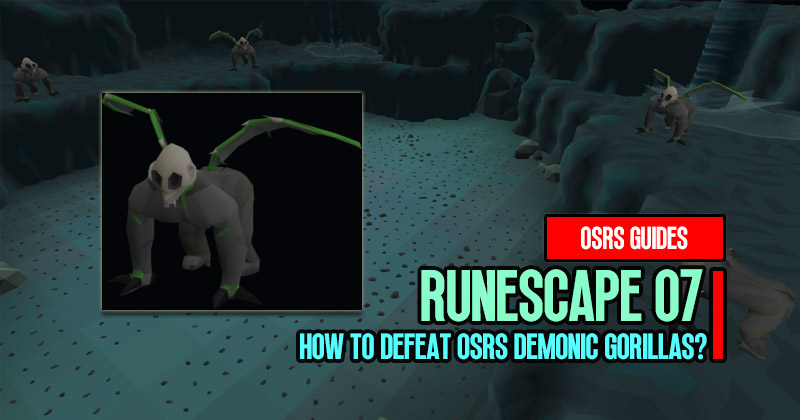 ↖ Location and Requirements
Demonic gorillas can be found in the cave north of the Grand Tree, the same location you visited during the Monkey Madness 2 quest. To access this area, you must have completed the Monkey Madness 2 quest.
↖ Recommended Gear
When facing demonic gorillas, it is advisable to bring the best armor and weapons you have or can afford. The best-in-slot armor and weapon recommendations can be found on the Old School RuneScape Wiki.
↖ Combat Strategy
Initiate the fight by attacking the demonic gorilla using your preferred combat style.
Steps 1:
At the start, they will not be praying against any specific attack style.
Steps 2:
Pay attention to the gorilla's overhead prayer. For example, if it is a praying mage, you are free to use melee or ranged attacks.
Steps 3:
The gorilla's first hit might catch you off guard, especially if it is using a different attack style. Quickly switch your protection prayer to the appropriate one (e.g., range or melee).
Steps 4:
The demonic gorilla will use its chosen attack style for three consecutive hits as long as it does not miss. After the third hit, step away from the gorilla to determine the next attack style.
If the gorilla does not move, it means the next attack style will be the opposite of the previous one. For example, if it was using a mage and did not move, it will use ranged next.
If the gorilla moves towards you, it indicates that the next attack style will be the same as the previous one. For example, if it was using melee and it steps towards you, it will continue using melee.
Steps 5:
Adjust your protection prayer according to the gorilla's next attack style.
Repeat steps 4 and 5 until the gorilla is defeated.
↖ Additional Tips
Watch out for the gorilla thumping its chest. This gesture can signify a change in attack styles or prayers, but it can also indicate that a boulder will fall from the ceiling to your current spot. In such cases, quickly move to another square to avoid taking damage.
Note that a recent update by Jagex introduced a message and sound effect whenever demonic gorillas change their attack styles. This change makes it easier to time your prayer switches, removing the need to count three hits every time.
By following these strategies and remaining vigilant during the fight, you should be well-equipped to handle demonic gorillas in Old School RuneScape.
Most Popular Posts
Popular Category Lists